Anbang Insurance Group, a well-connected Chinese conglomerate, has agreed to pay $6.5 billion for a portfolio of Four Seasons and other luxury hotels owned by the Blackstone Group, according to numerous recent reports—and is gunning to take control of Starwood's Westin, Sheraton, and W Hotels as well. Many of the properties potentially changing hands include longtime deal-making locations for US business men, tech titans and Hollywood.
Neither deal has been officially announced yet, but the buyout of Blackstone's Strategic Hotels & Resorts 16 properties is the more immediate and likely of the two (Anbang is competing with Marriott International for Starwood).
The Blackstone deal includes the Four Seasons hotels in Washington DC, Jackson Hole, and Silicon Valley to New York City's Central Park-facing Essex House and the Ritz Carlton south of San Francisco. Overall, it could net Anbang more than 7,500 of the US's most expensive hotel rooms—common sites for sensitive business negotiations, diplomatic glad-handing, closed-door conferences, and maybe even the occasional illicit affair. And that should be terrifying to their long-time guests.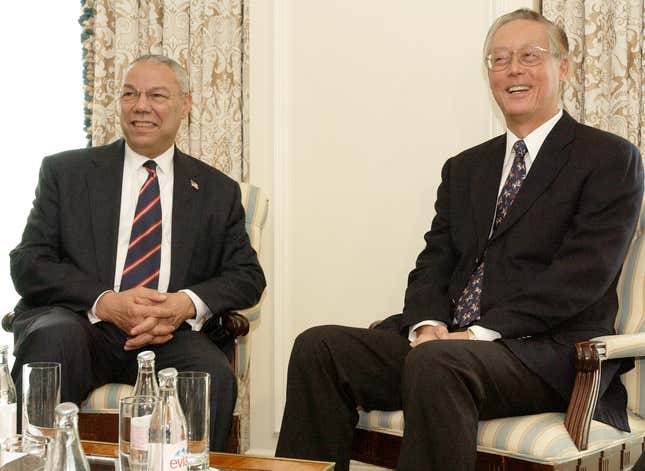 Anbang has deep connections to China's Communist Party—Chairman Wu Xiaohui was married to the granddaughter of Deng Xiaoping, while Chen Xiaolu, the son of a prominent People's Liberation Army official is on the board of directors.
It's a party that US officials and privacy experts believe is behind numerous hacks of US government and corporate information technology systems, sometimes for "theft of intellectual property and trade secrets," as data security company CloudStrike said last October, sometimes to pick up personal employee data, and other times to "download files ranging from emails to contracts."
As the US and other companies and governments fret over China's rapid expansion beyond its borders, everything from deal terms to IT "back doors" to the South China sea is being discussed, sometimes in the very rooms that will now be owned by Anbang, and across the very Wi-Fi systems the company will now control.
Neither Blackstone or the Four Seasons in Washington, which traditionally hosts numerous diplomatic meetings, replied to questions from Quartz. A US Treasury spokesman said she could not comment on whether the committee that reviews foreign investments was looking at the Anbang/Blackstone deal.
Electronic communications are closely monitored in China, sometimes even in citizens' and visitors' homes, and harvested information can emerge when it benefits the government. In 2014, when Britain's GlaxoSmithKline chief in China was being investigated for a bribery scandal, a video of him having sex with a woman who was not his wife was made public. The video was filmed at his Shanghai apartment.
The US State Department seems to be taking all possible security concerns seriously: After Anbang took over the the midtown New York Waldorf Astoria in late 2014, president Barack Obama bucked decades of tradition and chose to stay elsewhere during the 2015 United Nations General Assembly meetings. The State Department also said after the Anbang takeover it is reviewing whether the Waldorf should still be the permanent home of the US ambassador to the UN, as it has been since 1947.
"There are a range of considerations that influence where the president will stay when he's not at the White House," the White House spokesman said at the time. "Those considerations include everything from available space to cost and to security." An unnamed State Department official was more direct with The New York Times (paywall) about security concerns, saying "Why else would you not stay at the Waldorf?"