For most Chinese students, extracurricular athletics means badminton, ping-pong, basketball, or volleyball. But for 400 students in Shanghai, afternoon sports means teeing off at the green—and attendance is mandatory.
The Experimental School of Foreign Languages Affiliated to East China Normal University (ESFL for short) is a government-supported primary school with ties to two Chinese colleges. Since the second school semester in 2015, the school has run a compulsory golf course to be taken by all of its first- and second- grade students, twice a week on Mondays and Thursdays.
"Playing golf won't just improve students' athleticism. It will also train them in international etiquette and improve their character," ESFL principal Xia Haiping told Chinese media outlet The Paper.
The requirement is particularly surprising given the Chinese government's avowed disapproval. Mao Zedong banned the sport in 1949, calling it a "sport for millionaires." The ban lasted until 1984. As part of Xi Jinping's anti-corruption campaign, authorities are shutting down golf courses, and banning  Communist Party members from partaking in the game.
ESFL isn't the only primary school in China to teach golf. The Paper counted 30 primary schools in China offering golf classes for students. But unlike ESFL, most of those schools were either private or foreign, and the classes were optional.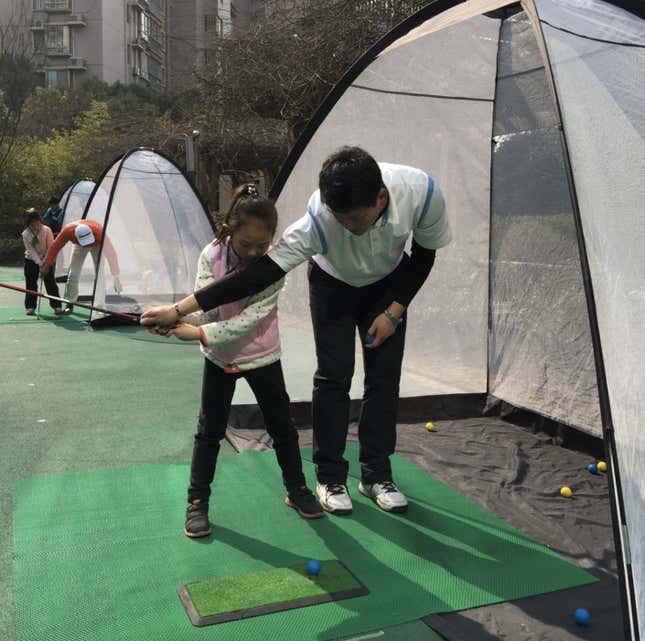 While ESFL has ties to the government, it is considerably more expensive than the average public school in China. A rundown of annual school fees compiled by domestic news portal Sina states its annual tuition costs 60,000 yuan, or about $10,000. Despite the fact that the school caters to the wealthy, Xia said she hopes that teaching golf will dispel the notion that it's a sport just for the rich.
"When you first think of golf, you'll probably think of something high-end, or that it's a sport for the elite. But beginner's golf doesn't actually require much in the way of facilities," she tells The Paper.
Despite the government's disdain for the game, there are plenty of enthusiasts in China. Comprehensive data about China's golf industry remains scarce, but the China Golf Association says there are 644 golf courses in China and that it has 3.5 million members. Japanese trade publication Golf Equipment World estimated that retail sales of golf-related products hit $184 million in 2013 (link to .pdf), and were growing 10% annually.
Chinese golf enthusiasts have colluded with property developers and local officials by labeling courses "resorts" for "entertainment and leisure," rather than actual golf courses. As a result, the sport remains largely underground in China, from a legal and regulatory perspective.
Yet, when it comes to the Olympics, the Chinese government is all for golf. This year, for the first time since 1904, golf will be played at the 2016 Summer Olympics in Rio de Janeiro. In anticipation of the event, China hired two-time British Open Champion Greg Norman to coach its national team. The China Golf Association continues to hold tournaments, and 26-year-old Feng Shanshan is emerging as the country's best hope for winning a medal in the sport.
A state-linked school's embrace of the sport shouldn't bee seen as a sign China's government is softening Dan Washburn, author of The Forbidden Game: Golf and the Chinese Dream told Quartz.
"I certainly don't think this hints to any kind of change in Beijing's official stance toward golf. Just chalk it up as yet another example that little in China is black and white. "