Mark your calendars. For exactly 36 days beginning on March 29, Instagram will be flooded with thousands and thousands of beautiful letters.
In a matter of three years, an open call project called "36 Days of Type" conceived by Spanish graphic designers Nina Sans and Rafa Goicoechea has attracted a strong following within the design community. Their concept is simple: Assign one letter or number for every calendar day—the 36 days correspond with the 26 letters of the Latin alphabet, plus ten single digit numerals. For each day, any designer, illustrator, artist, or hobbyist can interpret the letterform in an inventive style and upload it to Instagram with the hashtag #36DaysofType, followed by the letter or number. (Artfully rendered A's are tagged #36days_A, for example).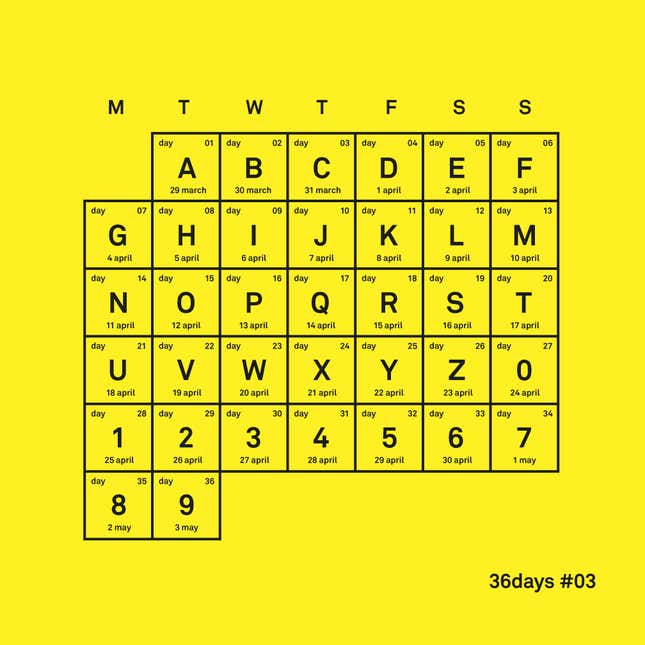 Sans and Goicoecha pick the best entries and promote the winners on social media. Their project's following on Instagram has swelled to over 64,000 followers this year—nearly triple the number since last year. Famous and emerging designers worldwide participate in the daily challenge, experimenting with hand lettering, calligraphy, computer graphics, animation, claymation, photography, and 3D modeling. Sometimes, they even play with their food.
Last year, Sans and Goicoechea broke their rules to extend the project by one day, inviting people to interpret the ampersand, after clamor from typography addicts.
The project has no corporate sponsor backing or support staff. The two curators say they dedicate nearly every waking hour outside of their full-time jobs to sort through the 1,000–1,500 daily submissions, to choose 35 to 50 winners. "It's not always easy but we try to do our best to have a wide variety of trends and artists represented each day," says Goicoecha to Quartz.
Originally conceived to encourage daily creative experimentation, 36 Days of Type has become a broad celebration of graphic wit, ingenuity, dexterity and generosity in the global design community. It has also become a platform for discovering new talent around the world. Last year, Sans and Goicoechea were so impressed by Barcelona-based 3D artists Nuria Madrid and Cristian Malagón that they asked them to create the marquee graphic to kick off this year's type season.
Though they recruit famous designers to participate too, Goicoechea says that many standout submissions come from young designers breaking into the highly-competitive industry. The curators take extra care captioning each winning image in English and Spanish, to credit the authors. To honor the few designers who complete an entire cycle, Sans and Goicoecha will at times feature a complete set of their work after the project ends.
Barring any more ardent pleas for extensions, 36 Days of Type runs from March 29 to May 3.