No employee wants to stay in the same position forever. That's why people go back to school, attend conferences, schmooze, network, work overtime, take on new projects: to push their careers forward.
But the training or education programs of most companies tend to fall far behind employees' needs, according to a report this week from Degreed, a startup that tracks across-the-board learning. Two-thirds of US human resources professionals who specialize in employee development admit their workers aren't turning to them for learning. It seems employees are taking matters into their own hands.
Workers now have an abundance of resources to choose from when it comes to self-improvement: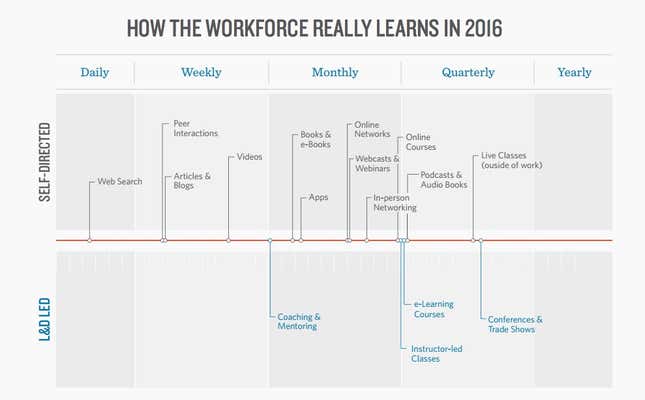 And companies haven't really adapted, save for occasionally offering to pay for an MBA. "The lines between learning and work are blurring," Kerry Hearns-Smith, vice president of learning strategy at Xerox, told Quartz at a Degreed conference on workplace learning held yesterday (March 23). "Companies should realize—learning is your competitive edge."
So if too many employees are going off on their own, how can companies provide them more support in-house?
According to Degreed CEO David Blake, one new way of looking at the subject could be through the idea of "learning fitness." In lieu of hosting massive once- or twice-yearly training events, companies could focus on more regular, incremental offerings—in the same way mobile apps send check-in notifications to their users. Such tweaks would serve to foster employer loyalty, while also providing a genuine benefit to overall company productivity.