Behold, Imelda Marcos's eye-popping 25-carat pink diamond.
In an effort to cure Filipino millennials' collective ignorance about the two-decade-long plunder during Ferdinand Marcos's regime, from 1965 to 1986, the Philippine government is showing precious baubles collected by the former dictator's famously extravagant wife on social media.
Launched on March 16, Virtual Jewelry Exhibit, A Story of Excesses is a public awareness campaign conducted by the Presidential Commission on Good Government (PCGG) leading up to the general elections on May 9—in which three Marcos family members are running for office.
Marcos's only son, Ferdinand Jr. (widely known as "Bongbong"), is currently a senator, and he's a front runner in the vice-presidential race. His sister Imee is seeking to renew her gubernatorial seat. And their mother, the 86-year-old former first lady who amassed a $21 million collection of diamond tiaras, brooches, necklaces, and other jewels (as well as over a thousand pairs of shoes), is campaigning for a third term in the Philippine Congress.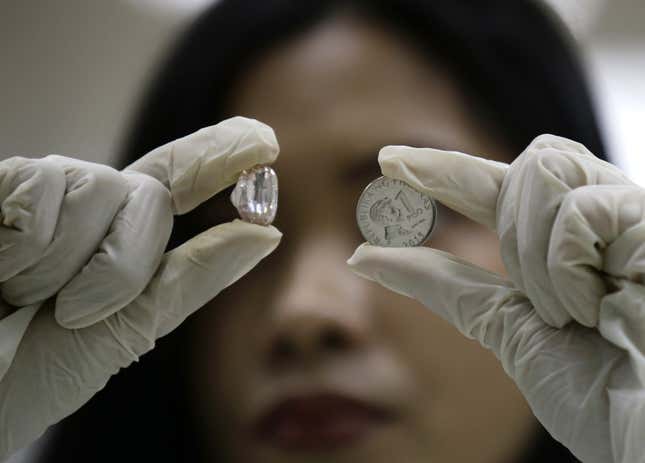 The daily display of the glittering spoils of Marcos' ill-gotten wealth on PCGG's Twitter and Facebook accounts is intended to shock and repulse young Filipinos. (Though it must be said, the display of bling by famous hip hop stars doesn't seem to deter aspiring rappers.)
To underline its point, the PGCC's captions juxtapose the Marcos family's jewelry with the development needs of the poverty-stricken nation.
This diamond tiara can fund treatment of 12,052 cases of tuberculosis until full recovery.
This sapphire necklace is worth the electricity of 2,252 off-grid households.
Can build eight one-storey classrooms in the Philippines
"The Commission believes that it is its duty to remind Filipinos, especially the youth, of the real history," the agency explains on its website. "Through this online exhibit of the family's collection of diamonds, gold, even tiaras, the PCGG hopes that the youth can visualize how the Marcoses abused the government coffers, part of history which is not in the history books." Twitter and Facebook are promising channels for the commission's message campaign, as Filipinos are known to be the world's most avid social media users, averaging 53 hours a week according to a 2014 study.
The Marcos family jewelry, which the Philippine government plans to auction, was seized by US Customs when the family arrived in Hawaii in 1986, seeking exile. Last year, the PGCC has also launched a website appealing for the public's help to recover pieces from the Marcos collection of incredible art (including works by Michelangelo, El Greco and many Impressionist painters) that have mysteriously disappeared.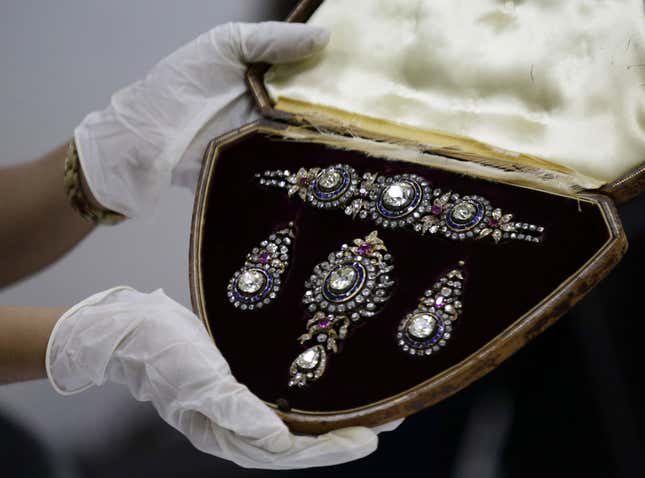 This year marks the thirtieth anniversary of the People Power revolution that ended Marcos's dictatorship. In February, the Philippine government mounted a pop-up horror house museum to dramatize the widespread human suffering during Marcos's martial law, from 1972–1981—and to disabuse Filipino millennials of the notion that the horrific time was a "golden age of peace and prosperity."