In January, Samantha Wuu quit her job in Boston to move home to New Jersey and support her mother through two family illnesses. To take her mind off her worries, she also took up coloring. She very quickly found it hard to stop.
"I was really, really stressed when this was going on," says the 27-year-old, a teacher and childhood friend. Coloring became a useful distraction, and then a preoccupation: "I would be doing other things, and I'd be like, 'I can't wait until I get to do that again.'" For a month, she colored every day, at times twice a day.
In a very short time, coloring has proven surprisingly addictive for America's stressed, anxious, and overworked. Therapeutic without being therapy, meditative without being meditation, creative without being creation, artsy without being art, the supposedly soothing activity has also become a big business—in 2015 alone, US sales of coloring books shot up from 1 to 12 million units.
It's hard to overstate the trend: Coloring books are one of the big reasons print had such a strong showing last year in the US. Bookstores and craft stores alike are bursting at the seams with coloring books geared toward the 20 and up, and there are YouTube channels that let people watch other people color and critique coloring books. Coloring is so big, it's spun off its own bizarre subcultures, like coloring book parties, coloring books that are just swear words, and adult coloring apps. Even colored pencil production is feeling the effects of the craze.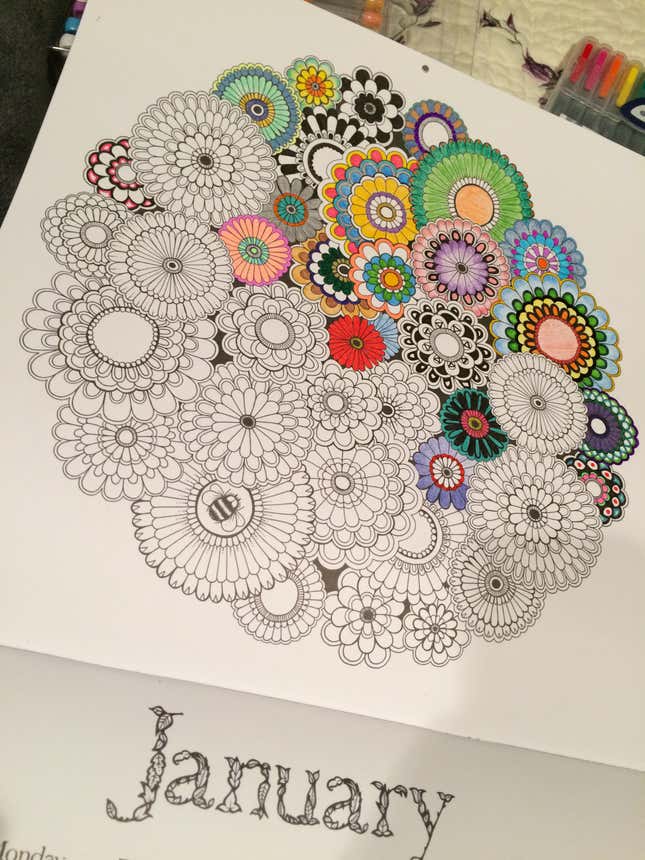 Wuu's obsessive interest in coloring extended to her pens: She bought Prismacolor colored pencils (with special sharpener), Sakura 3D glossy ink pens (which give a raised, embossed effect), and Fiskars gel pens (which come in four different finishes) to add to her collection of Sakura Pigma Microns and Staedtler Triplus Fineliners (for the "really intricate stuff").
"This is crazy now that I'm thinking about it," she says, laughing.
"Self-care" vs. therapy
A sizable number of the best-selling titles have one promise: "relax," "stress relief," and "good vibes." Anecdotally at least, coloring seems to make people feel calmer. But unlike with drugs or exercise, it's hard to pinpoint exactly how.
"People with a lot of anxiety respond really well to coloring books," says New York-based art therapist Nadia Jenefsky. "There are some choices involved—in terms of choosing what colors you're going to use and how you're blending your colors—but there's also a lot of structure."
Though coloring books are frequently described as stress-relieving and branded as art therapy, there's no research yet that shows proof of its health benefits. In a statement, the American Art Therapy Association draws a fine line:
"The American Art Therapy Association supports the use of coloring books for pleasure and self-care, however these uses should not be confused with the delivery of professional art therapy services, during which a client engages with a credentialed art therapist."
Gloria Webb, a stay-at-home mother in New York City, says she colors because it helps her sleep. She and seven other women, mostly seniors, meet every week in an "adult coloring book club" in Manhattan's Kips Bay public library.
At one such coloring party, retired elementary school teacher Wendy Ceracche pulled up a folder on her phone, showing me about 90 photos she'd taken of her colored designs—kimonos, animals, mandalas, and cityscapes colored in fine, bright detail. She'd only started coloring last year.
The mindfulness industrial complex
The coloring fad can be traced to illustrator Johanna Basford, known in adult-coloring circles as the "Queen of Coloring," who exploded onto the scene in 2013 with her best-selling coloring book Secret Garden. But our search for just such a mind-numbing leisure activity is nothing new.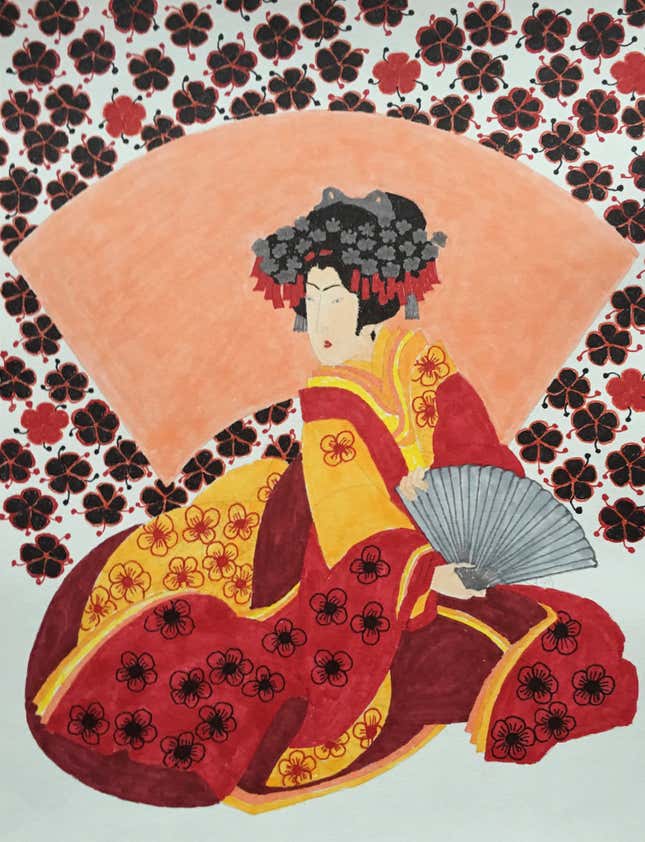 According to the American Psychological Association, last year Americans reported (pdf) being more stressed than the year before. And even though stress was on the decline in the years before that, Americans routinely report that their stress levels are higher than what they believe is healthy. Work, along with money, is consistently among the top reasons people say they're stressed.
From knitting crazes to mindfulness training centers, Americans today will take anything they can get to escape the hum of their perceived hyper-connectivity and overwork. That demand has created a sort of mindfulness industrial complex, a sprawling, lucrative industry that peddles DIY relaxation of all kinds, from calming crafts to downloadable guided meditation, week-long silent retreats and a $150 "calmness" tracker.
Sheerly Avni, a TV writer based in Mexico City, says she's the perfect audience for a trend like adult coloring: "I haven't relaxed since 1973," she jokes. "I was born to be the market demographic for anything new that makes people calm down with them not actually having to work for it."
Growing down
Because it's monotonous, coloring promises calm. Because it's paper-based, it offers an escape from screens. And a major draw of coloring for adults is its "creative" side. "It has an appeal to people who may want to be creative but don't think of themselves as artistic," says Jenefsky.
"Most of us, if we're not encouraged to continue with art-making, we usually stop making art when we finish middle or high school. It's an activity you're not encouraged to do unless you're demonstrating some kind of talent for it," she says.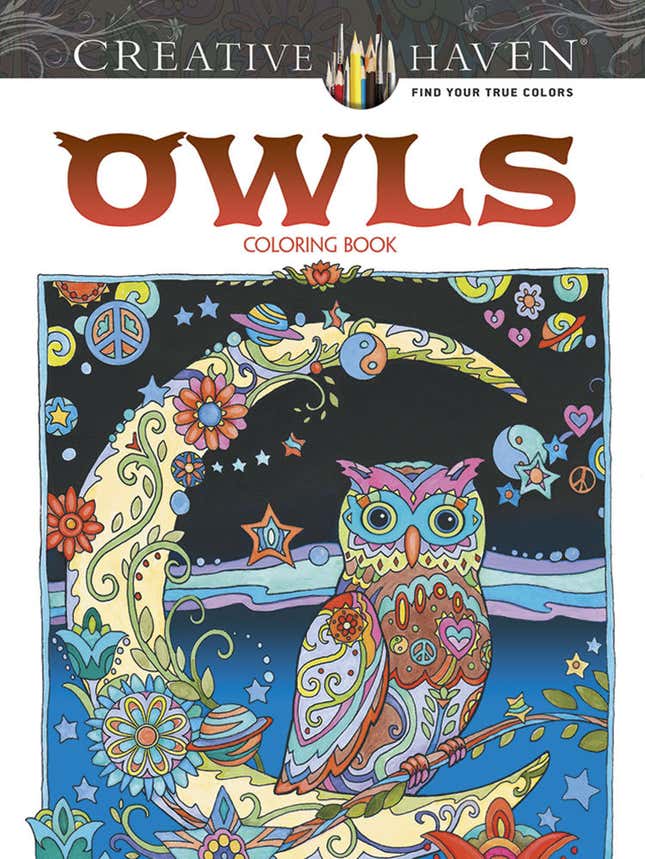 A 2012 study published in Psychological Science showed that a mindless activity may indeed spark creativity: Researchers showed that a non-demanding activity like showering, gardening, and perhaps coloring, could lead to productive mind-wandering and creative problem-solving.
We color to feel like children again, and to flex creative muscles, but as Jenefsky says, the truth is that children are actually so creative that coloring books slow them down. "For children a lot of times coloring books can inhibit their creativity," she says. Their natural creativity, she says, lends itself better to creating art from scratch.
Burned out adults, on the other hand, can be overwhelmed by a blank page. For them, selecting colors to fill in the lines may be all the creativity they can muster. And that makes sense.
It's precisely coloring's noncommittal not-quite-therapy, not-quite-art qualities that make it compelling. The activity takes less energy than jogging or yoga, is easier than picking up knitting, and is more productive than watching House of Cards (or can be done alongside it). Easier than yoga or meditation, it offers low-stake quick-hit escapism wrapped in the faddish trappings of self-medication.
And while it can give you a short break from your screens and devices, coloring also promises something productive and social-media friendly: You can do it stoned, or you can do it drunk, and at the end, you still have something pretty to put on Instagram.
Wuu says she's cut back significantly on her coloring, partly because she started to question just how "productive" she was being by filling her hours with shading. Still, she thinks her obsession was an ultimately positive distraction during a time of intense stress. "You can't do it wrong—and even when you do, you're like, 'Whatever, I have another shot,'" she says.
"It felt like I could mess up. I would look at this, and be like, 'Oh, that's not really what I wanted to do. But there are, like, 10,000 other flowers in this book.'"