Moncler's down jackets are not cheap—they can cost upward of $1,000. And they keep gaining in popularity as more high-end customers buy winter outerwear fit for a polar expedition.
Their high price tag and appeal, however, make them a prime target for counterfeiters, especially in China.
The problem has gotten so big that the Italian-French luxury label is introducing a new technological tool in its fight against fakes. Beginning with its spring-summer 2016 collection, each of Moncler's products will be outfitted with a radio frequency identification (RFID) chip to let customers authenticate it, via use of an app.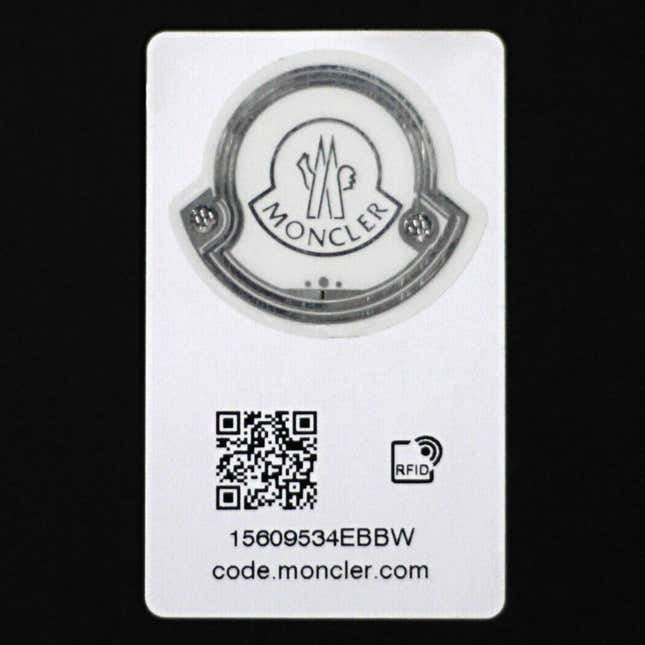 The technology is the same that allows people to pay for items with their phones. The chip will also have a QR code that customers can scan and an alphanumeric code they can check on the code.moncler.com website.
The problem of counterfeits is a huge one for fashion brands. Europe's Office for Harmonization in the Internal Market (OHIM) estimated that counterfeits cost European brands 9.7% of their sales each year, a total of $28.7 billion in 2015. The lost sales result in lost jobs across all parts of the fashion industry, and China is the source of more than two-thirds of these counterfeits, according to OHIM.
In November, a Beijing court awarded the label 3 million yuan (about $470,000) in damages from a Chinese brand that was found to be infringing its trademark by selling jackets with the Moncler logo. "This is a ground-breaking case," Moncler said in a release, "believed to be the first judgment under China's new Trademark Law to grant maximum statutory damages."
Moncler also has shut down well over a thousand websites (paywall) that were using its name and logo to sell fakes.
Moncler's new approach doesn't totally solve its problems, but it makes it that much easier for customers to tell fake from real—a genuine need if Google search results are any indication. It also could theoretically be used by other fashion brands combating rampant fakery, such as Louis Vuitton and Chanel.