No one can do all that much two days into a job. But even if Haruhiko Kuroda, the new governor of the Bank of Japan, spent the entire two days finding the coffeemaker and getting his Wi-Fi set up, the mere expectation that he'll adopt a truly aggressive monetary policy—which Prime Minister Shinzo Abe believes to be key to defeating deflation—should work in favor of a weakening yen.
And yet: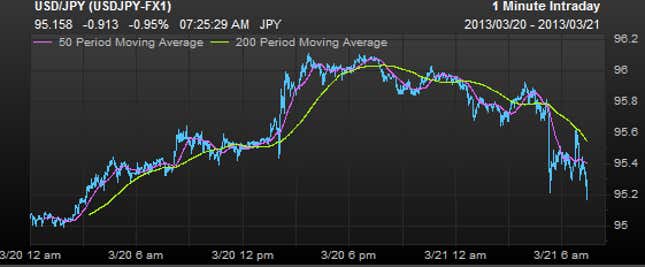 That's not supposed to happen! Especially the big move that happened right before Kuroda's first press briefing (at 5 a.m. EST).
Okay, there are a couple of reasons for the yen's seemingly inauspicious gain of 0.87% against the dollar today, bringing it back from highs in the 96-to-the-dollar range that started the day (in Japan time, that is).
First, there was "bad" news about Japan's trade deficit. Provisional data on February trade showed exports declining 2.9% year-on-year (pdf), after having risen 6.9% in January. Some caveats, though: February's exports were still 10% higher month-on-month, at ¥5.28 trillion ($55 billion), and it's unwise to read too much into that reversal, since it is likely distorted by trade disruptions from Lunar New Year (paywall).
The other, much bigger, reason: Cyprus. For reasons we discussed in more detail here, euro zone instability tends to strengthen the yen.
Neither of these were things that Kuroda could control, of course. What he can control, though, is how aggressive he comes across, since so much of the reflation game depends on expectations. And his press conference was a good sign—particularly Kuroda's remark that the central bank will lower the yield curve by buying longer-term assets (paywall), sort of like Bernanke's Operation Twist. One reason the bank has been so ineffective is that it has focused largely on short-dated assets, which have minimal traction in the economy.
He also did nothing to quash expectations that the BoJ would accelerate plans for open-ended asset-purchasing when it convenes April 3-4. At present, the central bank plans to kick that off only in January 2014.