Hong Kong's housing sales hit a 25-year low in February. The March figure, which came in early this month, doesn't look good either. The 2,369 residential homes that sold in March represent a 45% drop from a year ago, according to data from the government's land registry.
Prices are plummeting too. Centaline Property's Centa-city Leading (CCL) Index, which tracks used-home prices in Hong Kong, has dropped 13% from September's historical peak to its lowest level since 2014.
That's not to say things are cheap—Hong Kong remains the world's least affordable housing market, when based on income of local residents, thanks to buyers from mainland China, who continue to see Hong Kong property as a safer bet than stock markets, yuan, and property at home.
But this flow of money has been slowing, following Beijing's crackdown on corruption and overseas investment—and it may never come back. Analysts at CLSA predict Hong Kong's housing prices will drop another one-fifth in 2017.
There is no sign of a recovery in Hong Kong's home prices this year, and the "best expectation" is that the CCL Index will fall to 120 points in the second quarter, down another 6% from the current position, said Wong Leung Sing, senior associate research director at Centaline.
The Hong Kong government—despite a weak economy both locally and in mainland China—appears to have no intention of relaxing certain policies to boost sales, Wong said. One example is the transaction tax, implemented at the end of 2012 in order to curb speculation. Under it, home buyers must pay up to 8.5% of a home's value if they're Hong Kong residents, and up to 15% if they're not.
Sales of small and medium units are worse than those for luxury homes, because the economic slowdown hit the middle class harder than the super rich, Wong added.
New home sales will continue to gain market share,  Standard & Poor's Esther Liu wrote in a February research note, because there is "ample supply in the pipeline" and developers are cutting prices to get rid of inventory. New home sales accounted for 29% of total sales in Hong Kong's home market in 2015, the highest since the SARS epidemic decimated the city's housing market in 2003.
Making the market even weaker, developers in Hong Kong have been on a building spree despite signs the market is weakening. Some 87,000 private housing units will become available in the next three to four years, the highest level since 2004, according to Hong Kong's housing bureau. About 20,000 new units will go on sale in 2016, Ricacorp Properties estimates. This compares with total sales of 17,000 units in 2015 and 16,900 in 2014, Liu noted.
Centaline Property's estimates are slightly lower, but still signal a lot of property coming on in a weak market:
"Home prices are right at the starting point of decline," said Karman Lee, an agent with Ying Lok Property, which represents mostly used homes in Hong Kong's western Sai Ying Pun neighborhood. The average price of used homes in the region dropped nearly 10% since the start of this year.
Property developers desperate to sell their homes have been offering big discounts since last July, said Ken Lee, a sales director at Centaline.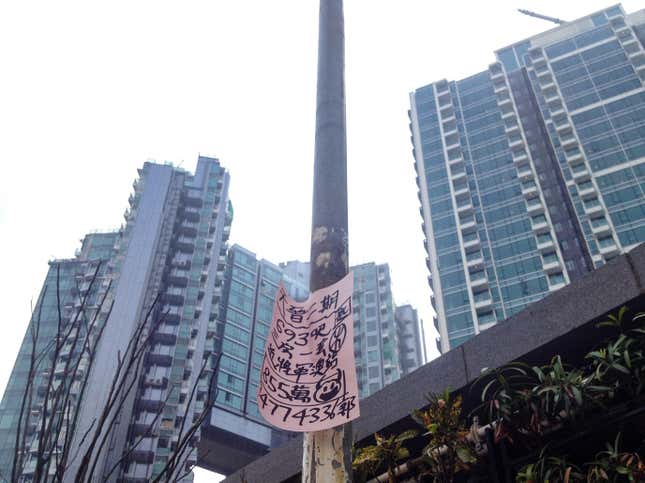 Lee is in charge of the sales at a property development launched this month in Hong Kong's eastern Tseung Kwan O area. The project, which includes both luxury homes over HKD$10 million and small units priced at HKD$5 million, sold 211 out of 228 units in six days, thanks to the developer's promotion, which covers 70% of the double "stamp duty," or double transaction tax, for those who already own a  home, and entirely wipes out the buyer stamp duty for dozens of units.
"The truth is, developers are more impatient to sell out new properties than before," Lee said. "They are accelerating."