Bank accounts are out, smartphones are in. In 2011, some 2.5 billion people in the world were "unbanked" (pdf), as the lingo goes, according to the World Bank. By 2016, more people will have bank accounts, but in regions like the Asia-Pacific and the Middle East, even more will have smartphones, research and consulting firm Analysys Mason predicts in a report today.
As we've written before, the increasing availability of cheap smartphones in emerging markets is one of the most important consumer trends today. Smartphone penetration should reach 46% in Asia by 2017 from 23% in 2012, and 29% in the Middle East and North Africa from 7% last year. The International Data Corporation forecasts that 70% of all smartphones shipped will be destined for emerging markets by 2017.
That quick growth means that smartphone owners should surpass bank-account holders by 2016 in most emerging Asian countries (Malaysia, China, Indonesia, Thailand, India, Pakistan and Bangladesh) as well as in the Middle East and North Africa, Analysys Mason estimates. Already more residents had smartphones than credit or debit cards in emerging Asian countries in 2011, Analysys Mason notes: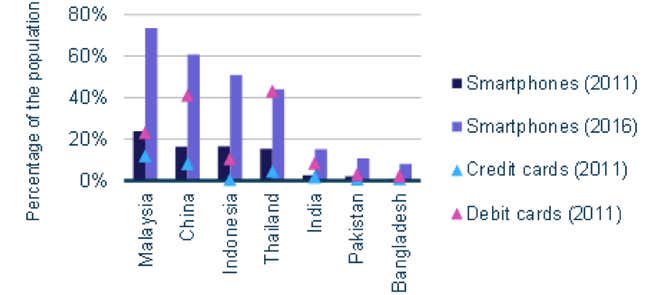 And more residents had smartphones than credit cards in Saudi Arabia and Egypt.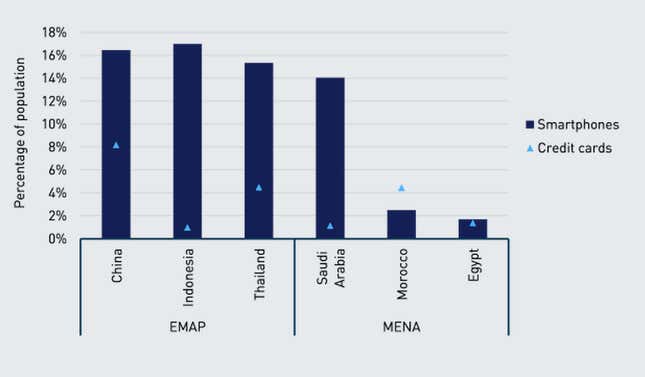 Yet these new smartphone users don't all use their phones the same way as their counterparts in more developed economies. Many don't go on the internet because of expensive data plans and poor service. But given the lack of access to formal banking, there's more opportunity for the mobile money industry in these markets than there has been in the US and other wealthy countries. In Kenya, considered a leader in the mobile money world, the value of transactions done via phones reached over $16 billion last year. It would be a huge boost for the industry if the same happens in countries with massive populations like China, Indonesia or Egypt.