An unseasoned cutlet sounds about as enticing as cardboard, but one pop-up restaurant is testing a new technology to make saltlessness seem zesty.
Tokyo's "No Salt Restaurant" opened for a night on March 24 and another on April 10. As its name promises, there was no salt at the table, or in the food—instead, each of the five courses was served with an electric fork, designed to trick eaters into thinking their food had been properly seasoned.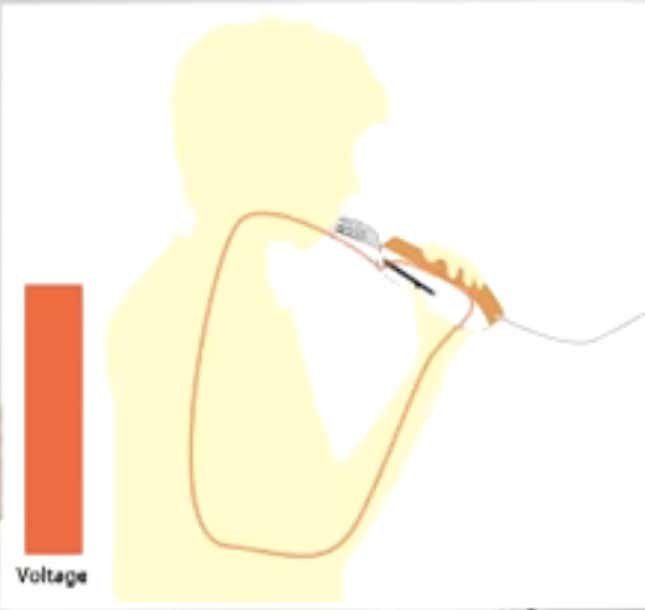 The fork, developed by the University of Tokyo's Hiromi Nakamura, doesn't really produce an elegant dining experience: Each eater must spear a piece of food, and hold it against his or her tongue for a few seconds, before eating.
The fork has two electrodes, and the contact between food, fork, and tongue acts like a switch in an electric current, creating a loop of electricity, according to a video from Nakamura's lab. The current moves out of the fork, through the hand, up the arm, up the body, and through the mouth, back to the fork.
A tiny zap results, which is thought to inhibit the taste of salt. In theory, our sensitivity to saltiness then returns in fuller force once the current is broken, making bland food seem flavorful.
Nakamura's fork is based on a yet unpublished paper which showed the effects in 10 out of 11 participants. Despite the tiny sample size, anecdotally, the fork seems to work.
In an episode of Vice's Munchies, Nakamura said the electricity created by the fork is "totally harmless."
According to Reuters the fork will be available to the general public later this year.