Spotify's founders have written an open letter to Sweden's politicians, saying they'll be forced to divert thousands of jobs away from Sweden if major changes to the country's housing, taxation, and education systems aren't made.
The founders, CEO Daniel Ek and chairman Martin Lorentzon, warn that current policies are stymying growth at the Swedish music-streaming company. They say their employees are having a hard time finding apartments and are being charged inordinately high taxes on their stock options, and that the pipeline of programmers coming out of Sweden's schools is not large enough.
"We are now therefore forced to state that if no changes are made, we must consider growing more in other countries instead of Sweden," Ek and Lorentzon wrote in a letter posted to Medium.
There's evidence to suggest Ek and Lorentzon are right, at least on housing. New research from the International Monetary Fund shows that housing stock in Stockholm hasn't kept pace with population growth, hampered by complex planning restrictions. In 2013, 85% of all municipalities in Stockholm reported a shortage of rental properties (pdf, p. 27), according to the IMF.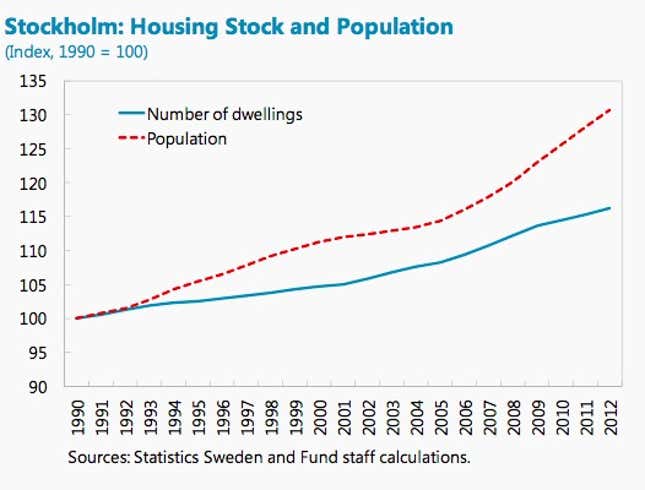 The Spotify letter has struck a nerve, inspiring plans for a protest in Stockholm next month to demand reforms in the housing system. According to The Local, more than 400 entrepreneurs have expressed interest in attending.
The Spotify founders name New York, London, and Singapore as examples of cities where their company can grow. They say the choice for Spotify now is between expansion in Stockholm or New York.
But a company in search of a sensible housing market for its employees might consider casting a wider net—and tempering its criticism of Stockholm.
Mans Ulvestam, founder of Acast, which produces analytics and inserts ads in podcasts, has offices in New York, London, and Stockholm. "The cost of living in New York is way higher than Stockholm," he says. "It's certainly cheaper to buy an apartment in Stockholm than San Francisco, New York, or London. If Spotify had said they were moving to Idaho–that would have been a valid argument."