Uber is killing off the "instant" option in UberEats, its food-delivery service, just one month after the standalone app launched in New York City.
"In order to bring you the most exciting selection, the highest quality food, and the fastest delivery time, we've decided to narrow our focus," Uber wrote in an email to Eats users in New York City on Monday. "Starting today, 4/18, we'll no longer be offering a daily Instant Delivery lunch menu."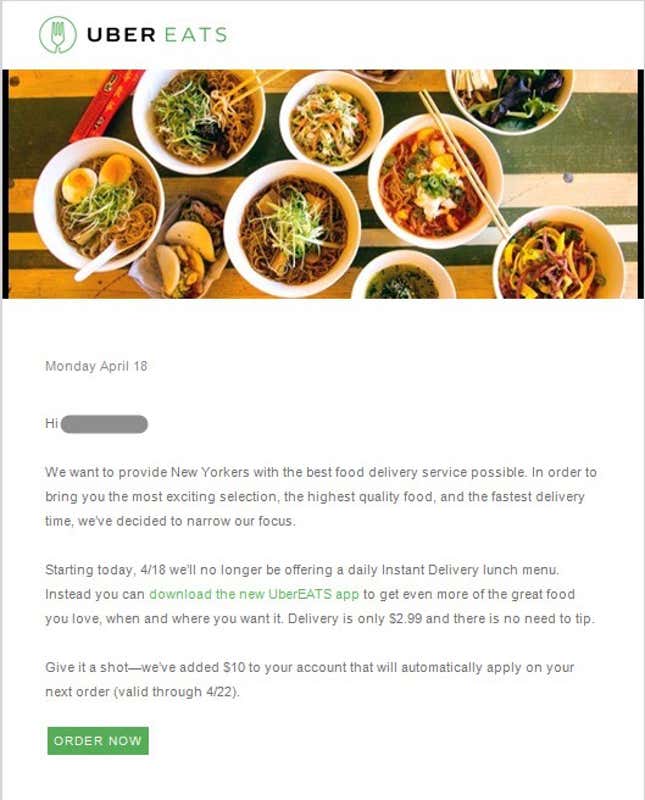 The UberEats app debuted in cities across the US in mid-March, with the promise to make "getting great food from hundreds of restaurants as easy as requesting a ride." At launch, UberEats offered New Yorkers two different ways to order food. The first was a Seamless-like experience, in which customers could order food from any of the dozens of restaurants on the app, and Uber would facilitate the delivery.
The second was an upgraded "instant delivery" menu that featured two pre-set lunch options from a rotating group of restaurants that Uber said it would deliver in as little as 10 minutes.
To make these rapid deliveries work, instant UberEats had different logistics from its regular service. Instead of dispatching bike couriers to restaurants, Uber had its inventory for the instant menu brought to a central holding facility in Manhattan's Midtown neighborhood every morning. Instant deliveries were also made to the curb, whereas normal UberEats orders would be brought to a user's door.
When Uber demonstrated Eats in March a day ahead of its New York City launch, the company was clearly excited about the instant setting, which was the first option at the very top of the app. Emails that UberEats sent to users also prominently highlighted the day's instant delivery options.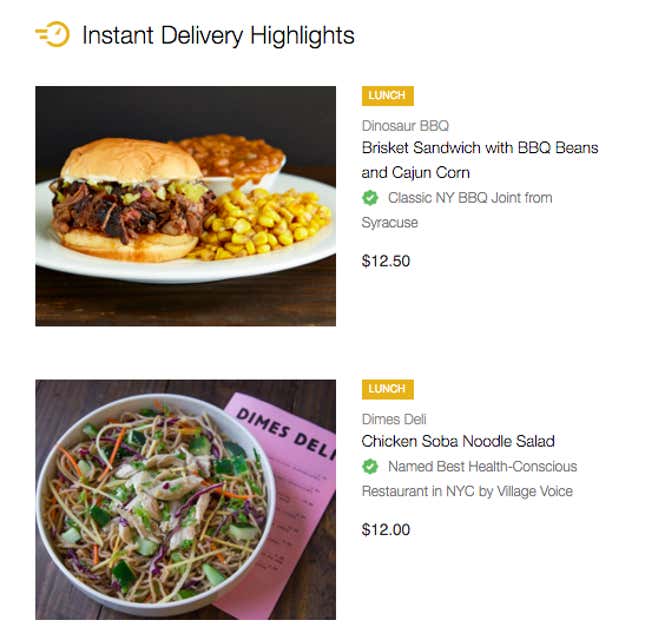 Still, it was unclear at the time exactly how the economics of instant UberEats worked. Uber, for example, said it did not purchase the food, but rather let restaurants determine how much they wanted to provide each day. The company also declined in March to provide specifics on how many Eats orders its bike couriers could deliver at a time, or per hour.
Sarah Maxwell, a spokeswoman for Uber, said the instant delivery option is only being phased out in New York City, but will still exist in all the other UberEats markets. New York UberEats users will still be able to order from the menus of more than 100 restaurants that partner with Uber in the city. Uber had offered a version of Eats in New York City similar to the instant option within its main, flagship ride-hailing app since April 2015.
Food delivery is a hot space right now, with Uber, Postmates, DoorDash, and Caviar—not to mention Seamless—all vying for consumers' loyalties. Each of these companies is trying to make it big by applying the Uber model to lunch and dinner logistics. Each is building out a technology platform and hiring an army of independent contractors to bring food on-demand from restaurants to users.
But the actual logistics of these business have proven challenging. The New York Times reported in February that DoorDash spends north of $200 to recruit each driver. Many stopped working for the company within a year. ("Dashers by definition will always churn," DoorDash CEO Tony Xu told Quartz in early March. "They're people looking for flexible work.") Late last month, DoorDash raised new funding, selling shares at a 16% discount. Postmates said in February that it planned to raise money in the first quarter, but the company hasn't shared any news since then.