Hong Kong is one of the world's most expensive and densely populated cities. Some of the poorest people live in "coffin homes" that have just enough room for one person to sit up, while the middle class pays as much as a quarter of their household income to rent a 500-square-foot apartment in the city's busiest districts, despite a deteriorating housing market.
One couple who lives in the heart of the city, however, has come up with a way to turn their 309-square-foot apartment into a luxury home, featuring everything from a home theater to a guest room to a gym.
Apartment owners Andy Knight and Michelle Tennant could only afford to buy a tiny apartment in the pricey neighborhood of Central, but the couple still wanted a full-sized kitchen, a large bathtub, a home cinema, and a gym. They approached Hong Kong-based firm LAAB Architects to fulfill their ambitious wish list. The tiny flat looked like this before renovation:
LAAB recently completed the renovation, and is showing it off (with the couple's blessing). The new apartment maximizes the space using what LAAB calls a "Form Follows Time" philosophy. That means spaces in the apartment shift depending on the residents' needs at any particular time. Here's a video tour:
And an overhead floor plan: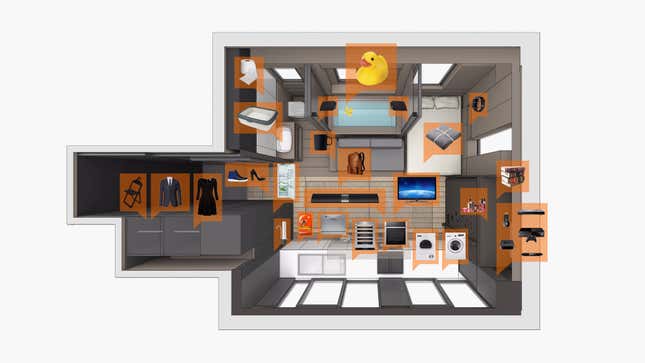 The new design makes good use of the bathtub, which when covered can become either a guest bed or a second-tier sofa for the home cinema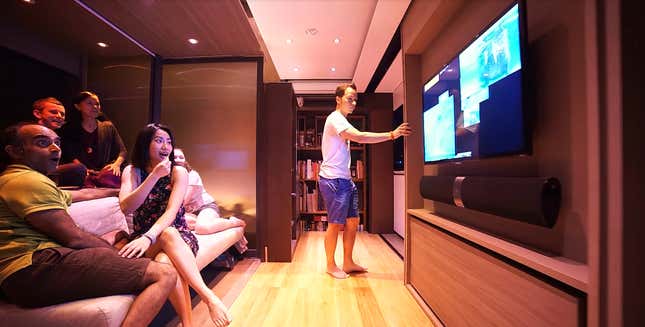 You can enjoy a bath while watching TV, or have some privacy by pulling down a waterproof roller bind: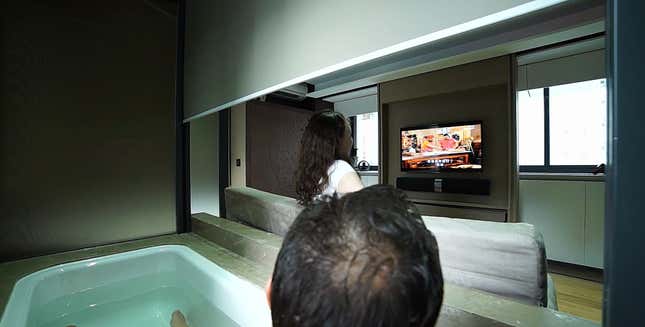 The flat can include three separate "bedrooms," with sliding walls to divide them.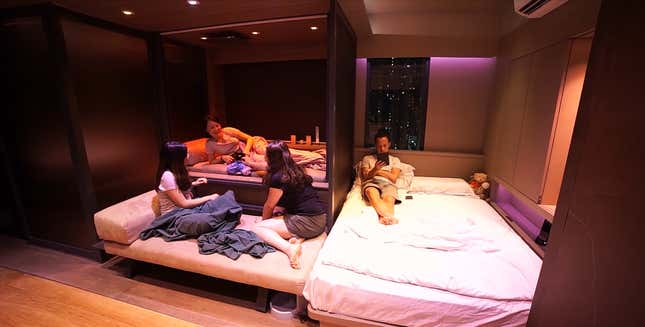 A full kitchen is hidden behind a sliding wall mounted with a large screen television. The kitchen sink is covered by the chopping board, and cupboards drop down from the ceiling.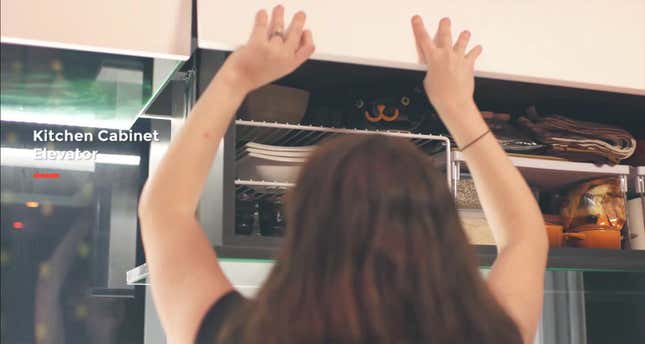 The lights and the locks are controlled by apps. There's underfloor storage with a pneumatic system. A ring on the ceiling aids in working out.
The design also takes the hosts' three cats into consideration, with a cat walk, a ladder, a den, and a drawer for placing cat food.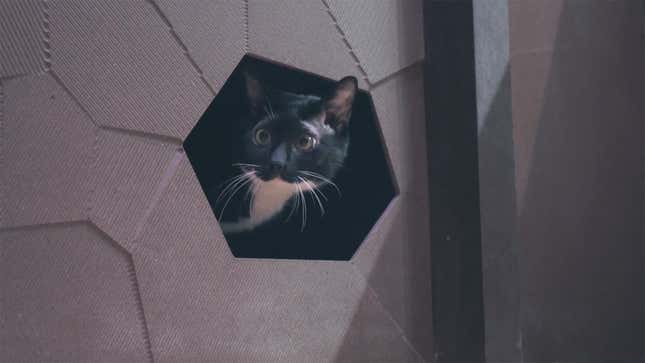 LAAB wouldn't disclose how long the renovation took, or how much it cost. "The most important thing is how comfortable the apartment is," the owners said. "Many of our friends come over and visit our place, and they have never seen such a nice kitchen even though their own apartments are bigger than ours."
Here's the whole picture of the convertible apartment in one GIF: