The European Commission has formally charged Google with abusing its dominant position in its Android smartphone operating system and in internet search by imposing restrictions on mobile carriers and phone manufacturers, ending weeks of speculation about the charges.
Some 80% of the European smartphone market runs on Android, the commission said. The commission has laid out these charges in a statement of objections, which Google must now respond to within 12 weeks.
The commission's case rests on Google's Play Store, which is the portal where Android users go to download other apps. Because the Play Store is a sought-after app on Android devices, Google has used it as leverage against manufacturers to force them to also install other Google applications if they want it, the commission said.
The commission said it found evidence that Google requires manufacturers who pre-install Play Store to also pre-install Google's search app, and to set it as the default search app on their devices. Google also required manufacturers to pre-install its Chrome web browser.
"The impact of Google's practices is highly relevant for today's users, as over half of internet traffic takes place on mobile devices, and that share is growing," said Margrethe Vestager, the EU's competition commissioner, at a press conference announcing the charges.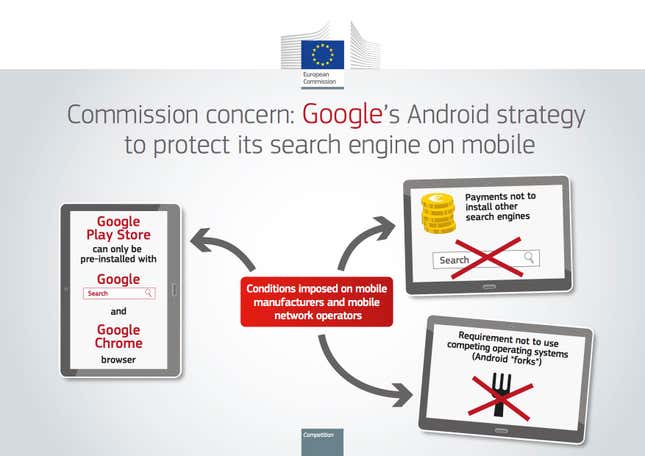 Vestager said Google also imposed restrictions on manufacturers who wanted to use versions of Android that weren't solely developed by Google, or so-called Android "forks." Different versions of Android are possible because the operating system is open-source. That is, any developer can freely modify the code. But Google doesn't allow handset-makers who use sanctioned versions of Android on their products to use Android forks on any other product lines, Vestager said.
"Google decided to develop Android as an open-source operating system, and this means that anybody may use the Android open-source code and potentially further develop and create a modified operating system. The open-source code is obviously not the source of competition concerns," said Margrathe Vestager, the EU's competition commissioner. "But not all of Google's business practices concerning Android and mobile search seem to be as open or fair."
Additionally, the commission found that Google was providing "significant financial incentives" to manufacturers and carriers to pre-install Google search exclusively on their devices. Vestager wouldn't specify the amount of those incentives when asked at the press conference. "It's preventing competition from happening because of the strength of the incentive," she said.
Kent Walker, Google's general counsel, responded to the announcement of charges by Vestager in a blog post. He underlined the fact that Android is open-source and that its agreements with manufacturers are "entirely voluntary." He said manufacturers are free to choose whether to install the "suite" of Google apps or not. "Any manufacturer can then choose to load the suite of Google apps to their device and freely add other apps as well," Walker wrote.
Under EU law, Google could face a fine of up to 10% of its global revenues over several years. Google reported $75 billion in revenue for 2015, and the commission has said it found evidence that Google abused its dominance over a number of years, meaning that a maximum fine from the EU would run into the tens of billions. Intel was fined €1 billion ($1.4 billion) in 2014 for illegally undercutting competitors, and Microsoft was fined €561 million in 2013 over antitrust charges around the use of its web browser. The Intel fine represented 4% of the firm's annual revenue the previous year.
But an EU fine is likely low on the list of Google's priorities. The more immediate impact of the EU charges are to cast doubt on Android's future as a money-spinner for Google. If the commission's allegations are accurate, then Google may no longer be able to rely on a default prominent placement of its own apps on Android handsets.
This could result in lower search volume, and higher payments to manufacturers to ensure better placement, Bloomberg reported. These payments, called "traffic acquisition costs," could climb without default placements. For example, Google paid $1 billion to Apple in 2014 to be the default search provider on iPhones and iPads. "Google has protected its revenues by imposing the display on phones of its apps and related services that collect data vital for targeting consumers. That deprives competitors of data they need to attract advertisers, leaving them unable to challenge Google's dominance," said Thomas Vinje, a lawyer representing a FairSearch, a complainant in the Android case. FairSearch is a group comprising tech companies including Expedia, Oracle, and Nokia.
There's also the legal headache an EU finding against Google could set off. Google could be mired in dozens of lawsuits in EU member states if the commission ultimately finds that it's guilty of competition abuses. Civil suits are being readied across Europe in preparation for the commission's final decision on a separate, ongoing, antitrust case against Google, concerning its shopping-comparison service, said lawyers who acted for complainants in the earlier case. A decision against Google lends significant weight to their arguments, they say.
The Android charges are even more significant, as they involve a key Google product, said one lawyer who represents a complainant, but didn't wish to be named. "It's a very big deal. The Android case is likely to be much more important than the existing shopping case," he said.
Canada's competition authority yesterday (Apr. 19) cleared Google of anti-competitive behavior, including around its Android agreements. The US Federal Trade Commission is said to be looking into Android.
A final decision on Android could take months, or even years. Google must now respond to the commission's objections. In the earlier shopping case, Google has provided the commission with reams of data, which Vestager said her team was still looking at, nearly a year later. "We cannot sacrifice quality over speed," she said.
But there could be even more to come from Vestager, who has won a reputation for prevailing over the biggest multinationals. Ending her speech today, she noted that her team would continue to examine other facets of Google's business, including specialized forms of search, advertising and the way it presents web content.