A recent Chinese propaganda campaign about national security uses a comic called "Dangerous Love" to warn Chinese women not to date foreigners.
Li, a college graduate who works for the government, meets red-haired, beak-nosed David, who claims he is an academic, at a friend's gathering. "Honestly, I fell for you the first time I saw you," the guy confesses, and the two soon begin a relationship. But the romance turns dark when she learns David is, in fact, a foreign agent who ruthlessly uses Li to obtain government documents.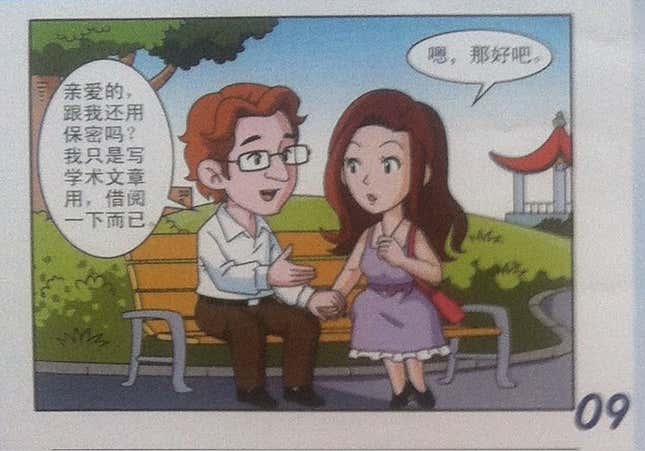 Many Chinese women have shrugged off the spy warning—but say relationships between Chinese women and foreign men are anything but smooth.
It is certainly much more common for Chinese women to date foreign men than in my parents' generation, thanks to Chinese nationals heading overseas for schools and foreigners flocking to Beijing, Shanghai, and other big cities to learn Mandarin and add Chinese experience to their resumes. The latest data, from a 2010 population census, shows more than 600,000 foreigners dwell in China, and 56% of them are male.
(There appear to be more young Chinese woman/foreign man couples than vice versa, maybe because there are more single foreign men in China, or maybe because of who men and women choose to date.)
But while dating seems to be on the rise, marriage is still unusual—thanks to political differences that are often irreconcilable, according to the women I spoke to, who were all between 21 and 25, prime age to start looking for a husband in China. The real "danger" of love between a Chinese woman and a foreign man is that it doesn't ultimately go anywhere, the women I talked to said.
The opposing political views of May Xu, 24, who works for a Spanish head hunting firm in Shanghai, and her Spanish ex-boyfriend, who she met at work, were reflected in just one sentence.
During a date, he declared "Mao is a dictator," Xu recalled.
It was interesting at first for Xu to learn about Spanish culture from her ex-boyfriend, she said, especially after feeling she had nothing to talk about with Chinese guys in her age because "everything is familiar." But the remark about China's former leader, Mao Zedong, was too alien, she said. She broke up with him soon afterward.
She's not happy about the word "dictator," because that makes Mao the equivalent to Adolf Hitler or Joseph Stalin, Xu explained. "In his eyes, Mao was a horrible figure," she said, "but he doesn't know our parents' generation still thinks he was amiable and respectable."
Many Chinese people in their fifties or sixties still sing "red songs" to pay tribute to Mao, and carry out memorial ceremonies for him annually, so he shouldn't just identify Mao as a "dictator," she tried to explain to him. "He couldn't understand my point," she said.
A 21-year-old college student in Beijing, who would only like to be identified as Jean, tells me she dated a guy from the US two years ago. The relationship lasted for just six months, because Jean found they "couldn't communicate" because of their "different standpoints."
Jean's ex-boyfriend was nine years older than her, and a graduate student in international relations at another Beijing university. Unlike some other young couples, Jean said, they talked a lot about serious topics, including Chinese politics. "I wondered how he thought as a foreigner," she said, and her ex wanted to know the same. But these discussions in part ended the relationship.
Jean said her ex always criticized the Chinese government "with a set of democratic thinking," and without putting the discussion "in the historical context." When talking about the 1937 Nanjing Massacre, in which China claims 300,000 were killed by the Japanese army, for instance, her ex said "the Chinese government is not completely innocent." He went on to challenge the death toll, even after Jean cited official documents, which annoyed her. "He can't brainwash me," she said.
"I understand democracy no less than him," Jean said. "Democracy also has its own problems."
Sally, 23, who would only like to be known by her English name, dated a German soldier two years ago when she was an exchange student in Germany. She met him at a party, and developed feelings for him after learning he had carried out missions in Afghanistan.
When she told her father about the German, his response was "Be careful, he may be a spy." She found later there was absolutely nothing to worry about, as the German showed little knowledge about China. "Do you really have just one party?" he asked once.
Sally ended the relationship, and started a new one with a Swedish citizen who is ethnically Chinese after she moved back to Shanghai. He's interested in China's recent history and hopes to discuss it with Sally. But this isn't a topic Sally feels comfortable talking about.
She said her current boyfriend is "too young, too naive" (a reference to a 2000 press conference in which former Chinese president Jiang Zemin criticized a reporter who asked a tough question) thanks to the "one-sided" China news he learned from western media. Her boyfriend is always reading some "banned stuff" on the internet, she said, and then recklessly talking about it on the street in Shanghai. "This makes me really angry," she said.
The "banned stuff" includes the 1989 Tiananmen Square Massacre, the Dalai Lama, Falun Gong, and violence in Muslim-majority Xinjiang region, topics which are heavily censored by the Great Firewall. To read information about these topics from outside China's borders, her boyfriend need to use a VPN service.
She agrees with his theory that China's government policies contributed to those incidents, but not with his policy of publicly complaining about it. "Even if I know what he says is right, what can I do?," she asked rhetorically. "Can I use my own power to fight against a clique like this?"
Ultimately, what it comes down to is "he thinks we're stupid, while we think he is," she said.