China has a habit of making improbably grouped friends. When it held a World War 2 victory parade last year, key attendees included officials from East Timor, Bosnia-Herzegovina, and North Korea.
Today Beijing is cobbling together a similarly incongruous group of nations in support of its position on the South China Sea—ahead of an upcoming ruling in an international court that isn't likely to go China's way.
China says nearly all of the South China Sea is its territory, basing its claim partly on a nine-dash line drawn after the end of World War 2—a line that conflicts with the claims of other nations in the area, including the Philippines, Vietnam, and Malaysia. The Philippines is legally challenging the validity of that line, saying it violates agreements about exclusive economic zones and territorial seas established by the United Nations Convention on the Law of the Sea. The Permanent Court of Arbitration under the United Nations will issue a ruling, likely in late May or early June.
China has refused to recognize the court's authority in the matter and says its position—that the issue should be resolved directly between the nations involved—will not change regardless of the ruling. In the meantime, it's drumming up international support to complement its militarization, island-building, and aggressive fishing in the sea.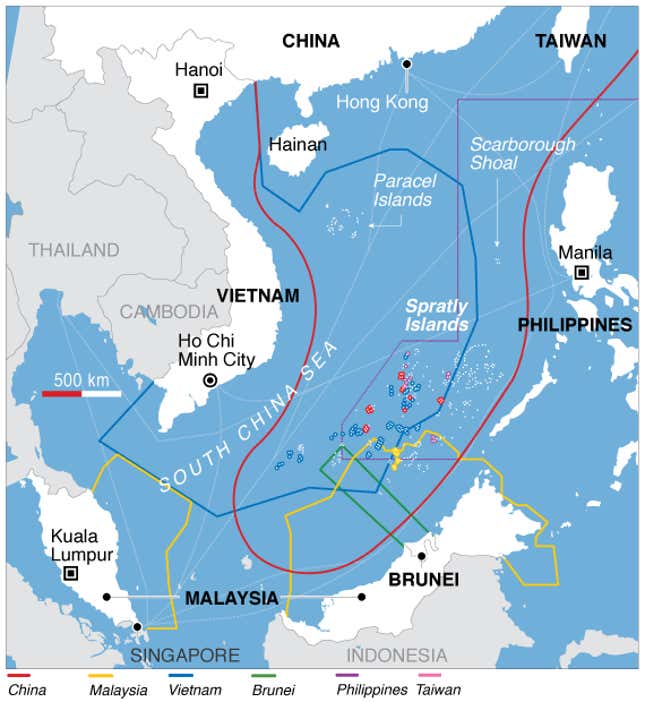 Last week Gambia released a statement expressing its support for China's position. It said that China had "indisputable sovereignty over the South China Sea islands and the adjacent waters" that the court has "no jurisdiction in pronouncing a verdict on maritime boundaries in the South China Sea," and that the matter ought to be resolved bilaterally. Gambia, which lies on Africa's west coast and faces the Atlantic Ocean, would seem a rather odd nation to be weighing in on the matter.
Not every ally Beijing has enlisted is so remote. China's foreign ministry indicated over the weekend that three nations in Southeast Asia have voiced their support for Beijing's position: Laos, Cambodia, and Brunei. All three oppose "any attempt to unilaterally impose an agenda," according to state news wire Xinhua, and agree that nations should resolve disputes between themselves.
Of course, Laos is completely landlocked, and Cambodia's single stretch of coastline faces the Gulf of Thailand, well removed from the waters around China's nine-dash line. China is also a major aid donor to and trade partner with both of the economically challenged nations. Brunei actually does face the South China Sea—but it's an oil-enriched speck of a nation with fewer than 500,000 people.
China is also courting Russia, which has reasons to dislike the Permanent Court of Arbitration: A Ukrainian businessman brought a case to the court over his right to operate a passenger airport in ­Crimea after Russia annexed the peninsula. The court, Moscow argues, lacks jurisdiction over the matter.
"Both China and Russia should remain alert against behavior abusing the mechanism of compulsory arbitration," said Chinese foreign minister Wang Yi, who visited his Russian counterpart Sergey Lavrov Moscow last week.
Lavrov indicated Russia favors direct negotiation between the countries involved and opposes "any attempts to internationalize" the South China Sea issue.