A checkered sun will preside over the next Olympic games.
The Tokyo 2020 Olympic Committee announced today that a design proposal from 46-year old designer Asao Tokolo was selected from a pool of 15,000 entries submitted in an open-call competition. The logo replaces a previous design that was abruptly scrapped last September amid allegations of plagiarism.
The logo's central motif forms a traditional Japanese checked pattern called ichimatsu moyou, rendered in a dark indigo color. The selection committee, led by artist Ryohei Miyata, praised its "refined sophistication of the Japanese tradition," Japan Times reports.
Tokolo's proposal (option A among the finalists below) won from a shortlist of four designs, garnering 13 votes. Option D came in second place with five votes.
Designers around the world followed the logo competition closely, including some who protested the ethics behind the crowdsourced design process. Last December, the American Institute of Graphic Arts published an open letter stating that "competitions that ask designers to contribute their creativity and hours of work without remuneration in the hopes of their work being selected are against the global standards of professional practice for communication designers."
With sensitivity to the political nature of the contest, Miyata said that the committee strived to make the selection process as transparent as possible.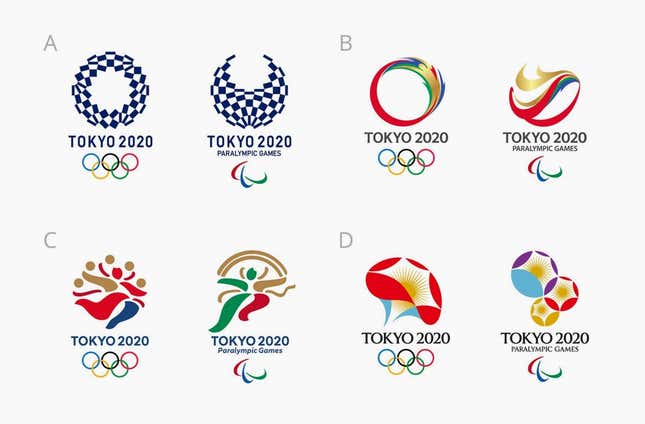 "I can't be an athlete, but this was something I could get involved in. I always dreamed of that as a child," Tokolo said at the press conference where the winning design was unveiled. He will be awarded ¥1 million ($8,250) and a free ticket to the opening ceremonies of the 2020 Olympics and Paralympics.