China's government-controlled media has embraced Western social media, following top-down orders from president Xi Jinping to "tell China's story" to the world. Facebook, Twitter, and YouTube are now rife with news from China's Communist Party, in the form of English-language articles and videos especially geared to a foreign audience.
Attracting a big audience for their government-sanctioned brand of news might seem like an uphill climb—after all, China's 700 million internet users are blocked from these social media sites by government censors. State media's attempts at attention-grabbing tweets have been pretty clumsy, there's plenty of perplexing political videos, and some seem confounded by the basics of YouTube.
But, at least in terms of one metric, these state media outlets are absolutely killing it—Facebook fans.
Only the BBC has more Facebook fans among English-language news outlets than China's state-television channel CCTV, and its news channel CCTVNews. And the People's Daily, the official mouthpiece of the Chinese Communist Party, is beating out Fox News, the New York Times, and nearly every one else except CNN and the BBC:
They just joined Facebook in recent years, so this growth is nothing short of phenomenal. But it raises some serious questions—first, how did they do it? And second, how will the spread of Communist Party propaganda impact how Facebook's 1.6 billion users view the world?
Behind People's Daily's fast growth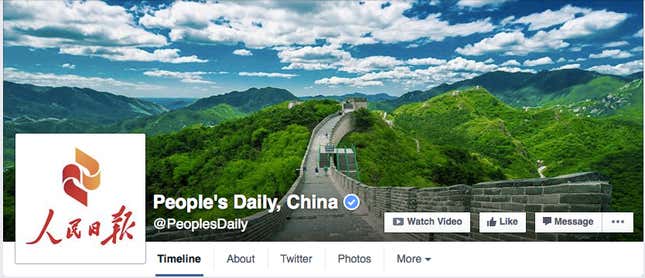 Facebook fans of the People's Daily, the official newspaper of China's Communist Party, have grown particularly fast in recent months, drawing attention in China and overseas, so we decided to zero in on that publication.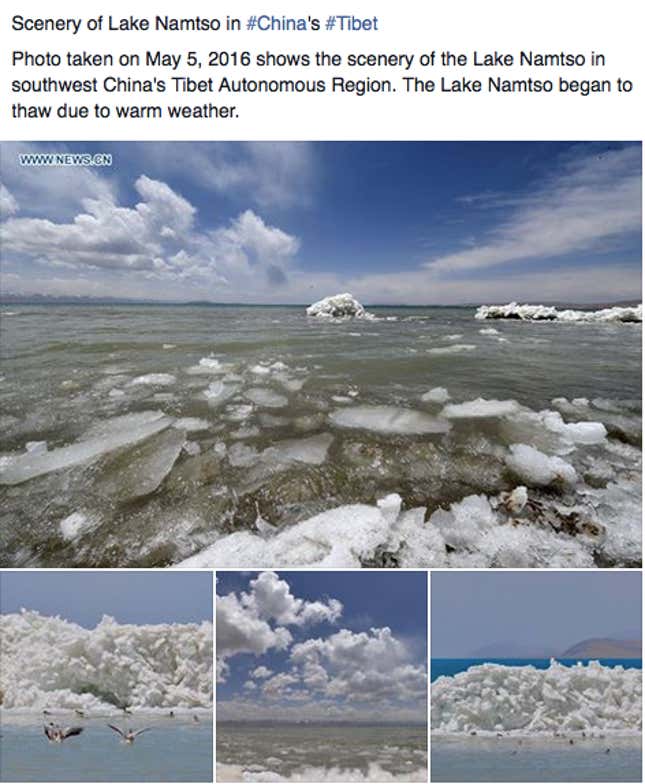 As recently as April 2015, the paper had three million fans, a figure that was already raising questions. Just over 12 months later, it has more than 18 million.
People's Daily posts a lot of beautiful scenery from China, "news of the weird," videos of Chinese citizens doing wacky things, and panda photos, mostly without any link to an underlying article. (For world news, go to CCTV.) It's visually appealing, albeit mostly lightweight.
The phenomenal growth could be totally organic, said Josh Steimle, the CEO of MWI, a digital marketing company. Given the number of Chinese overseas and the amount of people in China who may be accessing Facebook through a VPN, there's millions of potential fans right there.
"It's actually a pretty good, engaging Facebook page," he said. "There are only 18 million likes on the page, which seems like a lot but is not huge when you're talking about anything to do with China."
Some critics though, wonder if more nefarious activities are at work. "Many people suspect that it is possible that they are paying for their fans," William Long, a prominent technology blogger wrote (link in Chinese) late last year.
Paying for Facebook fans has become a cottage industry as the social media platform's influence has grown, and while many businesses shun the idea because it doesn't bring engaged readers or customers to a company, it is certainly a good way to boost your numbers. (And, for Chinese state media's top managers, potentially a good way to show numbers-obsessed authorities in Beijing you're getting China's story to the world.)
People's Daily did not respond to questions sent to its Twitter, Facebook, or public email accounts. But a closer look at its fans via Fanpage Karma gives some credence to its critics.
First of all, most of its fans come from countries that are notorious for running "click farms," where companies can buy Facebook "likes" and re-posts, rather than the biggest English-speaking countries (which you'd expect from an English-language Facebook page):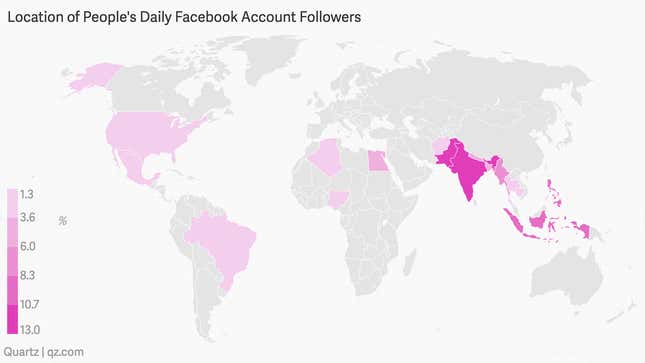 Or, to look at that another way:
Myanmar, which is responsible for 1.2 million of the People's Daily's Facebook fans, only has 7.1 million Facebook users overall, and the country's official language is Burmese (English is taught as a second language).
Most of the People's Daily's top 10 "influencers," or the fans who drive the most views to its Facebook posts, didn't actually seem that engaged with what they are reading on a recent week.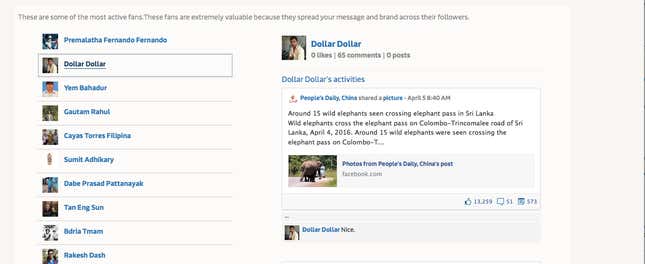 They include: 
Beverly Dillon, a "Chicago resident," who has commented 41 times in the past 28 days, typically saying just "Nice shots" or "Amazing Shots" on photo posts. She has just 21 friends on Facebook, a rare low number.

Dollar Dollar, whose comment on most of the 65 recent re-posts of People's Daily content has been simply "Nice."
Rakesh Dash, a "student in Balangir, India," who has commented 53 times on People's Daily posts in the past 28 days, again with very short responses.

Quartz messaged over a dozen of the paper's "top influencers" to ask about the People's Daily, but did not receive any responses. Only two post frequent comments that look like they were written by people trying to interact with the page, rather than just robotically reposting. One, Yeey Poh Kheng Tan from Singapore, often makes references to China's military history. Ramil Rabor, from the Philippines, has written 85 comments in the past 28 days, most full of vitriol toward China's Communist Party.

Adding fuel to the "fake" theory, most of China's state media outlets are growing faster, by many multiples, than all other popular English-language media, when judged by Facebook fans.
"It's certainly in the interest of state media to demonstrate reach—even if the numbers are inflated," said David Bandurski, editor of the China Media Project. "China's leaders dream of a Great Leap Forward in international influence."
What Facebook says
Facebook is engaged in a huge push into China led by CEO Mark Zuckerberg, even as the service remains banned there. It has been working closely with Chinese companies to build their international presence, whether setting up Facebook pages, selling targeted ad space on Facebook to companies like Cheetah Mobile, or selling information on Facebook's audience to app developers like Apus.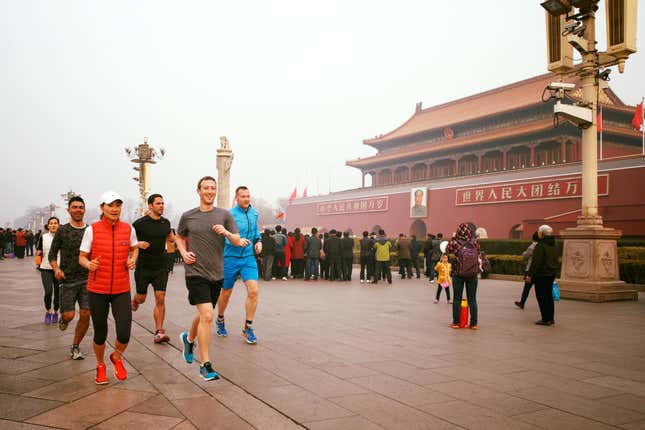 Facebook has said in the past that it is cracking down on "fake likes," which it calls "bad for people on Facebook, advertisers, and Facebook itself," and has a "number of teams to detect fraudulent activity and shut it down." In April of last year, the company said it had notified 200,000 Facebook page operators that "we've protected their account from fake likes."
The company declined to make anyone available for an interview, but pointed out its policies on fakes. When asked specifically via email about the authenticity of People's Daily's Facebook fans, a spokeswoman sent a prepared statement that seemed to indicate it had some concerns:
We focus on preserving authentic connections between people and businesses on Facebook because that's why people come to Facebook in the first place. Obtaining likes from fake accounts or people who don't have an interest in a business's Page isn't going to meet business objectives, and that's why we provide resources and tools to help businesses achieve measurable results. As always, we maintain systems and use spam-fighting technology to shut down inauthentic activity and accounts. This has always been a tiny fraction of activity on Facebook, and our efforts help reduce these tactics over time.
So what's the big deal?
So, a bunch of click farm Facebook accounts in Myanmar might be "liking" panda pictures posted by China's government-backed media. If it's not on your Facebook feed, who cares?
For one thing, the situation puts Facebook in a dilemma. Clamping down on Chinese state media's fans, if they are in fact fake, is going to show that the Communist Party's "reach" into the Western world is nowhere near as vast as it believes. (Foreign companies hoping to do more business in China generally go out of their way to avoid insulting Beijing.) Failing to crack down on fake fans would go against Facebook's stated principles and puts publishers in the rest of the world at a disadvantage.
The situation also creates a more vexing question for the nearly one in four people in the world who are on Facebook, and increasingly getting their news from it.
What if there's a global news event, like, say, a skirmish in the South China Sea, in which the Chinese state media's version of what happened is not factual? Beijing heavily censors and sometimes distorts the news its media publishes, to present the party in the best light. At home, it is accused of fabricating evidence against activists who Beijing is trying to silence.
On Facebook, though, what the party publishes looks just as legitimate as what every other English-language media does. Facebook's algorithm means that unless you and your friends are "liking" China's state media, you're unlikely to see their stories—unless, of course, China's deep-pocketed state media companies pay to "boost" their posts on Facebook.
In that case, over 1.6 billion people will have to distinguish between what is factual news and what is the Chinese Communist Party's propaganda—and its huge "fan base" will make that even harder.