Mark Zuckerberg kicked off his visit to Beijing with a jog.
"It's great to be back in Beijing!" Zuckerberg wrote on Facebook today (Mar. 18) at round 10am, with a photo showing he was joyfully running through Beijing's Tiananmen Square with five companions.
As he was jogging, though, Beijing's Air Quality Index climbed past 300, a level defined as "hazardous." When the air pollution is that high, "everyone should avoid all outdoor exertion," according to the US State Department.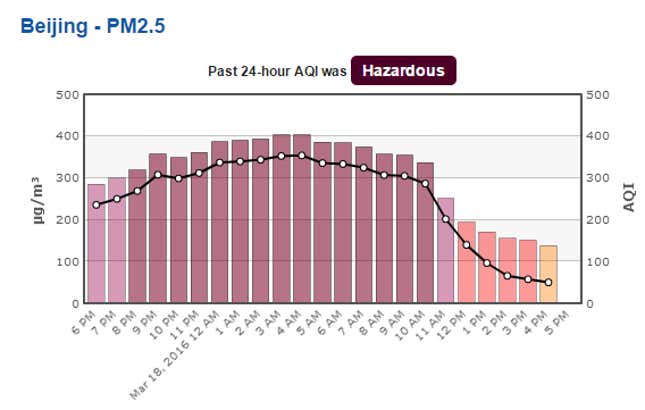 And thousands of commentators in China and around the world quickly seized on Zuckerberg's photo of his enthusiastic sprint through Beijing to project their own views on China, or their own agenda.
Environmental protection organizations kindly reminded him to wear a mask.
China's state media weighed in, using the photo to promote themselves:
Foreign reporters in China linked the jogging to the 1989 Tiananmen Square incident, when Beijing brutally cracked down on student protesters with bullets and tanks.
Wong Yeung Ta, a Hong Kong social activist and founder of the pro-independent Civic Passion populist group, was curious about how Zuckerberg could use Facebook, even though the service is blocked in China. "How did you get pass the 'Great Firewall'?," he wrote under Zuckerberg's post, referring to Beijing's censorship machiner. "Some animals are more equal than others," another commentator replied to him, paraphrasing George Orwell's scathing commentary on Communism, Animal Farm.
Hong Kong's Umbrella movement co-leader Joshua Wong wondered the same thing. "How do you update your Facebook in China, Mark?" he asked on his Facebook page, sharing the post.
Chinese bloggers on Twitter-like Sina Weibo, who were alerted to Zuckerberg's post thanks to tech media reports, were impressed by his love for China—or at least for the Chinese market. "In order to [let Facebook] enter China, your lungs have worked too hard!" one Weibo user joked (link in Chinese, registration required).
Wait—so no one's curious what exactly Zuckerberg is in town for?
A spokeswoman for Facebook told the WSJ's China blog that he is attending a state-backed forum over the weekend, to discuss China's economic plans with global executives including Alibaba's Jack Ma.
Correction: The Tiananmen Square massacre took place in June 1989, not 1984.