Every spring, the Costume Institute at New York's Metropolitan Museum of Art opens a flashy new fashion exhibit, with a Vogue-sanctioned theme party—also known as the Met Gala—that arguably provides the best red carpet of the year. Uber-celebrities from Hollywood, music, sports, technology, politics, and wherever the Kardashians come from attempt to out-dress one another under the all-seeing eye of co-host and Vogue editor-in-chief Anna Wintour.
Some adhere marvelously to the exhibit's theme. Others, not so much. It's a high-risk, high-reward red carpet—and unlike those in Hollywood, it doesn't pretend to be about anything other than fashion.
This year's exhibition, with Apple as co-sponsor, is "Manus x Machina: Fashion in the Age of Technology." At another museum, this might have been a show of the devices and garments we've come to know as "wearable technology"—despite the fact that almost none of it appears wearable—or "connected" clothing. The majority of these items, including the Apple watch, are still unnecessary, unattractive, and frankly, kind of dumb.
So rather than including devices with straps, or garments that use technology for technology's sake, curator Andrew Bolton kept the exhibition's focus clearly on fashion—specifically, the métiers, or crafts of couture, including lace, feathers, artificial flowers, and pleating, along with more modern techniques such as 3D-printing. From 1930s-era Fortuny pleats to laser-cut celluloid sequins from last season's Louis Vuitton, we see technology in the service of art, rather than the inverse.
Really, "Manus x Machina" is about the incredible lengths craftspeople can go to execute designers' creative visions—whether that means spending thousand of hours sewing a single dress, or inventing an entirely new technology to construct it.
On the red carpet, this gave attendees a wide berth to wear their most outrageous, intricate, over-the-top couture—and also to dress as robots. We couldn't help hoping someone would wear this robo-suit, with an Oculus Rift headset and ginormous headphones. Or that Beyoncé would accessorize with the greatest of analog power accessories: a baseball bat.
Here's what they did instead.
The bosses got there early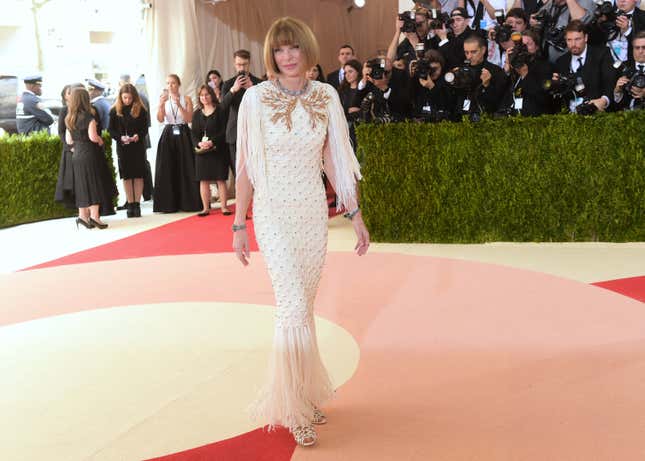 Anna Wintour wore Chanel, per usual. She's in her zone and there's not much else to say about that.
Some called Miuccia Prada's hoodie-and-pants combo athleisure, but it's not like there are drawstrings and stretch fabric. Show some respect.
When fembots attack
Taylor Swift, also a co-chair, went goth-bot in dark lipstick and Louis Vuitton, setting the stage for so, so many silver dresses with cutouts everywhere.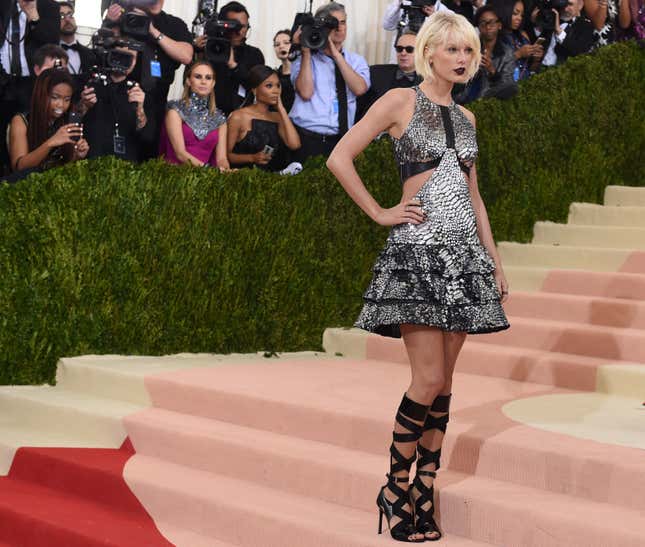 Exposing triangles of flesh with metallic dresses was a preferred method for illustrating the "Manus x Machina" theme.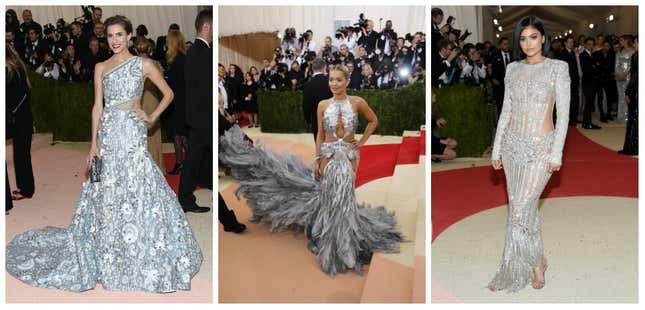 Ciara went silver with her hair too, which showed commitment but was still full of bobby pins when she arrived. Also, a great deal of side-boob from Ciara, as opposed to the preferred ribcage exposure of fellow fembots.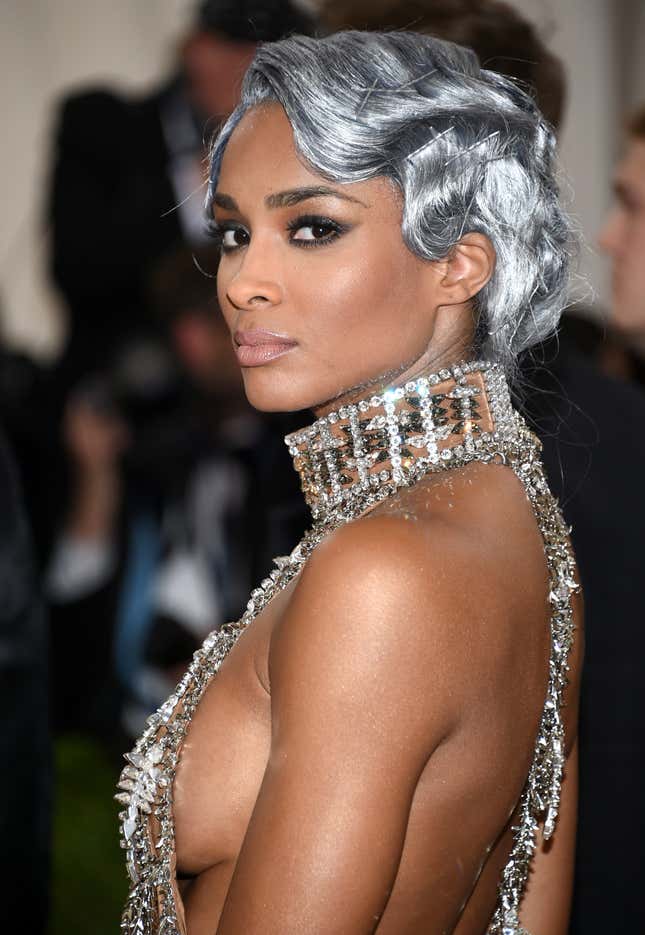 One of the E! commentators said something like: "Balmain really makes everyone's body look amazing!"
If I get one of these dresses, maybe I can even cancel my gym membership!
Most automatically on-theme: Alicia Vikander
After her role in Ex Machina, Alicia Vikander will always look like the world's cutest (possibly homicidal) robot to me.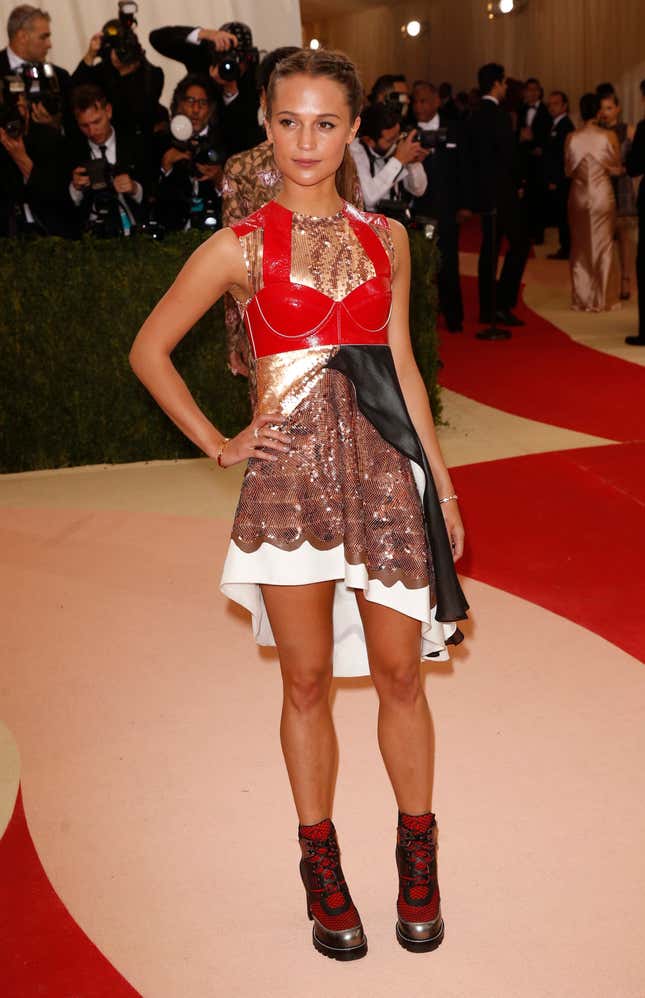 This Louis Vuitton would look ridiculous on anyone aside from the world's most adorable cyborg. She's working it.
How do you know if it's too soon to ask your new boyfriend to leave his arm-plates at home?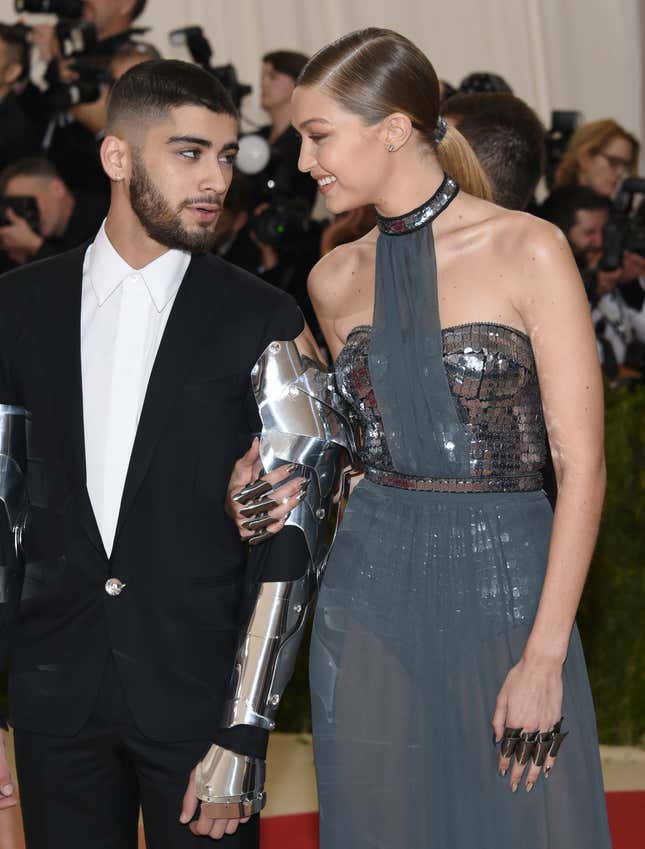 Asking for a friend.
Multi-generational ass-baring
I don't think whoever was tweeting for Harper's Bazaar was being sarcastic when they said this:
WAS IT MADONNA? Believe it. It was—her cheeks looked pretty much the same as they did when she exposed them in another Givenchy bodysuit by Riccardo Tisci at the 2013 Met gala.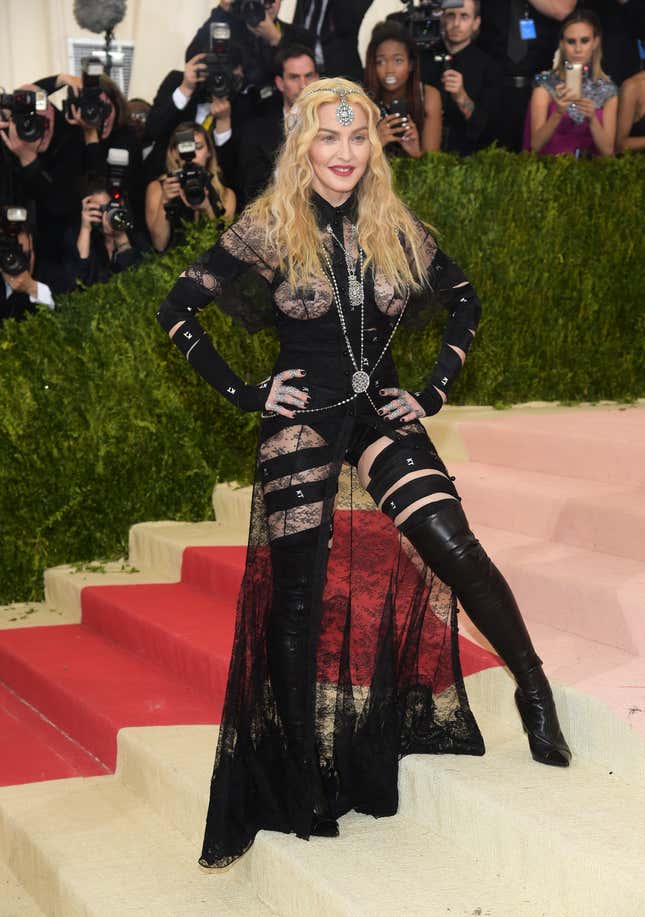 Though to be fair, it might also have been Lady Gaga. The rightful heiress to this look, Gaga also wore a bodysuit, which she accessorized with fishnets, heels that wouldn't pass airport security, and, at least for a moment, Kate Hudson in a Stormtrooper-themed wedding dress.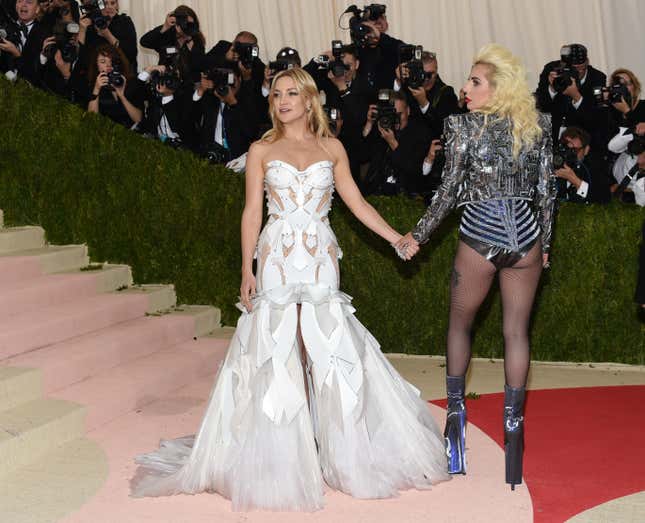 Sarah Jessica Parker: What does this have to do with anything?
Who cares? She's got knickers, an oversized cameo, pirate sleeves, and pop-colored stilettos with mismatched embellishments.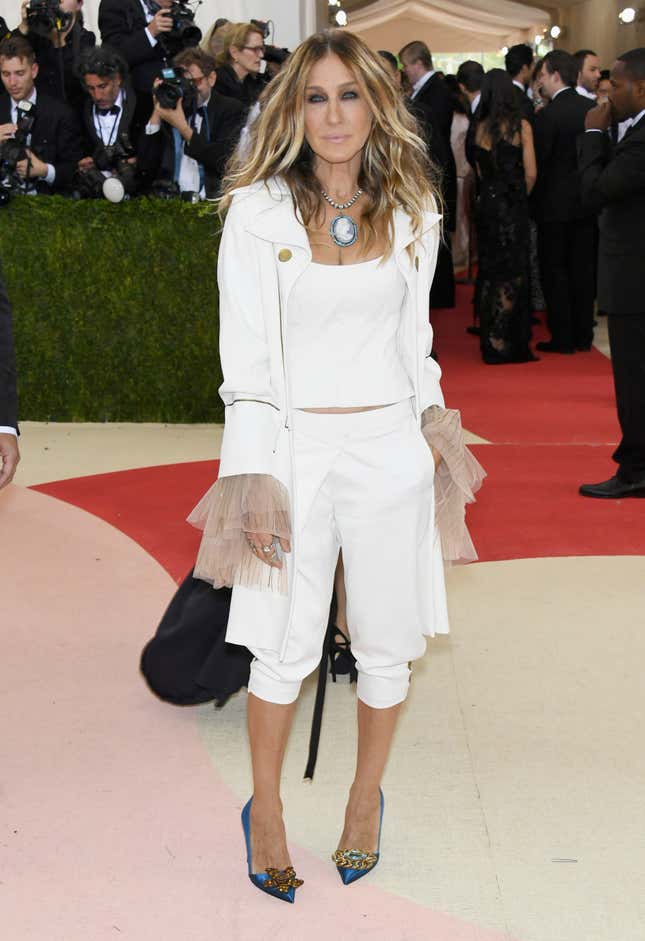 Someone put a giant boutonniere on this lady's lapel and let the season one "Sex and the City" flashbacks begin.
Imagine doing this carpet in a condition that invites weight gain, hormonal imbalance, and further judgement if you drink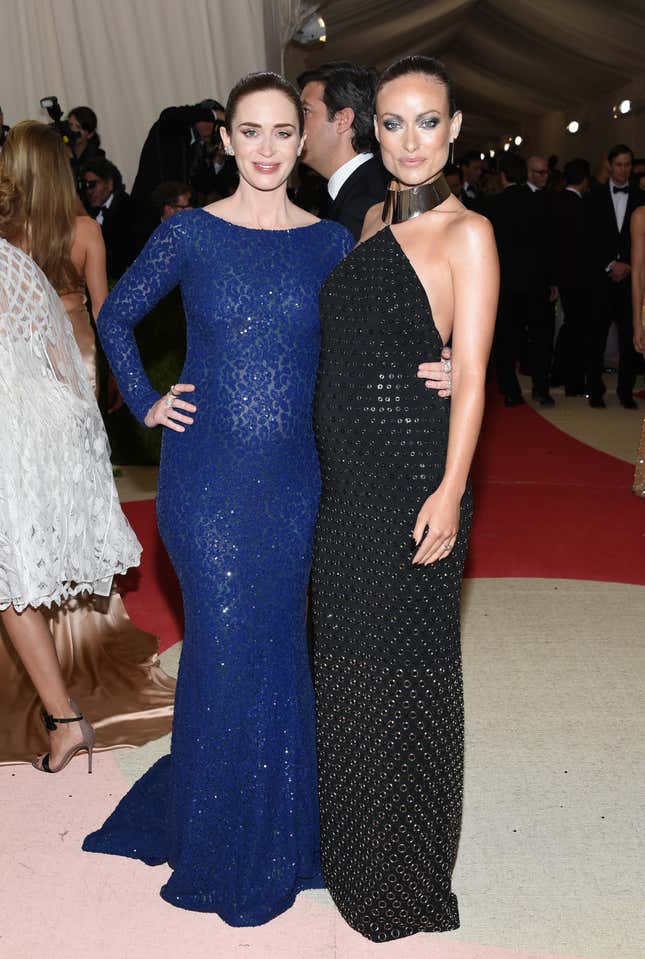 Heroes, all of them.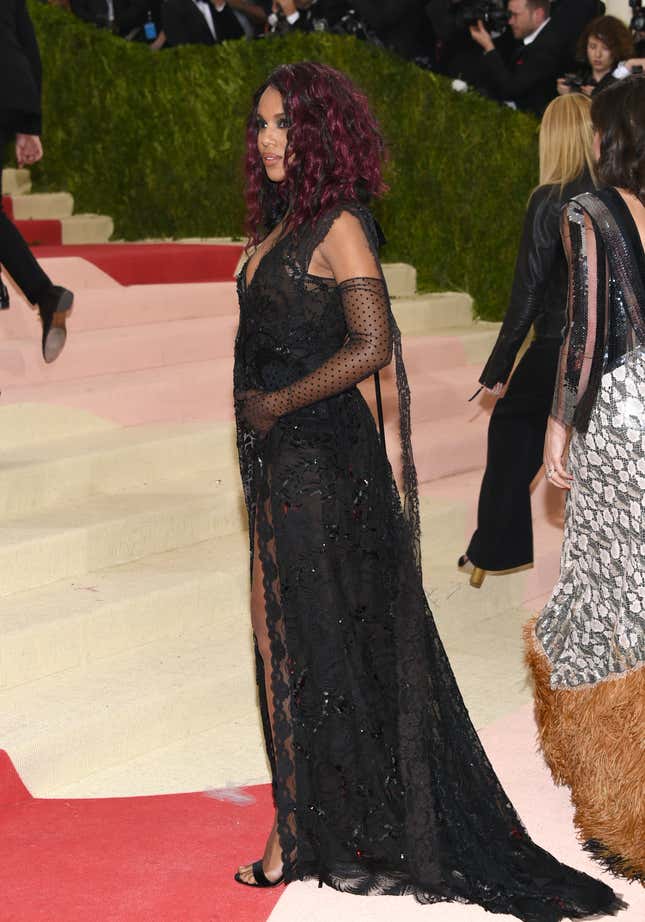 Now a quick break for Nicki Minaj in a bondage look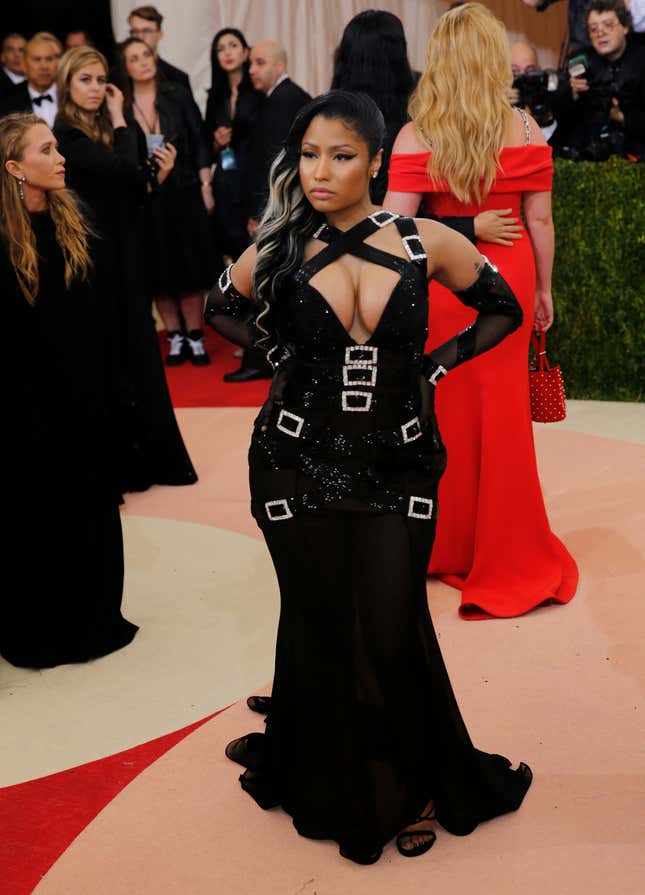 I think I would feel better about this if she looked happier in it.
Kanye matched his contacts to his bedazzled Canadian tuxedo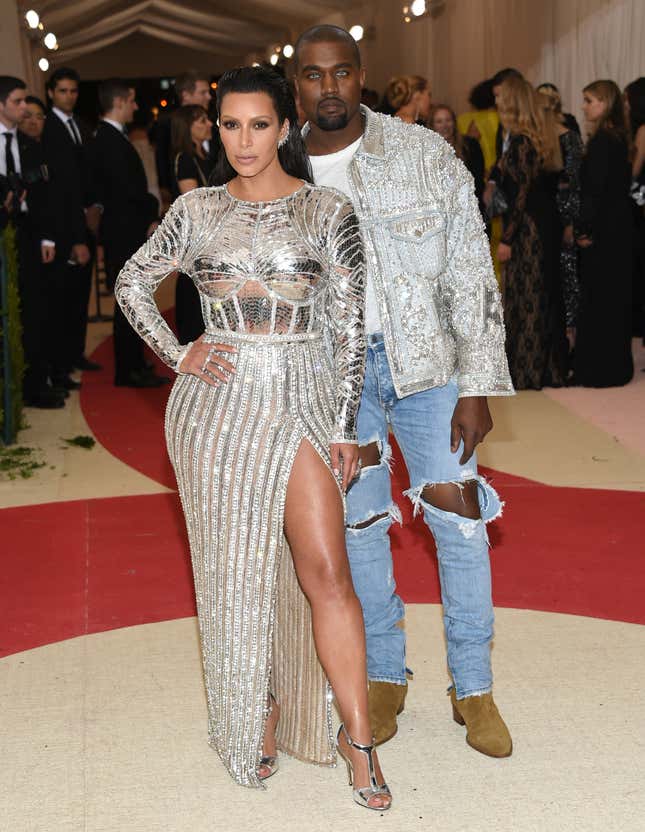 And Kim bleached her eyebrows and wore a Balmain dress that looked like everyone else's.
"Should I get bangs?"
"Should I get a bowl cut?"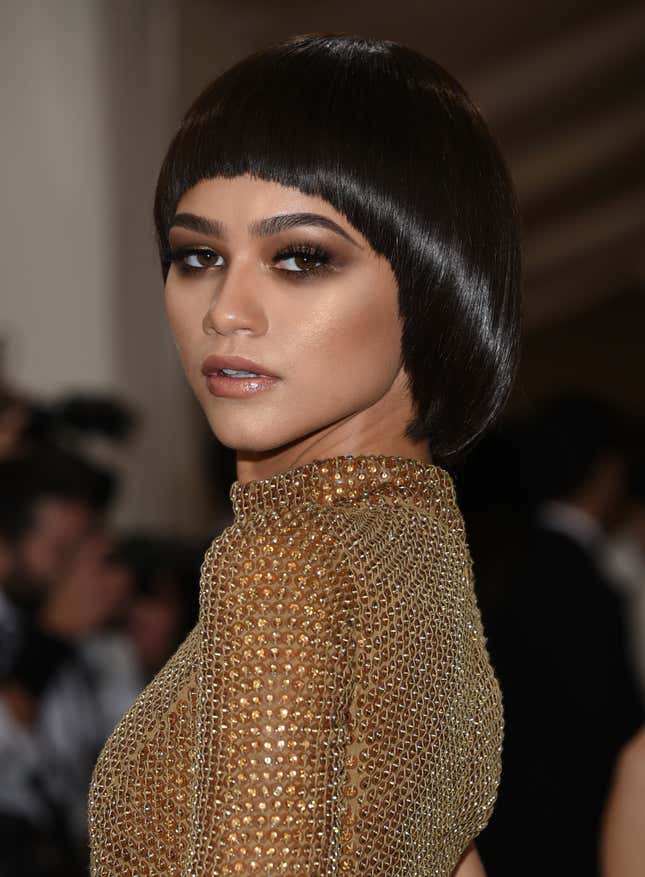 Also in the category of daring hair only the very beautiful can pull off: Lupita Nyongo.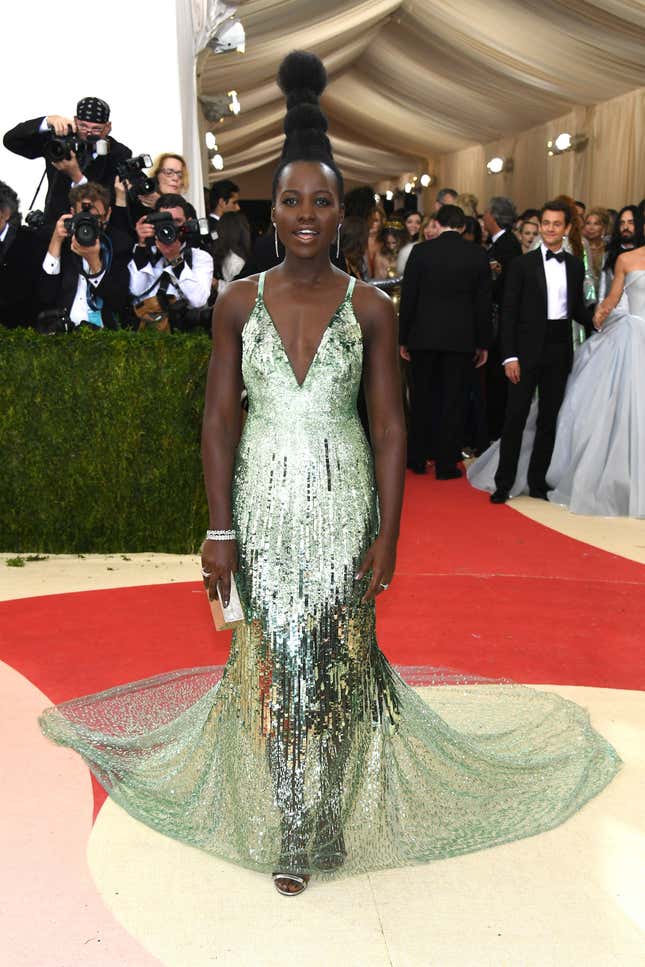 What about technology, you ask?
Considering this was an Apple-sponsored event, there was very little high-tech gimmickry (or, for that matter, minimalist elegance). Karolina Kurkova did, however, wear a Marchesa gown that apparently has IBM Watson-powered technology that lights up in response to social media mentions.
A smarter dress might have allowed her to sit down.
Claire Danes wore an illuminated gown by Zac Posen, which required thirty miniature battery packs.
It also looked nice in the light, if a bit Disney princess.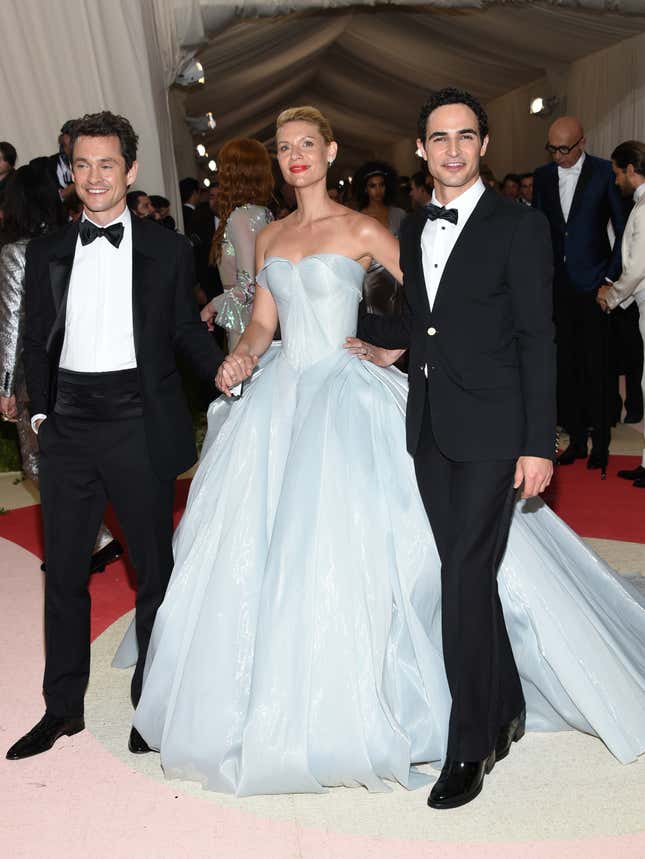 No idea what's going on with Will.i.am's face visor, but it looks like a super-advanced way to embarrass one's date. The embroidered tux is Gucci.
But seriously, what about Beyoncé?
It's become a tradition to wait for Beyoncé to close the carpet at the Met gala—not complaining, just saying. It's also her move to Instagram her look before the masses get to see it on the red carpet. This one was a beaded nude latex gown by Riccardo Tisci for Givenchy.
Beyoncé wore similarly long-sleeved, beaded, and translucent Givenchy to the gala in 2015—but this year, thanks to the recent release of Lemonade, we're all a little more Beyoncé-obsessed than usual. (Some even hypothesized that the dress referred to the film's verse about wearing another woman's skin.)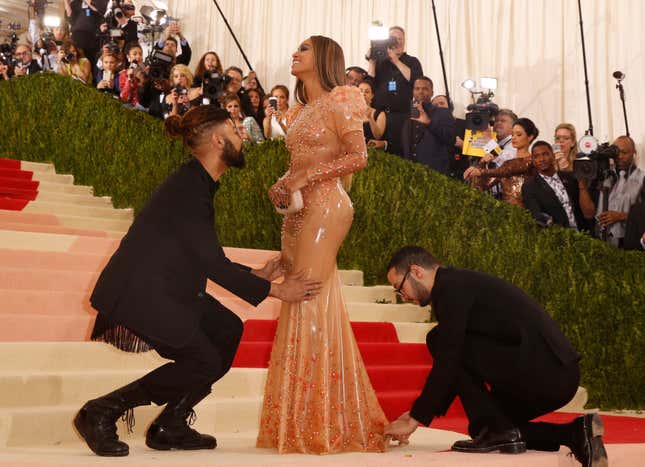 I refuse to hypothesize about the state of Beyoncé's marriage, but I will say her relationship with her stylist, Ty Hunter (at left), appears strong, as does her bond with Givenchy's Riccardo Tisci, who has now dressed her for the ball for five years in a row. (As in, "I'm so reckless when I rock my Givenchy dress.")
I'm not sure how much handiwork and technology went into this gown's construction, but I do feel confident that no one else on earth could make flesh-toned, mutton-sleeved latex look quite this good—or even good at all, for that matter.
Manus, machina, whatever. Sometimes it's just about the woman who's wearing it.