America's high-school graduation rate is at 82.3%: a record high, and a number that would suggest the nation's secondary education system is doing pretty well.
Not necessarily. While so many high schoolers are successfully graduating overall, that figure dips dramatically for students from low-income families. Using the latest government data, a report this week found only two US states—Texas, Indiana—are graduating more than 85% of their poorest students. As for the rest: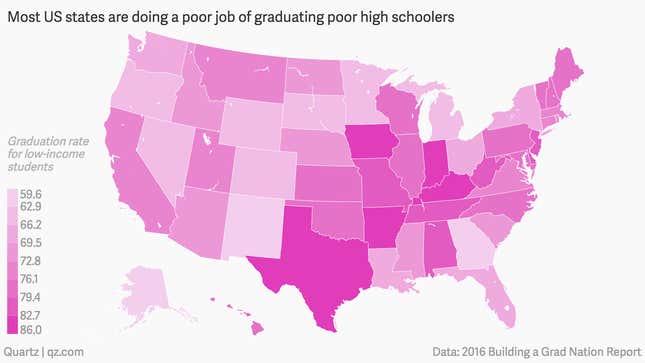 Nationally, there's a noticeable 14.4 percentage-point gap between low-income students' average graduation rate (74.6%) and that of their higher-income peers (89%). The gap is more more modest for some individual states (under eight points in Indiana, Texas, Kentucky, and Hawaii), but startling in others (a whole 25.6-point discrepancy in South Dakota, for example).
Breaking down the numbers reveals "very real concerns that too many of our most vulnerable students remain in low-graduation-rate schools, and that the alternative pathways that have been created to meet their needs may, in many cases, not be up to the task," says the report, which is released each year by public-policy firm Civic Enterprises and the Everyone Graduates Center at Johns Hopkins University.
But it's not just low-income students who are falling behind in the US's education system.
The graduation gap between white and black students is almost 15 percentage points, and students with disabilities are also much less likely to graduate than those without. So yes, high schoolers across the country are doing better than ever—unless they happen to be in one of these minority groups.