For decades, retailers have treated women who wear plus sizes as an entirely different species of shopper. There was even a special set of rules for selling to them: Avoid bright colors. Never do horizontal stripes.
These days, such stereotypes are laughable, according to Mary Alderete, the CMO of online women's fashion retailer ModCloth. "Want to know what our number-one selling dress is this week? The rainbow dress, and it's sold out in all of the extended sizes already!" she says, referring to sizes large through 4X. The dress is boldly colored and covered in chevron stripes.
In the past few years, a growing number of women have been calling for an end to the "plus size" distinction, which varies by retailer but often refers to sizes 16 and up. Many feel the category marginalizes them, suggesting they are a small group outside the mainstream whose fashion needs are secondary. In fact, the average American woman is more likely to be a 16 than a size 2.
If retailers are smart, they'll consider killing the "plus" and finally commit to offering a greater range of sizes in their core lines instead. The label and the stereotypes that accompany being "plus size" are outdated and often insulting. All that's keeping the distinction alive is history–and the fashion industry's ugly legacy of exclusionary behavior. 
Out of fashion
Despite recent efforts, plenty of long-standing misconceptions about the way plus-size customers shop persist, according to Marshal Cohen, chief retail analyst for research firm NPD Group. In addition to the notion that this category of shopper won't buy bold colors or stripes, conventional wisdom has long held they won't wear big prints or tight clothes, and that they don't like to shop or try items on. Cohen finds all these notions to be woefully outdated.
"It made sense way back when, when those rules may have been applicable, to [have] a separate line or a separate department or a separate store for the plus-size consumer," he says. "Today, that's not true anymore."
Whether women actually wanted to shop that way or simply did so because the media and designers instructed them to, the rules have changed–thanks in large part to the internet. Sarah Conley, a style blogger and expert on plus-size fashion, says Instagram has had a "tremendous impact."
Last year, for instance, after O Magazine proclaimed that women should only wear crop tops if they have a flat stomach, Conley helped organize a response online, encouraging women of all sizes to share photos of themselves using the hashtag #RockTheCrop.
"It started a lot of backlash online because those things are not true, and those style rules are very outdated," she says. Outside of such campaigns, body-positive women routinely use hashtags such as #effyourbeautystandards, or sometimes #DropThePlus.
Today, plus customers are pushing for color, on-trend fashion, and clothes that show off their bodies. Cohen adds that they want to "shop in the same place and buy the same product" as straight-size women, to use the industry phrase. While data shows they do shop less, it's only slightly. And even that gap is diminishing.
Cohen says more brands have launched plus lines since the recession as they look for a new source of sales. JC Penney, for example, debuted one in May. New brands focused on fashionable clothes in larger sizes, such as Eloquii and Torrid, have also popped up.
The effort to tap into an under-served market seems to be paying off. NPD recently found that the number of teens who have bought plus-size clothing has doubled in the last five years, in large part because they now have more options. And in the 12 months before February 2016, sales of plus-size clothing in the US grew 3% to $20.4 billion, the group says.
There's plenty of room to grow, too. That figure represents about 17% of the $120.3 billion in total sales of women's apparel in the same period. While there's no concrete estimate of the number of plus-size consumers in the US, Cohen notes that about 36% of American women are obese. Obesity and size don't correlate perfectly. But Cohen estimates that sales of plus-size clothing are about half what they could be if the fashion industry made more options available.
While the plus-size industry is booming, surveys suggest that many women don't like having to shop in a separate category. In a 2015 survey of UK shoppers, about 61% of plus-size consumers said they'd prefer to shop a retailer's core line rather than a plus-size offshoot. ModCloth found similar results when it surveyed 1,500 women who wear sizes 16 and up last year. Roughly two-thirds said they wanted to see plus sizes in the same section as other sizes, and 60% reported feeling embarrassed having to shop for clothes in a separate store or department.
Where "plus size" comes from
Thanks in large part to Lane Bryant, plus-size terminology has been ingrained in the fashion industry for decades. The company is now synonymous with plus-size retail, though it began by selling maternity clothing.
Lena Himmelstein Bryant was a dressmaker who opened a New York shop in 1904. At the time, a growing number of middle-class women were working during pregnancy. A customer asked Bryant for something she could wear out while expecting. Bryant obliged, creating a dress with an elastic waistband and accordion-pleated skirt.
Word spread, and Lane Bryant soon became the first company to mass produce these styles of clothes, as the American Textile History Museum explains. Between 1909 and 1923, sales grew from $50,000 a year to $5 million.
Lane Bryant started another trend, too. In the early 1920s, the company adopted the term "plus" in preference to "stout," the contemporary adjective commonly applied to women who didn't match the era's svelte ideal. According to the Wall Street Journal (paywall), in 1922 it began advertising "Misses Plus Sizes," although curiously, the ads still depicted slender women. The term nevertheless caught on, appearing in ads by other retailers and becoming standard verbiage.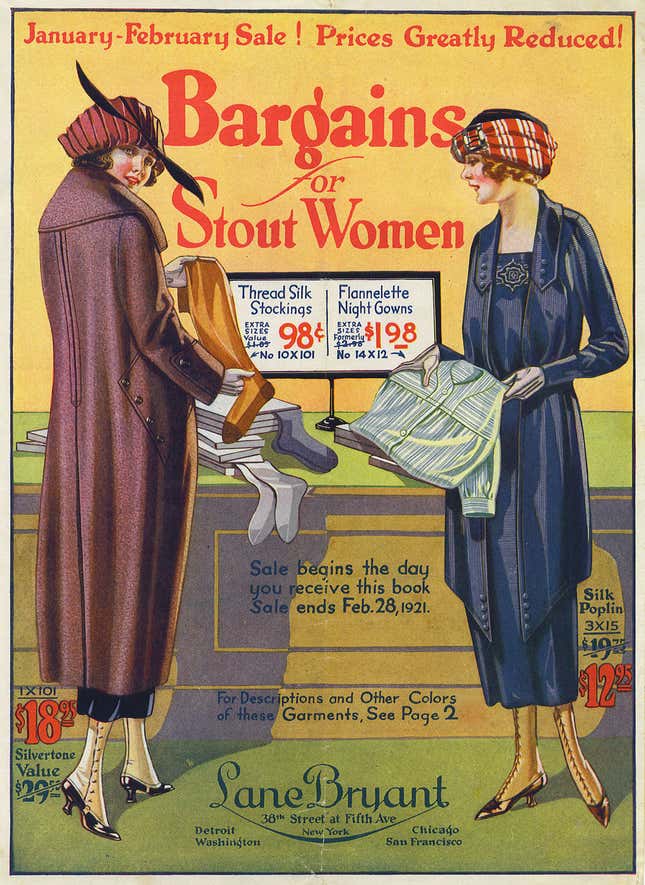 Meanwhile, retailers continued to regard the plus business as somehow separate from "regular" clothing. They avoided it, sometimes because they didn't understand the business, and sometimes because of the highly prejudiced fear that offering plus-size clothes would damage their brand.
About 30 years ago, when Cohen was president of fashion label WilliWear, founded by designer Willi Smith, he told Smith he wanted the brand to get into the plus-size business. "[Smith] goes, 'Listen, I understand what you're saying. I don't want to see my signature dress walking down the street on a size 16 woman, when all of my customers who are size 8 don't want to see that,' Cohen recalls. "That's how many designers felt, and how many brands still today feel." (Smith died in 1987, and his business no longer operates.)
Among contemporary women, there's plenty of open disdain for the term "plus" and its implication that human bodies should be sorted into the categories of "normal" and "not." When the online publication Mic polled readers in 2015, many wrote in to condemn it. "It's a segregationist tool to keep the 'cute, skinny' girls from having to shop next to the chubby girls," one person wrote. Another said, "Terrible, awful, the worst, othering and only applies to women. Fuck that term."
Indeed, heavier men tend to be classified as "big and tall"—if they need a separate section at all. Right now, on high-end clothing site Mr. Porter, there are five pages of items listed under size XXXL.
In an effort to put a more positive spin on the designation, the term "plus" has given way a bit to terms such as "curvy." Instagram initially banned "curvy" as a hashtag because it was being hijacked for inappropriate content, but quickly reinstated it after women complained. Modeling agencies and retailers, such as ASOS, have also started using "curve."
ModCloth's test case
The biggest problem with "plus," however, is the way the designation has been used to suggest that women who wear sizes 16 and up are somehow abnormal. That's part of the reason why ModCloth, which began selling plus-size clothing in 2013, ditched the term completely late last year.
The decision came about after the e-commerce label launched a physical pop-up shop in its hometown of San Francisco. ModCloth sells clothes by a range of indie designers, but the pop-up location focused mostly on the debut of its namesake label–almost all of which is available from XS through 4X. There was no need for a separate plus section, because most of the clothes came in a full size range.
Susan Gregg Koger, the company's cofounder and chief creative officer, says that customers' positive responses to the elimination of distinct plus categories convinced her the label had lost its relevancy. "For me, that moment, having this inclusive shopping experience was so powerful," she says. The company's survey gave them the confidence to integrate the plus range into ModCloth's core offerings, although they still have a section for "extended sizes" to make finding those sizes easier.
ModCloth wouldn't share specific sales figures, but Koger and Alderete say the decision has been great for business. "We definitely see that items that are available in a full range of sizes tend to sell more and tend to have higher [average sales per style]," Koger says. Alderete adds that when they put their new arrivals on the site, some of the bestsellers, such as the rainbow dress, sell out in larger sizes first.
The problem is that "plus size" can be useful
The one big caveat in this debate is the fact that "plus size" can be very useful as a way to quickly evaluate which stores carry larger sizes. Even at luxury retailer Net-a-Porter, which has made a point of increasing its stock of larger sizes, only 3.7% of its offerings are sizes 14 and 16, according to a recent analysis by EDITED, a retail technology company. Size 16 is typically the largest option available. By contrast, 79.3% of their apparel was available in sizes 00 to 2. (Net-a-Porter declined to comment for this story.)
Bloomberg recently noted that about 16% of dresses on JC Penney's website come in plus sizes, and only 8.5% of dresses on Nordstrom's site are available in larger sizes. Just five items total on Nike's site were offered in plus sizes, according to Bloomberg.
Because the plus-size market is so dramatically under-served, Conley says she and women like her have been conditioned to recognize that, if a brand doesn't advertise "plus size" somewhere, it's likely got nothing to offer them. She's critical of ModCloth's new approach as well, noting that she will sometimes fall in love with a dress online only to realize it's not available in her size.
"I would love to believe that we could have a world where everyone can shop in the same stores, but we're just so far from that and so many people are being excluded," she says. Indeed, a recent Amy Schumer sketch parodied the alienating way in which many retailers treat shoppers, sending a bewildered Schumer into a mystical hinterlands in search of a size 12 top.
Conley adds that people who advocate for doing away with the plus terminology are usually women who don't need to shop exclusively in a plus-size department. She wants to see more retailers offering clothes in her size, and for now, it's most useful when they use the plus label to announce they're doing so.
There are also practical factors that have led retailers to keep distinguishing between plus-size and straight-size clothes. It's often difficult for them to offer the exact same dresses, tops, and pants in every size. To make a dress in a size 26 isn't as simple as scaling up the proportions on a 2. The shape of the garment has to change, which means the designer needs to create a new pattern for that item. That adds time and expense for the brand and the factory making it.
Even so, brands that already offer larger sizes wouldn't have to change their manufacturing to scrap the "plus size" category–just the labeling. And for brands without a plus line or extended sizing, the potential reward in offering larger sizes may significantly outweigh the risks.
Money to be made
Companies should consider following ModCloth's lead and actually ask their customers how they want to shop. It's likely that a good number of stores will find their customers don't want to be segregated. And while it may be too early for all stores to drop the plus distinction entirely, there's a growing consensus that it's the way of the future.
"Why don't we get rid of that kind of delineation?" Lena Dunham told Cosmopolitan.com in a recent interview. "Like, fashion should be for everyone, and it should be playful and exciting, and it should reflect the span of American women, and women everywhere. So I think it's a little bit outdated."
After years of being snubbed and shoved aside by mainstream retailers, many women have come to believe that fashion companies simply don't want to serve them. There are good moral reasons to prove them wrong–and it's also a sound business strategy. In the US, there are tens of thousands of women with their credit cards at the ready. They're happy to shop, if fashion brands will just give them clothes worth buying.