Vladimir Putin isn't the force he once was. Not in terms of politics, mind you—the Russian president's approval rating is a robust 82%.
This is about Putin in the hockey rink.
For the past five years, Putin has played exhibition hockey matches with former pros, ministers, oligarchs, and others. The games take place during galas for the Night Hockey League, an amateur organization that Putin founded in 2011 to promote the sport across Russia.
The president's teams are undefeated in these matches. The latest, held last night (May 10) in Sochi, ended in a 9-5 victory for Putin's side.
But after several MVP performances, the 63-year-old president wasn't much of a factor in the game, netting just one goal and two assists. To be fair, the goal was a rather tidy give-and-go with former pro defenseman Vyacheslav Fetisov:
The stats don't lie—by his standards, Putin had a bad game. Last year, following a mysterious extended absence for possible medical reasons, the president showed no ill effects when he scored eight goals in May and seven in October. And who can forget his six-goal, five-assist tour de force in 2014?
Putin's last performance this subdued was in the league's first-ever exhibition game, in 2012, when the president—inaugurated for his third term just hours before—scored two goals, including the winning penalty. His excuse then was that he was only getting serious about the sport on the eve of his 60th birthday, having devoted most of his athletic career to judo. He's been no stranger to the gym since, so what is going on?
For aging athletes, there comes a time when they must rely on experience instead of physical ability, adding value by creating chances for others instead of scoring for themselves. Putin's latest performance suggests that he now may be adopting this more selfless role. But don't expect it to extend off the ice—he isn't exactly known for sharing the spotlight.
---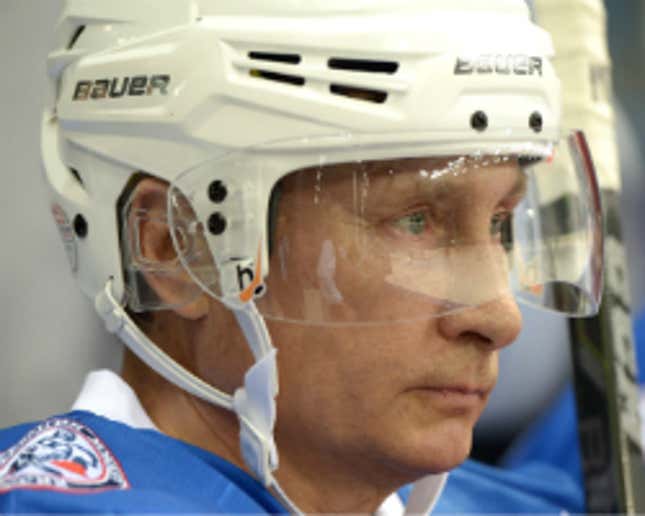 PLAYER STATS
Vladimir Vladimirovich Putin | Russia
Born: October 7, 1952
Height: 5′ 7″ | Weight: ~160 lbs
Shoots: Left
Position: President