What was all the fuss about? After nearly 11 days out of the public eye, Russian president Vladimir Putin reappeared today before reporters, as part of a scheduled meeting with Kyrgyz president Almazbek Atambaev in St. Petersburg.
"Life would get boring without rumors," the Russian president said, according to the official Kremlin transcript. Atambaev added that Putin had driven him around the local area before they made their appearance, "to dispel the rumors" that his companion was in ill health.
Putin's mysterious and worrying absence has generated feverish speculation, from illness to death to a coup. Russian stocks drifted down a bit after Putin made his appearance, although the ruble was little changed against the dollar: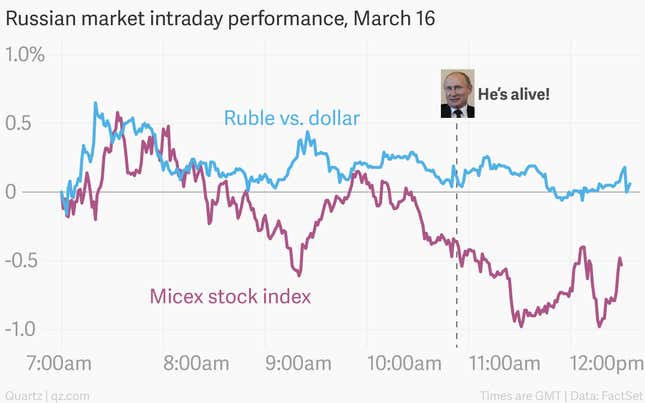 Earlier in the day, the country's defense ministry announced that Putin has ordered navy and paratrooper units to go on high alert for snap military exercises.