As an American, the first time I encountered the Eurovision Song Contest was on a visit to London years ago, where a friend introduced me to its delights. The pastel lighting, the synthesizer-infused music, and the wearing of formal vests onstage were just a few of the factors that made this singing contest between countries a gleeful, irony-free throwback to the glory days of camp. Like a pan-European Star Search (perhaps a more apt comparison than today's self-serious primetime singing contests) Eurovision is so bad it's good.
But Eurovision, if you're not familiar, is also much, much more than Star Search. Cheesy as it may be, it is an international phenomenon. Eurovision, originally conceived to unify Cold War Europe, has been going on since 1956—pre-dating the European Union by decades, and even the European Economic Community by a year.
It gave birth to a little band called ABBA, and the song Volare. The voting protocols are a source of endless controversy. Romania just got the boot for failing to pay Eurovision debts dating back to 2007.
A TV audience of 200 million—nearly twice the size of the Super Bowl's—watched the contest's three final rounds last year. Rounds, you say? Yes, rounds. This madness goes on for days, and you're just in time to get on the crazy train.
After Round 1 on Tuesday (May 10), the contest that started with 42 countries' contestants is down to just ten. They head to the semi-final in Stockholm today, before going on to the "grand final" on Saturday (May 14). For the first time ever, Saturday's final will be broadcast on US television, on the cable network Logo.
But do not fret, cord-cutters—or those of you hoping to catch the semi-final from your desks this afternoon!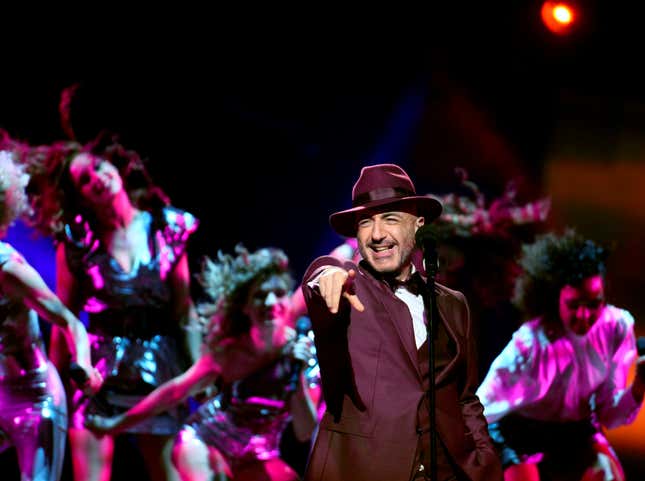 You can find it online at Eurovision.TV, and follow along with live updates. Those updates may not help much when it comes to deciphering WTF you are watching, but they will at least identify the country onstage, and point out some pertinent, if obvious, details. For example: "Serhat from San Marino performs I Didn't Know wearing a burgundy outfit. He even has a matching hat. The female dancers are in the background and are wearing silver-coloured costumes."
Unlike, say, the MTV Awards, the free live-streams of this event actually work. I watched the first round on Tuesday. I caught leotards, capes, and suave disco tunes, and I even learned about a country I'd never heard of. Thanks, Serhat from San Marino!
The semi-final will be today at 3 pm eastern US time, and the grand final happens at the same time on Saturday (May 14). Enjoy!