The world's biggest printer company is finally ready to make the leap into the third dimension.
HP (the technology half of the former company Hewlett-Packard) announced today that it will be releasing two industrial 3D printers that it claims will produce objects ten times faster and half as expensively as any similar printer on the market. The two printers, called the Jet Fusion 3200 and 4200, will be "commercial grade" machines that can print ready-to-use products, HP's head of 3D printing, Stephen Nigro, told Quartz. Unlike most HP printers, these are not meant for the average home or office—the Jet Fusion line will start at $130,000.
HP has been teasing a 3D printer for the last two years, and at a 3D printing conference in New York last spring, showed a demonstration of a hard plastic chain it had printed on its prototype machine that was able to lift a car.
The production model prints will have that level of durability and reliability, according to Nigro. Half of the parts for the printer itself will even be printed by one of the printers. "We are creating a printer that prints itself," Nigro said.
To begin with, HP wanted to focus on machines that could reliably print out plastic products, but it's launching a "material app store" where third-party companies will be able to develop materials for the Jet Fusions, which HP will vet, and then sell through the store. HP is currently testing printers that could also print integrated circuits (something it's not alone in doing), and has done that same chain test, but this time with embedded circuits printed in that can show of the stress and strain the chain is under.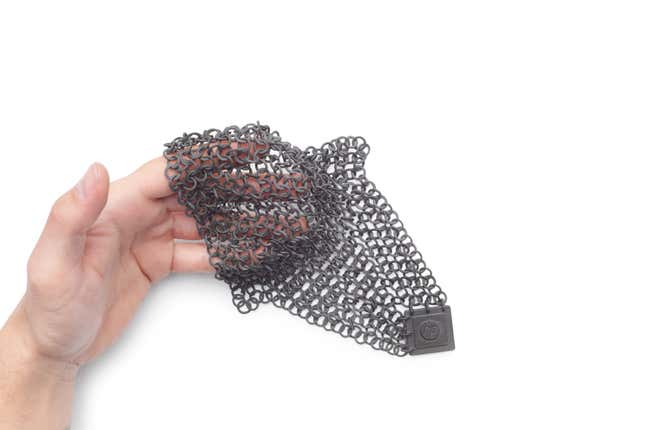 The company is looking into being able to print metals on future printers, but don't expect to see that anytime soon: "Metals is a research project for us," Nigro said. It's also researching printers that can print out multiple materials at once (like Stratasys' recent printer). For now, Nigro said, the company wants to focus on machines that could make products that could go right into use.
Many companies are looking into 3D printing as a method for producing their products, but for the most part, 3D printing's benefits to date have been just in prototyping: 3D printers allow designers and engineers to rapidly mock up models for products and iterate on their designs until they're happy. The printers available so far have either not allowed them to print quickly at scale, or haven't printed with materials that can stand the test of time.
Nigro said HP's printers will be cheaper than what's come before, and in certain cases, could replace traditional manufacturing processes, where molds of products have to be made. Both printers have a printing bed that allows them to print roughly 2,500 1.5-inch plastic gears in about 10 hours—Nigro said that in this same time period, a standard desktop printer, like a MakerBot machine, might only print about 20 gears.
HP has been working with corporate partners, including BMW, Nike, and Siemens—all of whom are interested in integrating 3D printing into their production lines—to design the printers, and will be among the first customers to receive the machines. Everyone else that wants a machine will have to wait until the end of the year, when the printers start shipping.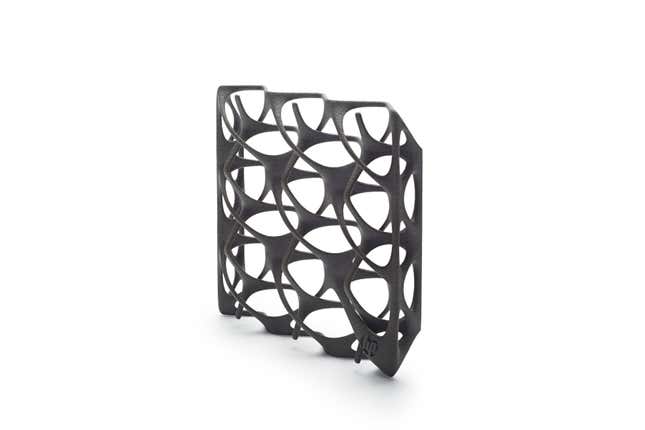 There's one way regular consumers can get the benefits of HP's new printers right away: Shapeways, a company that sells 3D printing services, and 3D-printed objects, will be among HP's first customers for the Jet Fusion.
Nigro didn't rule out the possibility of the company one day producing desktop 3D printers, that the average person could pick up on Amazon or Best Buy. "We have a roadmap—we'll get our solutions into smaller environments," Nigro said, though he added that at least for the near future, desktop printers are likely only going to be found only in educational settings.
While the supposed "next industrial revolution" that 3D printing was supposed to have ushered in has not yet materialized, we are starting to see some of the technology's potential being realized, whether that's through machines that can print robots, ones that can print food, or even ones that can print body parts. Perhaps with the backing of the world's largest printer company, the industry will start to flourish.
In this brave new world when we all are printing out our dinners and organs, let's just hope HP's printers don't tell us we're out of ink well before we are.