Google's mobile operating system just got a little more mobile. Starting today, developers can build out apps on Android for Pepper, the humanoid robot made by Japanese telecom firm SoftBank, using the same tools and languages they'd use to code apps for smartphones and tablets.
As part of Google's I/O annual developer conference, which kicked off today, SoftBank announced that it was launching a developer kit for Pepper, its robot that apparently has emotions and that you definitely should not try to have sex with. The robot has been a hit in Japan, almost immediately selling out when it went on sale last year. It's been used as a greeter in SoftBank's stores and Carrefour supermarkets in France. The company's US lead, Steve Carlin, told Quartz that the ultimate goal is for everyone to have a Pepper in their home.
But we're going to have to wait a bit longer before the diminutive Pepper greets us at the door, mainly because SoftBank wants to build out the software and support network for the robots first. "It's amazing hardware, it just doesn't have a litany of software to power it yet," Carlin said.
The company plans to start selling Pepper to US businesses and individuals later this year, Carlin said, but for now, it's focusing on building up a repair network. "If something broke right now, you'd have to send it back to Paris or Japan," Carlin said.
Quartz met Pepper at this year's Consumer Electronics Show in Las Vegas, soon after it went on stage with IBM's CEO, Ginni Rommetty. We fist-bumped with Pepper, asked it some questions on how it was feeling, and then it ran out of battery power. There wasn't much that we could do with the robot, which is exactly why the company is looking to third-party developers to come up with new ideas.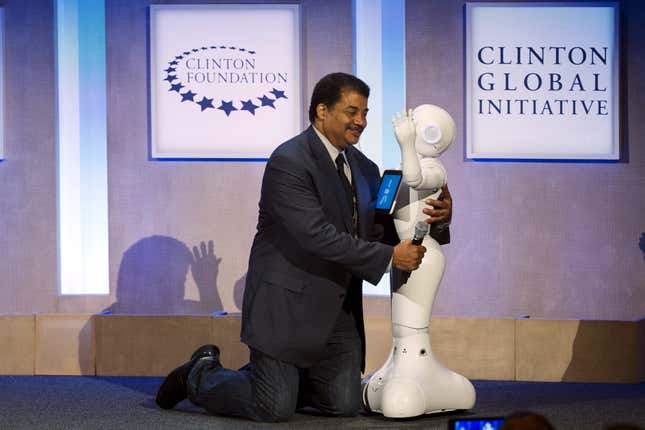 Pepper's operating system is a custom version of Linux called NaoQi, but SoftBank worked in partnership with Google to create an Android layer on top of NaoQi. Developers will have access to the cameras, sensors, and motors in Pepper, and will be able to program them in much the same way as they would if they were working on an app for an Android phone, games console, television, or any of the myriad other devices the operating system supports.
SoftBank is also launching what Carlin called a developer portal for Pepper, which will include online forums, workshops and tips for developers. It will also include a virtual version of Pepper that developers can try their apps on to make sure they don't do anything too crazy. "If you program it to spin its arms wildly for 10 mins you'll burn the motors out," Carlin said.
The company will also have a workshop in its San Fransisco office where developers will be able to try out their programs on actual Pepper robots before the bots go on sale in the US. In Japan, the robot costs about $1,600, but also requires a $120 monthly data fee, as well as an $80 per month damage insurance fee.
As Quartz reported when Pepper was first announced in 2014, the robot could be a great addition to nursing-home care, and generally a useful tool for those without a support system, but it hasn't yet lived up to that grand vision. Perhaps now, with the collective minds of millions of Android publishers behind it, Pepper can become a real-life C-3PO.
Hopefully no one creates any malware or viruses for Pepper, though—for all we know, it could end up triggering the beginning of the robot revolution.