In the US, a traditional career is designed as a marathon, with the finish line at age 65. After a 40-year grind, we're expected to stop working and revel in a life of idle, stress-free days funded by hard-earned pension plans.
But not everyone wants to stop: For the few who've found a way to blur that proverbial work-life dichotomy, retirement is more dead end than welcome repose.
"To work at things that are central to your life and your perception of yourself, why would you want to retire from that? I want to die at my desk," says legendary designer Milton Glaser in a new book Twenty Over Eighty: Conversations on a Lifetime in Architecture and Design (out May 24). When authors Aileen Kwun and Bryn Smith ask the prolific 86-year-old what he considers his greatest achievement, Glaser answers: "Staying alive and continuing to work."
If you don't know the Brooklyn-born designer and 2009 National Medal of Arts recipient, you know his work. Glaser is the creative mind behind many enduring logos, books, and magazines, including the I ♥ NY emblem, the DC Comics logo, the 48-year old bi-weekly magazine, New York and an iconic 1966 Bob Dylan poster which now in the permanent collection of the Smithsonian's Cooper-Hewitt, National Design Museum.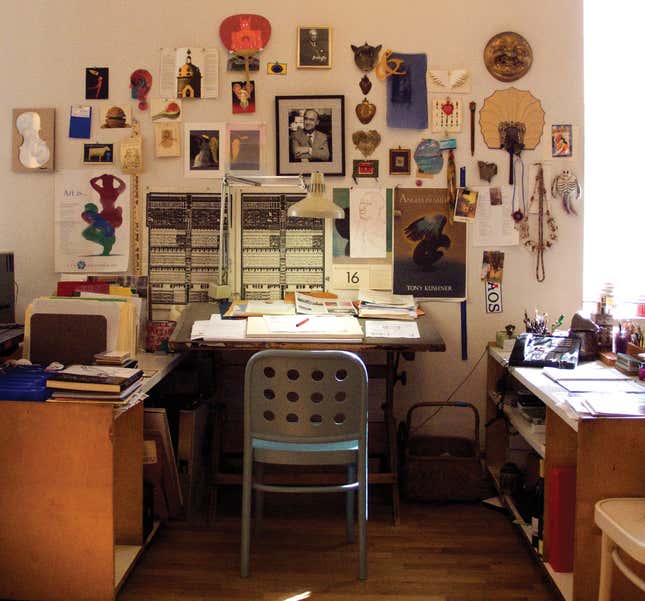 Retirement, Glaser says, is an obsolete concept invented to stimulate the economy. Taking a cue from an 1881 German government scheme that paid pensions to any worker over the age of 70, US companies once saw retirement as a tactic to "pasturize" elderly factory workers who were slowing down production speed in the Industrial Age. Aging workers often became too slow or clumsy on assembly lines, explains the New York Times; to convince them to leave their jobs to younger men, factories offered handsome pensions.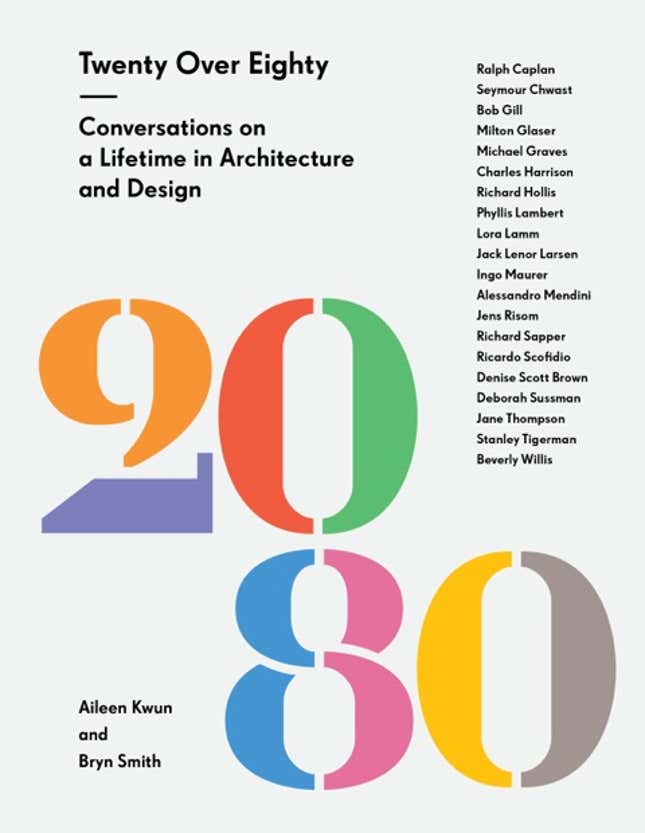 But not all work is physical labor, and many seniors can't stand the thought of spending their remaining healthy years—and hard-earned wisdom—idling in leisure parks, cruises and retirement communities. As a counterpoint to our contemporary era's fixation on prodigies, PR-savvy millennial upstarts and "30-under-30s," the 20 sharp and accomplished octogenarians (and some nonagenarians) profiled in Twenty Over Eighty are living testament of how to carve out joyful, sustainable career paths—and avoid burning out too early.
"Being called for the book reminded me that I was past the age of eighty! Somehow, the years just rolled by," joked urbanist Jane Thompson at a May 16 panel discussion with fellow featured luminaries, including illustrator Seymour Chwast and textile designer Jack Lenor Larsen at the Strand Bookstore in New York City.
Since the 1960's, Thompson has embarked on one design enterprise after another. After a brief stint at MoMA as a curator, she became the the founding editor of I.D. Magazine, operated the influential design retail store Design Research in Boston with her late husband architect Benjamin Thompson. She worked on high-profile commissions around the world such as the master plan for Times Square, Grand Central and Governor's Island in New York. Now 90, Thompson is currently hard at work on a forthcoming exhibition about the Bauhaus for Harvard University's Fogg Museum.
Chwast started drawing at age seven, and, like Glaser and Thompson, shows no signs of hanging up his drawing pens. "I don't understand retiring. I don't know what I'd do. I don't play golf. I have to sit at a drawing table or else it's a wasted day," he recently told Fast Company. At 85, Chwast launched his first Kickstarter campaign to publish a book about his decades-long crusade against war and military violence.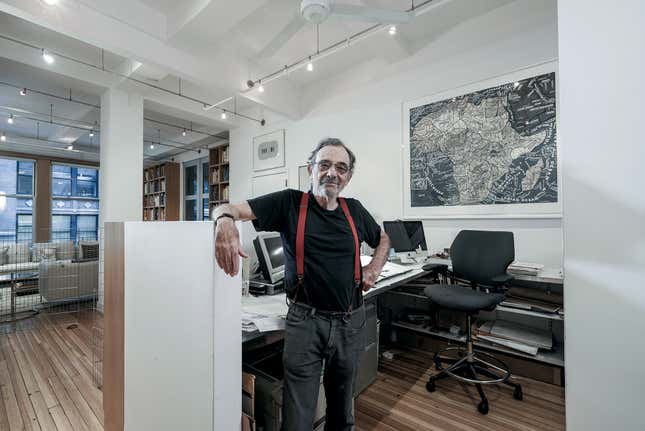 Now 90, master weaver and gardener Jack Larsen is also writing a book—his 13th. Larsen has worked on the interiors of numerous important buildings collaborating with famous architects Marcel Breuer, Louis Kahn and Frank Lloyd Wright, and credits them with offering him the secret to lifelong intellectual vitality, by forcing him to learn new things every day. Today, he runs a 16-acre design experiment on the "thoughtfully considered life," in Long Island, NY, called LongHouse Reserve.
Presented in a Q&A format, Twenty Over Eighty teems with perspective from a time when the design profession was just beginning to be codified. The compact volume guides readers through a generation of designers whose pioneering ideas shaped the world as we know it. Sadly, since Kwun and Smith started on the book two years ago, a few of their subjects have already passed away. Graphic designer and AIGA medallist Deborah Sussman died weeks after being interviewed in 2014. Architect and the original Target design ambassador Michael Graves passed away on May 12, 2014. German industrial designer Richard Sapper, whose design classics include the counterweighted marvel Tizio table lamp to the IBM ThinkPad (early inspiration for the aesthetics of today's laptops) died on Dec. 31 last year.
At a time when we're still debating the right balance between work and life, toil and vacation, Kwun and Smith offer evidence that strict divisions may not be necessary. The enduring creative genius of people like Glaser and Thompson proves that it is indeed possible to find what you love, work on it every day and never get tired of it.