If there's one word that Beijing desperately wanted to hear from today's inauguration speech by Taiwan's new president Tsai Ing-wen, it was "consensus."
To be precise, we're talking about the "1992 Consensus," which is considered by Beijing to be the bottom line when it comes to Taiwan affairs.
China's Communist Party never conquered Taiwan after a civil war between the party and the Kuomintang ended in 1949, but it views the island as a province under its regime. Taiwan (officially known as the Republic of China), on the other hand, has governed itself as a country and held independent elections for decades.
In 1992, representatives from Beijing and Taipei reached an oral agreement on the "One China" principle—both mainland China and Taiwan are recognized as part of China, but each side had their own interpretation of the meaning of "China."
To Beijing, it's the People's Republic, under China's Communist Party, which includes Taiwan. In Taiwan, it varies—the 1992 Consensus is acknowledged by the Beijing-friendly Chinese National Party (aka the Kuomintang), which had run the island for eight years before Tsai took office today. But Tsai and her Democratic Progressive Party (DPP), which traditionally favors independence from China, have never endorsed the consensus.
And Tsai did not today in her carefully-worded speech. In her brief mention of  the "cross-strait relationship," (as relations between China and Taiwan are known) Tsai avoided using the term "1992 Consensus" entirely. Instead, she mentioned the "1992 talks." During them, "there was joint acknowledgement of setting aside differences to seek common ground," she said. "This is a historical fact."
She didn't, however, endorse any agreement of the "One China" principle. She went on to say that the development of the cross-strait relationship is dependent on "the democratic principle and prevalent will of the people of Taiwan."
On Friday afternoon, China's Communist Party and State Council's Taiwan affairs offices said in a statement (link in Chinese) that Tsai's failure to recognize the "1992 Consensus" shows her "ambiguous attitude" toward the "fundamental issue" of the cross-strait relationship. "This is not a complete answer," the statement said.
Patriotic Chinese netizens were incensed—even after Beijing ordered a ban of any media coverage of Tsai's inauguration, they followed it on YouTube, presumably after leaping over the Great Fire Wall with VPNs.
"Abolishing the 1992 Consensus means leaning towards Taiwan's independence," one Chinese internet user wrote under a live-stream from Taiwan Formosa TV during the inauguration. If that happens, she wrote, China's army's rockets will "let Taiwan separatists die without a burial place."
The live-stream from Formosa TV attracted more than 20,000 viewers. (By comparison, the presidential office's official channel attracted more than 60,000 views.) Unlike the presidential office, Formosa TV opened the comment section to viewers.
During the inauguration, it was practically taken over by Chinese netizens venting anti-independence feelings. At one point, Chinese trolls used YouTube emoticons of China's national flag and rockets to declare their belief that Taiwan was a part of China.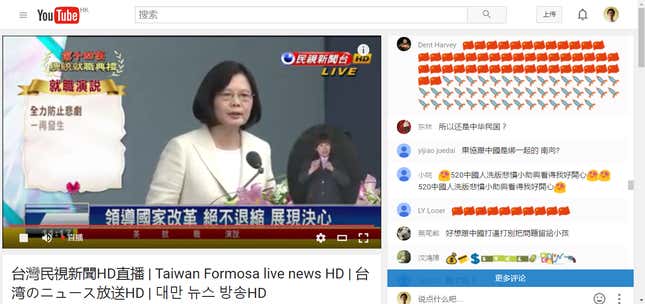 "Congratulations to Tsai Ing-wen's inauguration as Taiwan province governor from a Tianjin citizen," one wrote. "Beijing says early this morning missiles are ready," another wrote. "As long as Tsai says a word wrong, a missile will launch to Taiwan by accident."
After she mentioned "1992 talks" but not "1992 census," one blogger wrote "Taiwan is over," another said "the army is on the way." Others darkly joked that they are disappointed that Tsai didn't dare to declare independence.
Taiwan's netizens believe these Chinese bloggers are from the "50 Cent Party," commentators who are paid to spread propaganda by the Chinese government. But they may be regular Chinese citizens. Government-backed online commentators are mostly distracting the Chinese public from controversial topics, according to a Harvard University study published this week.
Surely, some Chinese internet users expressed their views over the matter rationally. "President Tsai didn't provoke China, neither did she extend much kindness. She didn't recognize the 92 consensus," one blogger wrote under Tsai's Facebook page, identifying himself as a Chinese. But he added he feels her "sincerity for a reform," so "I'll give her 90 points out of 100." The comment has garnered more than 2,000 likes.
Similar trolling has happened to Tsai before. After Tsai won the presidential election in January, an army of Chinese netizens attacked her Facebook page with anti-independence posts and images in a well-organized raid.