Tsai Ing-wen, a cat-loving academic and former head of the Democratic Progressive Party, was sworn in as Taiwan's first female president on Friday (May 20) in a ceremony that celebrated the island's youth and diversity. She also spoke pointedly about the need to protect the country's democracy, and strengthen relationships with other country's besides China.
The ceremony got off to a traditional start: At 9am local time, Tsai appeared with exiting president Ma Ying-jeou.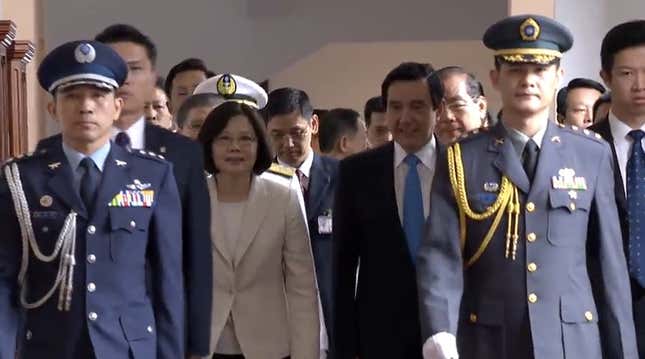 Vice president Chen Chien-Jen appeared beside Tsai at the ceremony. A practicing Catholic and scientist, Chen is renowned in Taiwan for his role in suppressing the spread of SARS in the early '00s.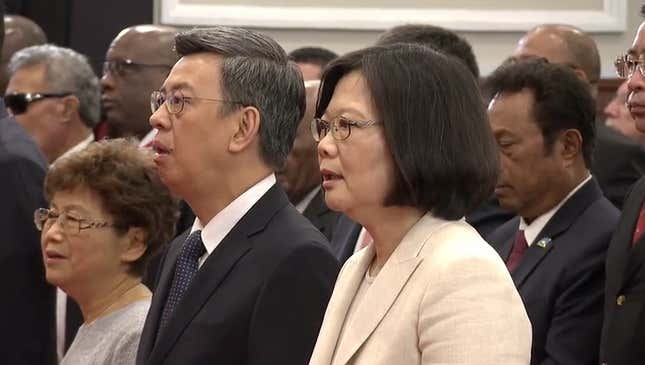 After Tsai's ceremonial acceptance, the island's aboriginals were honored, with members of various ethnic tribes performing a folk dance.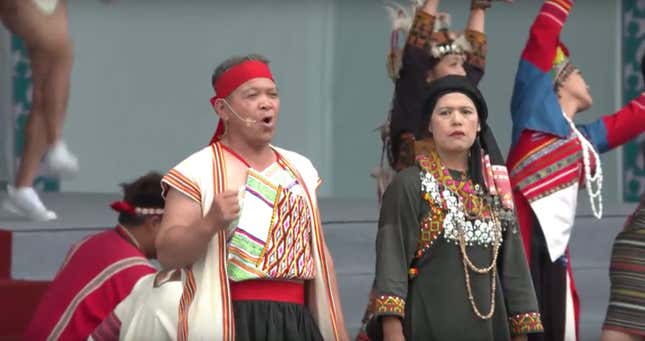 Then performers re-enacted Taiwan's colonization by the Japanese and its subsequent transfer to the Chinese Nationalist Party, or Kuomintang. At one point, dancers portrayed the forced executions carried out over the "White Terror" period, when the party killed or imprisoned hundreds of thousands of intellectuals and alleged communist sympathizers.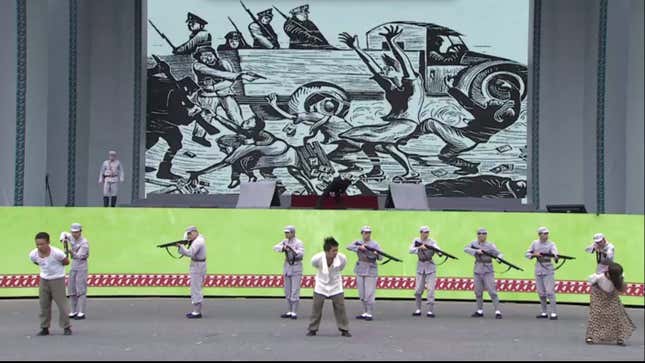 Then, rock bands played songs in Mandarin and Taiwanese.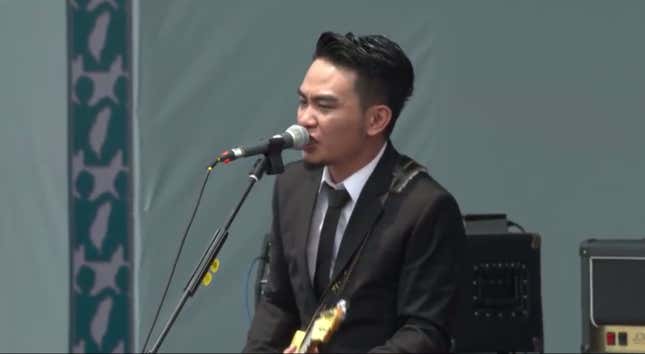 Tsai's ascendancy comes after she won Taiwan's presidential elections in January in a landslide, earning 56% of all votes, amid mass disillusionment with the opposing Chinese Nationalist Party (KMT). Under former President Ma, the party failed to revive the flagging economy, and its explicit support of unification with China alienated the island's youth.
Tsai's Democratic Progressive Party (DPP) was formed in the 1980s as opposition grew to the KMT. Many party members support complete independence from mainland China. Beijing, meanwhile, views Taiwan as one of its provinces, even though the island has governed itself and held independent elections for decades.
Tsai devoted most of her acceptance speech to the need to revive Taiwan's economy. But she didn't shy from of addressing cross-strait policy and Taiwan's relationship with Beijing. In her speech, Tsai referred to Taiwan as a country 24 times, which is sure to anger Beijing.

Tellingly, she referred to the so-called "1992 consensus"—an agreement between Taipei and Beijing that there is "one China," without agreeing on a definition—as "meetings" rather than a "consensus." This careful choice in vocabulary strays from Beijing's view on the two regions' current relationship.
The relationship between China and Taiwan "must respect historical and political realities, including the existence of ROC and its democracy," she said.

Taiwan must reduce its dependence on China for economic development she said."We will walk away from the time when our economy is overly reliant on one single country," she said, and increase relationships in Southeast Asia and India. She closed her speech with:

Dear fellow citizens, dear 23 million people of Taiwan: the wait is over. Today is the day. Today, tomorrow, and every day to come, we shall all vow to be a Taiwanese who safeguards democracy, freedom, and this country.
Since the January elections Beijing has acknowledged Tsai's ascendancy with reluctance.
China's Ministry of Propaganda issued directives to media outlets forbidding reports of Tsai's inauguration that are not written by official state media outlets. Xinhua, People's Daily, Global Times, and China Daily—four government mouthpiece papers—did not immediately publish reports or editorials about Tsai's swearing-in on Friday.