Facebook and Microsoft are teaming up to lay a major subsea cable under the Atlantic Ocean.
The underwater cable will measure 6,600 kilometers, stretching from Virginia to Bilbao, Spain. It will carry an estimated 160 terabits of data per second, millions of times faster than the typical home internet connection. It will be the highest capacity subsea cable ever to cross the Atlantic, according to a release from Facebook. Work on the project is scheduled to begin in August and be completed by October 2017. A spokeswoman for Facebook declined to comment on how much the project will cost.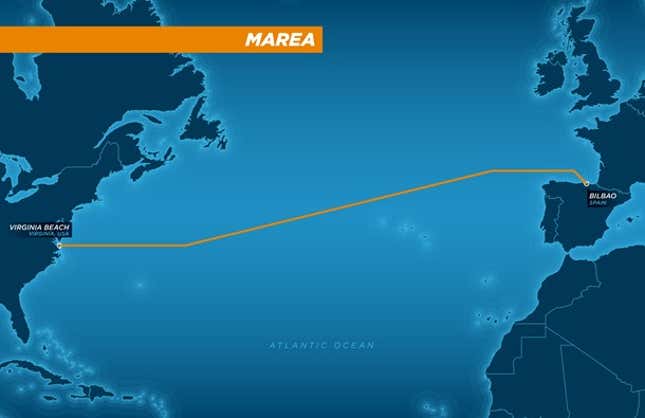 Facebook and Microsoft say the trans-Atlantic cable, named "Marea," will help them support "the explosion of data consumption and rapid growth of their respective cloud and online services." The cable will be managed and operated by Telxius, a telecomm infrastructure company formed in February by Telefonica, Spain's formerly state-owned phone company privatized in 1997.
In August 2014, Google struck a deal with five Asian telecom companies to build an undersea cable, "Faster," from the US to Japan. That cable was designed to carry 60 terabits of data per second and estimated to cost $300 million. Later that year, Google formed another partnership to build a $60 million subsea cable from Florida to Brazil.
Najam Ahmad, Facebook's vice president of network engineering, told Wired that avoiding a consortium model should help the project move along faster, and give Facebook more control over the cable's ultimate use. Ahmad said that Marea will provide a more efficient route not just to Europe but also to Africa, the Middle East, and Asia—all regions in which Facebook is trying to build out its presence.