Bitcoin is having a great weekend.
Since Friday morning, the price of bitcoin has increased 15% and briefly reached $530. That's the cryptocurrency's highest price since August 2014, when bitcoin traded around $532. The market value of all bitcoin in circulation crossed $8 billion.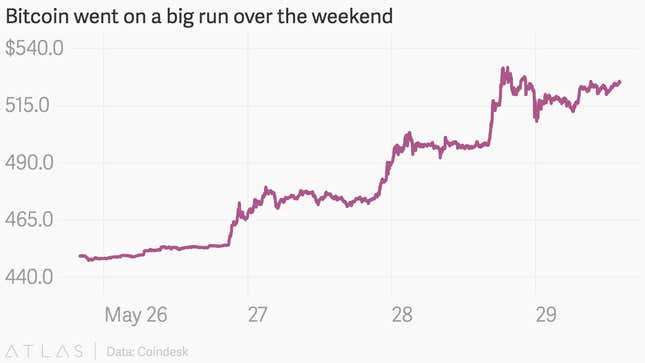 There are different theories about what's driving the increase. Zerohedge tied the price to an increase in trading volume and demand for bitcoin from China. Investors there are buying up bitcoin at around $573. A research report by industry publication Coindesk in early 2016 estimated that trades involving Chinese yuan now account for 95% of bitcoin's trading volume, up from 80% in May 2015.
Another potential factor is ethereum, a digital-finance platform that has attracted the interest of Microsoft, IBM, and consulting giant Deloitte. Ethereum, and its virtual currency ether, had a great week. Coinbase, one of the best-funded bitcoin startups, confirmed to Quartz that it would support ether trading on its new GDAX exchange. But, the price of ether has fallen over the past few days, leading some to wonder about any correlation between two.
Coindesk couldn't identify a clear explanation for the current spike. Peter Zivkovski, director of operations at bitcoin trading firm Whaleclub, told Coindesk "No clear fundamentals or catalysts are powering this rise in price."