Picture the Mercedes logo in your head. Easy, right? A three-pointed star. You could draw it from memory if asked. Now do the same for BMW. Maybe a bit harder, but still pretty simple.
Now try to picture the Cadillac logo. Not at all simple. It's the shape of a shield, with 23 separate elements and five different colors. Could you draw it from memory?
The logo, which the company calls the "Cadillac Crest," is based on the coat of arms of Antoine de la Mothe Cadillac, the French explorer who helped found Detroit in 1701. (Hardly an aristocrat, Cadillac invented his own noble identity and drew up the coat of arms once he arrived in the New World.)
The Cadillac crest, and accompanying cursive script, was once a clear signal about what the car maker valued, and whom it saw driving its vehicles: the well-bred affluent. A coat-of-arms logo is the automotive equivalent of country clubs, crystal chandeliers, and blazers with brass buttons. Cadillacs were driven by—and chauffeured for—CEOs, senators, and movie stars.

But in a world where billionaires wear hoodies and presidents shoot hoops, the crest represents Cadillac's greatest strength and biggest obstacle. Scores of car companies would love to have Cadillac's 114-year history and its near-universal name recognition, but it's a brand weighed down by stuffy associations, and worse, the down-market parody of itself it became in the 1980s and 1990s. If sophistication today is a high-end ramen restaurant, Cadillac is eating at Ruth's Chris Steakhouse.
Now, after decades of losing sales to Germany's luxury giants, Cadillac is desperate to recast its image as the luxury car brand for young, urban, status-conscious drivers. It's hired marketers who managed the Belvedere vodka brand, enlisted fashion photographers to shoot the cars in moody urban streetscapes, and even moved its corporate headquarters from Detroit to New York's Soho neighborhood.
For General Motors, Cadillac's parent, the brand's revival is an essential part of a strategy to boost profit globally. To ensure it has a high-margin luxury vehicle that's competitive in the US and China, GM is plowing $12 billion into Cadillac to develop 11 new cars—from small coupes to mammoth SUVs—by 2020, in categories currently occupied by the likes of Mercedes, BMW, and Audi.
"Luxury cars are incredibly profitable," said Tim Calkins, a professor of marketing at Northwestern's Kellogg School of Management. "If you want to be a global player, you have to be successful at the high end, and that means GM needs to have a really strong brand at the high end."
To get there, GM in 2014 hired South African auto veteran Johan de Nysschen as Cadillac's president. He previously held the same title at Infiniti and Audi of America.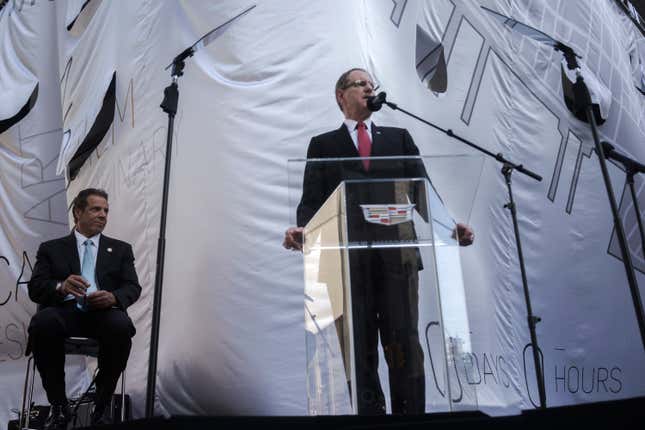 I met de Nysschen at the New York Auto Show in March where the company was eagerly showing off its new XT5 crossover and its latest sedan, the CT6, which it hopes will take on the Mercedes S-class. Elegantly dressed, sporting a mustache, and speaking in precise, Afrikaans-accented English, de Nysschen, 56, cuts a formal figure who would seem to be more comfortable with the Cadillac of earlier generations.
But de Nysschen makes it clear he's not targeting the traditional buyers of American luxury cars.
"The power of the baby boomer is waning," he says. "It not only has a reached a tipping point, but it will slide very fast. In five years, 75% of luxury cars will be bought by Generation X and Generation Y."
Cadillac man
As a boy in Port Elizabeth, de Nysschen knew Cadillac was a car for the rich and powerful. As an auto executive, he witnessed the brand's "meander in the woods," his euphemism for the era when it lost its cachet. He watched GM chase mass appeal with lower-priced models like the Cimmaron in the 1980s and the Catera in the 1990s. Not so suddenly, Cadillac lost its luster and became more associated with the low-rent tackiness captured in "Cadillac Man," a 1990 Robin Williams movie about a sleazy car dealer.
"There was a period where it was undeniable that Cadillac had moved away from being 'the standard for the world,''' de Nysschen says, nodding at the slogan Cadillac started using in its first decade. For corporate overseers at GM "cost containment became more important."
For decades, Cadillac was trapped in the bind of designing cheaper cars while building too many of them. Eager to maintain its once dominant market share, and locked into labor agreements that gave GM little incentive to reduce production, Cadillac flooded the market with unappealing vehicles with unsustainable sticker prices. That led to massive discounting, which killed customer resale values. By better managing its inventory, Cadillac's average transaction price climbed 9% to $51,000 last year, second only to Mercedes in its category.
"No luxury brand, be it Hermes or Rolex, grew because they had a sale every month," de Nysschen said. "We will not give the cars away."
The story of Cadillac's decline and attempted return isn't a clear arc; there have been other efforts at re-establishing the company, some more successful than others. There was the "Breakthrough" campaign of the early 2000s that launched the CTS sedan with commercials featuring Led Zeppelin's "Rock and Roll." The 1999 Escalade SUV, and particularly its improved later models, gave the company a jolt of relevance in the middle of the last decade.
But just as Cadillac was hitting its stride in the mid-oughts, it was undone by the financial crisis. GM was hemorrhaging cash when it needed to compete with the Germans, who were rapidly expanding their offerings and selling cars from Minis to Maybachs around the globe, says Matthew Stover, an industry analyst at Susquehanna International Group.
"They were going bankrupt and they knew it," Stover said. "They had to hive off capital. The market was changing fast and they couldn't keep up with the change."
That left Cadillac with a stunted line up of vehicles.
The recent reinvestment in the product and in marketing is starting to produce dividends. Sales rose 7.5% in 2015, and were particularly strong in China.
Cadillac is also eager to have a presence in electric cars and self-driving cars, technology which will likely share the future of the industry.
A plug-in hybrid CT6 will debut next year, and GM's automated driving system—Super Cruise—and a new technology that lets vehicles communicate with each to head off collisions, a prerequisite to a fully automated future, will be rolled out in Cadillac before GM's other brands.
 But Cadillac's rebranding exercise has a long way to go to if it wants to compete with Elon Musk and the dominance of his Tesla brand in the nascent market for electrics.
Every generation tries to distinguish itself
For a great many Americans, Cadillac sedans remain the car of their grandparents, and Escalades, once hard to come by, are now ubiquitous on the streets of New York as Uber vehicles. Even if the cars now perform better—and less like the "couches on wheels" they've been called— can Cadillac tempt customers, and particularly the taste makers it desires, to test drive them?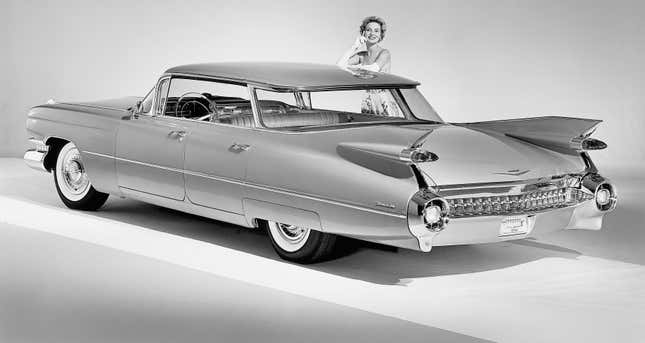 "Cadillac has an enormous challenge," Calkins, the Kellogg professor, said. "Brands are associations; brands are everything people think when they see a name or a mark or a symbol. It is very hard to change the meaning of a brand once people have an opinion of it."
Uwe Ellinghaus, Cadillac's chief marketing officer, concedes, "This is an exercise that takes a decade."
Ellinghaus, an animated German who worked at BMW before a brief stint at Montblanc, is the executive charged with reinventing the brand. He has a theory —or perhaps just wishful thinking—that Cadillac's weakness may actually be a strength. So many baby boomers have walked away from Cadillac that the brand is terra incognito to younger drivers, he said. And just as baby boomers shunned Cadillacs as their parents' cars, Gen X and Y drivers will look for alternatives to the BMWs and Mercedes driven by their parents.
"Every generation wants to distinguish themselves," he said. "We have a chance to reposition Cadillac as the one luxury brand not geared to the older generation. We want to reach out to the customers who are just entering the luxury market. "
He says his goal for the brand is to marry "the aspirational spirit of Silicon Valley with the vibe of downtown New York."
Being in New York helps. Along with the symbolism of breaking with Detroit, the move to Soho creates a physical separation of the brand from its GM stable mates Chevrolet and Buick. It also helps Cadillac attract talent that wasn't interested in living in Detroit and immerses its creative people in the style capital of the US.
Ellinghaus offers Cadillac's New York office as an example of his design aesthetic: clean lines, blond wood furniture, and soaring windows with views in every direction.
Younger drivers "want luxury to be personal and casual,'' Ellinghaus said. "Buyers can come into dealerships wearing T-shirt and jeans."
Asked about the Cadillac Crest, the marketing executive shrugs. He points out that it's been streamlined and modernized, and the wreath that surrounded the crest has been dropped. It's not what he would have chosen and the shade of yellow is wrong for a luxury brand, he said, but it's such an inescapable part of Cadillac's identity that he's stuck with it.
Ellinghaus offers Tom Ford, the eponymous company of the former Gucci designer, as a brand whose sensibility he admires, but says he'll readily borrow from a wide range of companies, from banks to airlines, and particularly those that have mastered the art of seamless customer service. And he aims to apply those lessons at every step of the car-buying process, from browsing to lease renewals.
"We want to make customer interaction a point of distinction,'' he said. "Your experience can change your view of the product completely."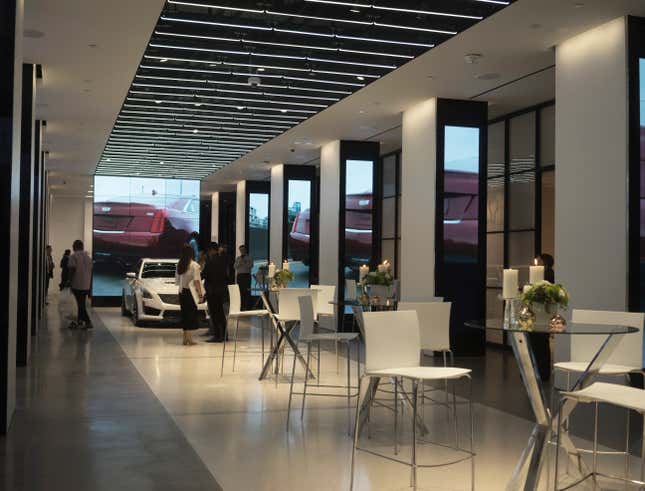 Ellinghaus's vision also means discarding some of the traditional marketing partners Cadillac might once have teamed with. The company isn't sponsoring golf or tennis, and its cars aren't endorsed by professional athletes. Instead, Ellinghaus wants to keep company with fashion designers, architects, and artists. To that end, Cadillac is opening a "retail lab" on the ground floor of its Soho office building, where aspiring fashion designers can show their garments along side Cadillac's cars.
The company is giving select customers—and prospective ones—treats like architectural tours, and letting them drive new models on trips to trendy restaurants like Blue Hill at Stone Barns outside New York and Redbird in Los Angeles.
The last Cadillac I drove was my grandfather's Fleetwood
Cadillac's quest, while difficult, isn't futile, says Erich Joachimsthaler, the CEO of Vivaldi Partners Group, a design and marketing firm, and a longtime consultant to the auto industry.
Two decades ago, Audi had a reputation in Germany for making stodgy cars driven by staid business men, he says. The company was able to define a new form of luxury between the traditional, conservative luxury of Mercedes and the engineering, performance-oriented luxury of BMW. Its new niche: a sort of progressive luxury that made drivers feel they'd made a smart choice.
Cadillac needs to find its own form or luxury, and can draw on its heritage as an authentic American brand to shape it, Joachimsthaler says.
"I think Cadillac is in a very good position," he said. "They have good product, they can tap into different subcultures that have a very positive association with the car. What they need is a brand strategy to consolidate those strands."
Of course, no amount of branding can make people buy a crappy car.
"The marketing exercise is very important but if the product isn't there, it doesn't matter," said Stover, the analyst. "This isn't tissue paper; it's the second biggest purchase people make, and these are the best of the best you are competing with."
To prove that Cadillac's engineering has evolved beyond designing the trunk to fit multiple golf bags, the company loaned me a shiny red CTS V-Sport to drive for a weekend.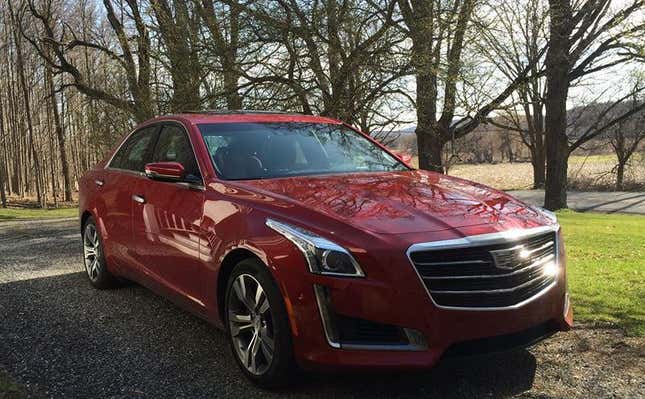 In all honesty, it wasn't going to take much to impress me. The last Cadillac I drove was my grandfather's Fleetwood, as big and ungainly a car as you could buy in the late 1980s. The CTS, which leaps up hills and darts around curves, was orders of magnitude more fun to drive, even with kids strapped into car seats in the rear. (I won't compare it to my Subaru Outback; that's just not fair. I bought that car to lug children safely through the snow and it drives with utilitarian efficiency.)
The CTS's interior—with its heads-up display on the dashboard, satellite radio, and power everything—is almost disturbingly luxurious. I've never been more happy to be stuck in traffic.
Of course, at $75,000, it should be a pleasure to drive. But top-end BMWs and Mercedes are enjoyable, too. While Cadillac needed to bring its cars up to par to compete, it's not going to sell cars based on performance alone.
"We can't out-German the Germans," Ellinghaus said. "It can't just be engineering."
Authentic American luxury
On June 1, the company held a splashy opening for its "Cadillac House" in the ground floor of its new Soho headquarters, attended by throngs of downtown denizens and a smattering of minor celebrities. The new space shows off the latest car models alongside the fashions of designer Timo Weiland and a brooding multimedia installation by Geoffrey Lillemon, an artist who helped design Miley Cyrus' "Bangerz" concert tour.
Yet amid Cadillac House's studied edginess, the company prominently displayed a 1953 Le Mans convertible, and Bruce Springsteen's "Pink Cadillac" blared from the speakers.
As Cadillac searches for a new way to define itself to the next generation of car buyers, it may find it in that blend of the new and the old. The brand's unique strength is its age, and the century it spent embedding itself in the American consciousness. "It is the original and enduring American luxury brand," de Nysschen says.
And it has the crest to prove it.