On June 3rd, professional e-sports gamer Ma Xiqing, hailed a Didi vehicle from the Changsha Hospital of Chinese Medicine to Changsha Huanghua International Airport. According to the Beijing Times  (link in Chinese), Ma selected a feature in the app that lets drivers pick up multiple passengers on the same trip (similar to Uber's UberPOOL).
When Ma got in the car, he asked the driver not to accept other hails during his trip. The driver refused to comply, and Ma demanded the driver stop the car and allow him to exit. Once he left the vehicle, though, the driver chased after him with a knife, slashed his backside, and cut two of his tendons in his left hand.
Ma was quickly admitted to a hospital, where he underwent a 12 hour surgical procedure.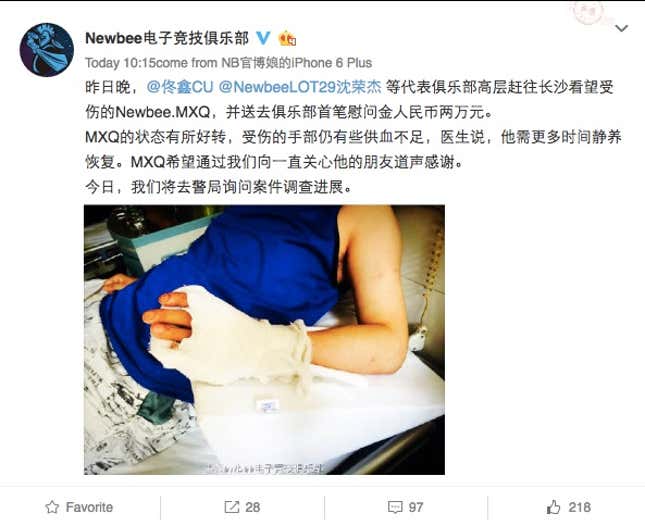 Ma has been playing e-sports professionally for more than a decade, and was was ranked China's third-best FIFA online player at the annual World Cyber Games in 2003. Injuring his hand's tendons will likely affect his ability to continue playing, and some fans suspect a rival may have been behind the attack.
Police say they have apprehended the suspect. Didi tells Quartz that Ma remains in the hospital but his condition is stable.
Didi apologized to Ma and his e-sports team on its Weibo page today, and will reimburse his medical fees (link in Chinese).
To the friends and family of Ma as well as all of his colleagues at Newbee, Didi solemnly promises it will cooperate with police to research and follow up [after this case]. In addition to helping Ma protect his rights according to the law, and [helping] punish and claim damages against the perpetrator, Didi will also compensate Ma for related insurance payments and will pay for all of Ma's medical expenses.
According to Ma's team, Newbee, the license plate on the vehicle that Ma got into didn't match what was on Didi's app. Didi confirmed this, and asked passengers to cancel rides and report drivers in similar situations.
In Asia, it's not uncommon for registered drivers on Uber, Didi, or other ride-hailing apps to share or lease out their accounts to others. These secondary drivers are usually not screened by the ride-hailing companies, and often use vehicles that are not registered with the company.
The fraud can make it difficult to track down drivers who attack. Last month a woman was killed by her Didi driver, who picked her up in a vehicle with a license plate different from the one listed in the app. Luckily, the driver who committed the murder was logged into his proper account despite using a different license plate. Didi helped apprehend the driver by providing the driver's information to police.
In order to curb this form of fraud, Uber has begun launching random facial recognition tests in China, in which the app takes photos of the driver.
This article has been updated with clarifications from Didi Chuxing.