China is clearly militarizing in the strategic South China Sea—causing international alarm and increased defense spending among neighbors. But as it asserts its claim to the region, it's also throwing some softer elements in amid the militaristic buildup—including lighthouses, a tourist resort, and a hospital. The latest awkwardly placed civilian outpost is a farm.
The farm sits upon a manmade island that China has built atop the contested Fiery Cross Reef, according to a new report (link in Chinese) in the state-owned news portal Xinhua. About 500 livestock have been raised there—including pigs, chicken, and geese. There's a vegetable garden covering about 4,000 square meters. There's even a fish pond.
Fiery Cross Reef (known as Yongshu to the Chinese) is part of the Spratly archipelago, to which neighboring nations have competing claims. China claims most of the South China Sea as its own territory, using a "nine-dash line" map drawn after World War 2 as part of its justification. But in the coming weeks that claim will likely be rejected by an international tribunal, whose authority on the matter Beijing has refused to recognize. In the meantime China is working to bolster its presence with both military and civilian features in the sea.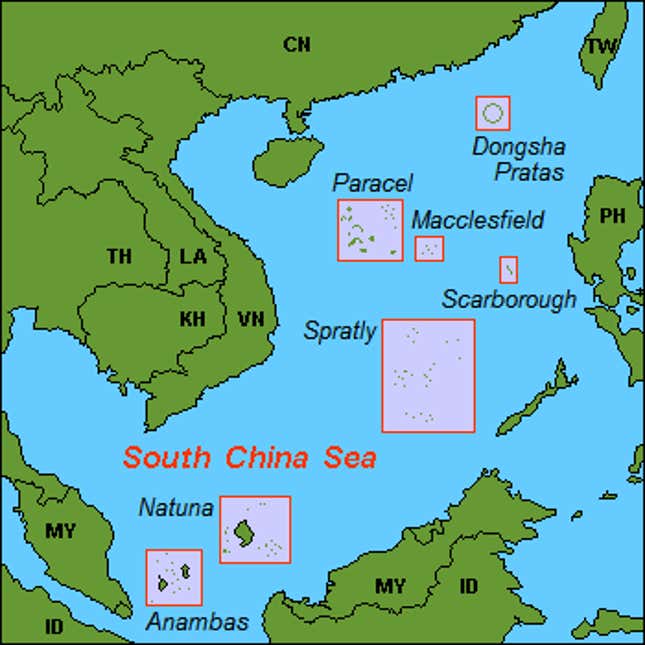 Fiery Cross Reef will also get a hospital, now under construction and expected to be finished later this month. It covers 160,000 square meters and has its own garden with coconut trees and tropical plants, according to Xinhua. The new facilities will come equipped with modern medical equipment and communications gear for consulting with mainland medical experts about major operations or rare diseases.
A lighthouse will adorn the island as well, joining other lighthouses China has recently built in the Spratlys.
Early this year, Fiery Cross Reef also received its first tourists (Chinese ones, of course). They arrived via commercial plane thanks to the island's runway, which is also used by fighter jets.
In May, Fiery Cross Reef hosted a song-and-dance performance featuring the celebrity singer Song Zuying, who gave stirring renditions of My Heart Will Go On and a patriotic number called Ode to the South Sea Defenders, next to a Chinese warship.
Meanwhile on Woody Island, in the contested Paracel islands, China is planning resorts that will host weddings and diving trips. In February, satellite images revealed missile launchers being deployed on the very same island. We can see the ad copy now: "Just like the Maldives—but with missile launchers."
—Zheping Huang contributed reporting