Global companies doing business in China, the world's largest consumer market, may need to censor their actions and sponsorships outside of the country too in near future.
That's the lesson from an escalating row in Hong Kong that pits L'Oreal subsidiary Lancome against angry Hong Kong citizens. The French cosmetics brand abruptly canceled a Hong Kong concert it was sponsoring by pro-democracy singer Denise Ho, after some angry mainland Chinese netizens complained online.
While Lancome cited "possibly safety reasons" as the reason for the concert's cancellation, it is clear that new rules for doing business with China are being established, business experts say.
"Global companies that want to enter the China market have to play by the China rules," said Simon Lee, senior lecturer and assistant dean at the Chinese University of Hong Kong's business school. "Unless they choose to ignore making profits from China, global companies have to sacrifice certain values," which could include supporting freedom of speech or democracy.
"This is a painful process, and the world has to live with it for now," Lee said.
China's state media was thrilled by the L'Oreal subsidiary's move. A commentary (link in simplified Chinese) published in the state-backed tabloid Global Times yesterday (June 7) applauded Lancome, and included a photo of Ho with the Dalai Lama, considered a mortal enemy of Beijing:
Apparently Lancome is more inclined to take care of the emotions of the people on the mainland. The reason is very simple: the size of the mainland market is multiple times that of Hong Kong.

This row shows that members of the public in mainland China have realized their impeccable power to influence the market. From now on, they will no longer be kind towards celebrities or anyone who makes money out of China but at the same time criticizes China.

If you want to be part of the mainland Chinese market and take advantage of it, then stop taking actions that damage the interests of China, whether you are in mainland China or not. This is a 'universal' philosophy.
The commentary drew nearly 8,500 responses, with many Chinese readers backing the idea of banishing celebrities and boycotting companies that do not cave to Beijing.
"Just kick the companies out of China if they associate themselves with Hong Kong and Taiwan independence," one wrote.
"This is the price that pro-Hong Kong independence artists like Denise Ho have to pay," wrote another. (Ho has actually never publicly supported the independence of Hong Kong, but took part in the Umbrella Movement protests of 2014 demanding Beijing respect its pledge to give Hong Kong universal suffrage.)
Hong Kongers, meanwhile, are calling for a global boycott of L'Oreal products. Political parties plan to storm the Lancome local office today to protest, and L'Oreal brands closed down their shops today in Hong Kong: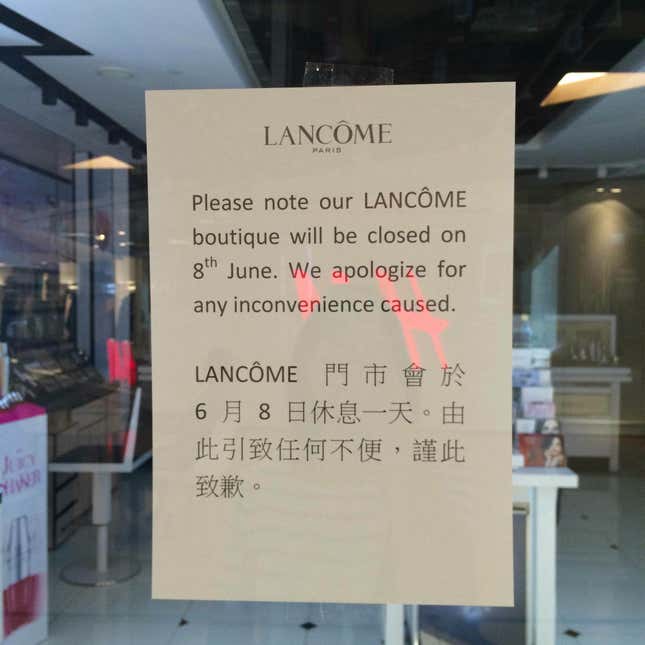 A petition in French calling for a blanket boycott of Lancome products has garnered more than 4,500 signatures, and Hong Kong's pro-democracy politicians asked citizens to stop using all L'Oreal beauty products.
One, district councilor Christine Fong Kwok-shan, posted a video of her flushing a Lancome product down the toilet, saying "Lancome, go to hell." The singer, Ho, issued statements in English and French on Monday, saying Lancome is kneeling down "to a bullying hegemony."

Neither Lancome nor L'Oreal have responded to requests for comment. L'Oreal's stated "values and ethical principles" include "integrity," "respect," "courage," and "transparency."
Already global luxury brands like Gucci and Ferragamo get more than a third of their sales from Chinese consumers, whether they're buying at home or abroad:
And China is the world's fastest-growing market for so-called "vanity spending" or money spent on non-essential goods and services (everything from makeup to private school education), accounting for $660 billion a year, Bank of America said last year. That's about the same as the US, and behind only Western Europe.
L'Oreal's latest annual report doesn't break out sales in China, but does mention that they have been "particularly" good, while Hong Kong has been difficult.