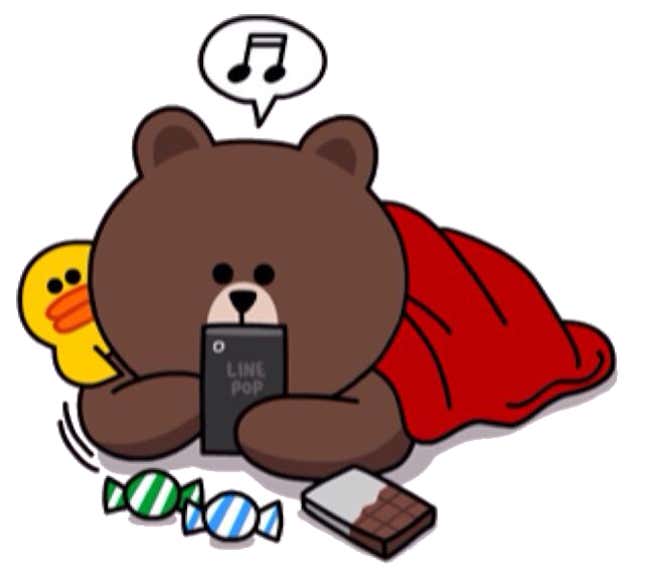 Messaging app Line is finally going public, and its filing reveals some amazing statistics about a key part of its business: digital stickers.
Those stickers generated ¥28.7 billion ($268 million) in revenue last year, about a quarter of the company's haul. It also makes money from games and advertising, both on Line and two large web portals that it operates. Total revenue in 2015 was ¥120.4 billion ($1.1 billion).
Line's prospectus for investors describes stickers as "our larger and more expressive version of emoticons." Indeed, stickers have largely replaced emoticons and emoji on messaging apps in Asia.
Line, which is most popular in Japan, and WeChat, which dominates China, have created marketplaces for artists to sell their sticker designs to users. Line says it had 259,499 sticker sets available as of March 2016. By that point, its users were sending an average of 389 million stickers per day, or 9% of all messages on the platform.
Stickers are just images with transparent backgrounds. That they have spurred such a booming business for Line and other Asian messaging apps could be viewed as a promising sign for generating revenue from communication services beyond advertising. Alternatively, stickers could be a mobile fad like ringtones.
In its filing, Line acknowledges the risk that it has tapped into a fad:
The sale of Stickers is a rapidly evolving market, and the growth of the market for Stickers and the level of demand for, and market acceptance of, our Stickers are subject to a high degree of uncertainty. In particular, a substantial majority of revenues from the sale of our Stickers has been derived from sales in Japan, and there can be no assurance that such products will achieve a similar level of market acceptance elsewhere. Over time, users in Japan may also lose interest in purchasing new Stickers.
For now, stickers are a strong business and have inspired Western apps like Snapchat and Facebook Messenger to follow suit. Neither of those apps yet charge for their stickers, but they inevitably will.
One other interesting stat revealed by Line's IPO filing: Only 4% of its 218 million active users spent money with the company in March. But those power users were enough to generate a substantial business in stickers and games.
Line is listing in both Tokyo and New York, hoping to raise $900 million at a valuation of roughly $5 billion. It is owned by Naver, which operates the most popular web portal in South Korea.