Two weeks ago, an Irish farmer found a massive hunk of ancient butter buried in his local bog. It's been sitting there for about 2,000 years, but experts say it's technically still edible.
The lump of "bog butter" weighs about 10 kilograms, or 22 pounds. It was found five meters deep into the bog in the country's northern Cavan county, and is being moved to the National Museum of Ireland for conservation.
"A find like this is extremely significant in terms of our history and heritage," Savina Donohoe, curator of the Cavan County Museum, writes in an email. "It does smell like butter," she adds, "And although I did not taste it there was a strong smell from my hands after touching and holding it."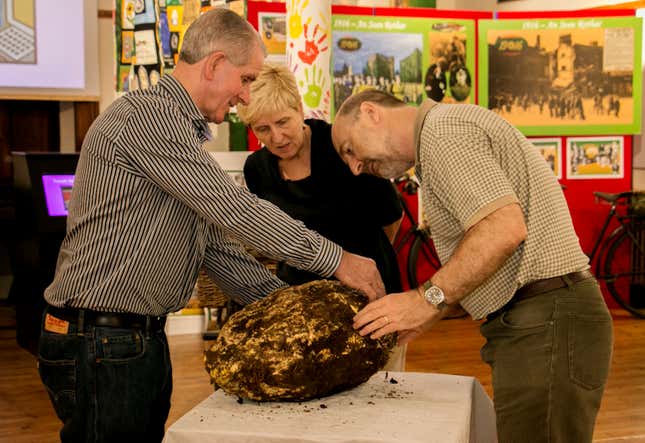 The Irish Times first reported the discovery on June 9. "Theoretically the stuff is still edible—but we wouldn't say it's advisable," Andy Halpin, of the national museum's antiquities department, told the paper.
With its cool temperatures, low oxygen levels, and high acidity, bog environments act to naturally preserve butter. According to the food research nonprofit Nordic Food Lab, dairy was once a sign of wealth and used for taxes and rent, so a bog would have been a good place to keep your butter safe.
Says Donohoe, since the rugby ball-shaped butter wasn't in a protective casing to be dug up later, it's possible it was in fact buried as a religious offering.
The discovery of big chunks of very old butter isn't uncommon. Around 400 such ancient lumps of butter have been found in Ireland and Scotland. Three years ago, turf cutters in Ireland's Offaly county found over 100 pounds of bog butter inside a keg. It was estimated to be 5,000 years old.