Americans are just now rediscovering the meditative pleasure of organizing life with pen and paper again, but scheduling sans Siri is a long-held tradition in Asia, where legions of discerning journal keepers still take pride in a carefully composed page.
In Japan, it's called "techo (planner) culture." Happily oblivious to the decline of yuppie filofaxes in the West, paper brands like Midori, Hobonichi, Kokuyo and other modern shrines to stationery nurture a steady demand for beautiful agenda books.
Accessories like pockets, stamps, tabs, and decorative washi masking tape help Japanese paperphiles organize their thinking artfully and deliberately. Many design their own unique notation systems—yes, there's more where the immensely popular Bullet Journal came from—and showcase those systems on "filofax tours" on YouTube.
Planner culture is also strong among Japan's neighbors. In China, sales are rising for old school paper-based day planners, notably for digital natives." With many mainland users being students and young office workers, the items are often purchased by parents as gifts and study aids for their children," reported Asia Today in January. "They are increasingly seen as a way for parents to encourage their offspring to take control of their affairs."
In Taiwan, Japanese-style planners are immensely popular, with online sales jumping 40% from 2013–2014, according to Nikkei Asian Review.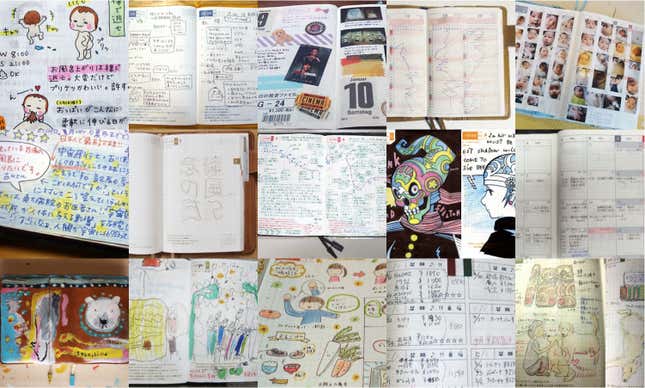 Of course, everywhere in the world, phones and Google calendars efficiently remind us of appointments. But a pen-and-paper-based system creates a record of the day beyond the usual sequence of litany of meetings and chores.
Management consultant Bruce Rhoades suggests seeing the paper-based planner as a mind-clearing ritual. "There is something about writing early in the morning before engaging in the day's activities that is very helpful—sort of like how your best ideas often occur in the shower," he explains on a blog post. Starting with a paper planner could even improve the quality of those to-do lists we create on our mobile devices, he says.
The time it takes to handwrite tasks allows us identify priorities and reframe goals in a way that typing cannot. Just as the act of handwriting notes in class has been proven to encourage deep thought for students, a paper-based planner offers space to contemplate the events of the day and scheme ideas for tomorrow. Instead of slapdash scribbles on Post-its and mindless calendar synching, writing on a planner offers a moment of reflection on the events of the day.
As techo designer Shigesato Itoi observes, a handwritten agenda also offers a snapshot of one's life. "It's more than just a schedule book to keep appointments, and it's not quite a diary, nor is it just a notebook…" he writes in the blog for Japanese agenda-maker Hobonichi.
"Each person's techo with their life written on the pages, well, that's your autobiography."