One of Airbnb's worst nightmares is playing out in Los Angeles.
City attorney Mike Feuer has filed criminal charges against Carol Jean Alsman, a local property owner, for allegedly forcing out tenants in rent-controlled units and then listing the units for rent on Airbnb.
Alsman applied to remove her four-unit property from the rental market under the Ellis Act, a California state law that allows landlords to evict tenants to "go out of business." The city attorney's office claims that Alsman "complied with all regulations to have tenants compensated and relocated," but then "allegedly began renting those units shortly thereafter through Airbnb and failed to allow former tenants an opportunity to re-rent." State law requires landlords to notify tenants if they intend to re-rent their units within five years.
Alsman's former tenants filed suit against her and Airbnb in December.
"While we don't comment on pending cases, we strongly oppose real estate speculators who illegally evict tenants and abuse platforms like ours in search of a quick buck," Airbnb says in a statement.
The city attorney's office has lodged civil complaints against three other Los Angeles property owners for allegedly using their buildings as illegal hotels, despite orders from regulators that they cease doing so. Carl Lambert, the owner of Venice Suites, has allegedly "operated and advertised the 32-unit apartment building in Venice as a hotel complete with its own website and regular hotel amenities."
Airbnb has become a flashpoint in many cities, but especially in places like Los Angeles that are facing a severe shortage of affordable housing. Last March, a report (pdf) from the California legislative analyst's office put the average monthly rent in LA at $1,390 and the average home price at $490,000. Both those amounts were above the state average, which in turn topped the national average. The same report found that the median share of income LA residents spent is significantly more than in other major cities, both in California and across the US.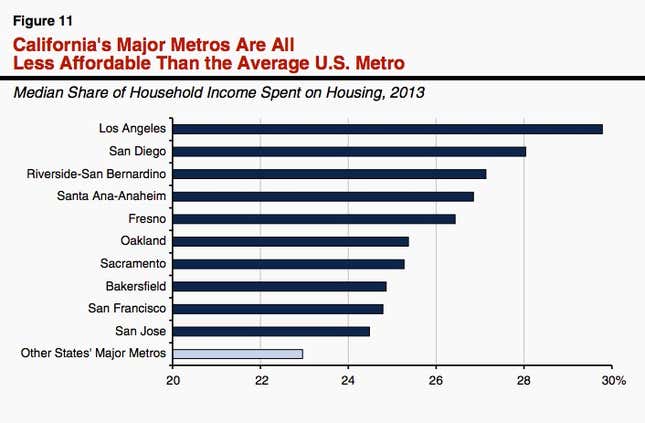 "In a city with a profound shortage of affordable housing, unlawfully converting rental units to operate hotels has got to stop," Feuer said in a statement. "My office will continue to intervene to keep rent-stabilized units on the market and hold owners accountable for not complying with the law."
Airbnb, meanwhile, has tried to position itself as a friend of cities, rather than an enemy. The company likes to talk about how its platform "democratizes travel" and creates "economic opportunity" for "typical middle-income" Americans. In November 2015, Airbnb introduced a "community compact" in which it outlined "core principles" for "working with cities where our community has a significant presence."
Airbnb says the "vast majority" of its LA hosts "are middle-class people trying to pay the bills and stay in their own homes." In 2015, the typical Airbnb host in the city earned $7,000 from rents collected via the platform, the company says.
Landlords who are allegedly evicting tenants to make a bigger profit off of their properties on Airbnb do not mix well with that narrative.