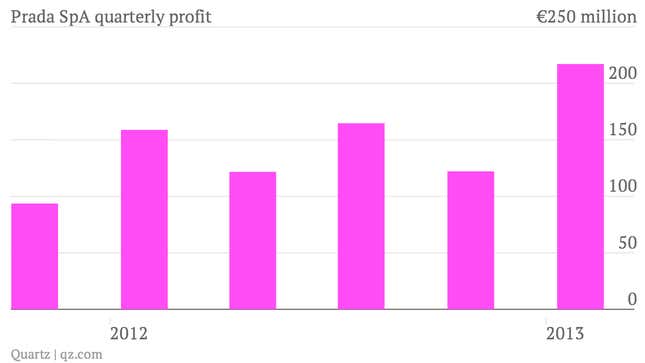 The numbers: Profits at Italian fashion house Prada SpA rose 36%—to €217 million euros ($283 million)—in the fourth quarter of 2012, compared to the same period of the prior year, and 45% for the full year ended Jan. 31. Bloomberg points out that the full-year profit of €625.7 million beat consensus expectations of €618 million.
The takeaway: Chinese appetite remains strong for luxury goods, especially Prada's leather goods.
What's interesting: More than half of Prada's sales to Chinese consumers take place outside China, according to the Wall Street Journal (paywall). That includes heavy sales in Europe, which has attracted flocks of Chinese tourists in recent years, producing solid growth Prada's core markets. Such dynamics helped Prada post full-year sales growth of 37% in Europe in 2012, despite the ongoing debt crisis there.