Jackie Chan and some of Hong Kong's best-known celebrities have caused a fresh wave of public outrage ahead of the city's annual July 1 protest against China's Communist Party.
Chan and many of Hong Kong's film and entertainment stars recently participated in an online tribute for two firefighters who died in a blaze that burned for days in a commercial building. But what started out as a good cause has turned into a nasty online smear campaign.
Some Hong Kong citizens are accusing the celebrities of capitalizing on the tragic 108-hour blaze to promote themselves—while they remain silent about political issues that affect the city like Lancome's self-censorship and the city's abducted booksellers. 
Hong Kong's showbiz community launched the campaign "Salute to Our Firefighters" this week, and celebrities took selfies holding a piece of paper with the slogan "salute to firefighters." The campaign isn't raising money for the families of firefighters, it is just an online tribute: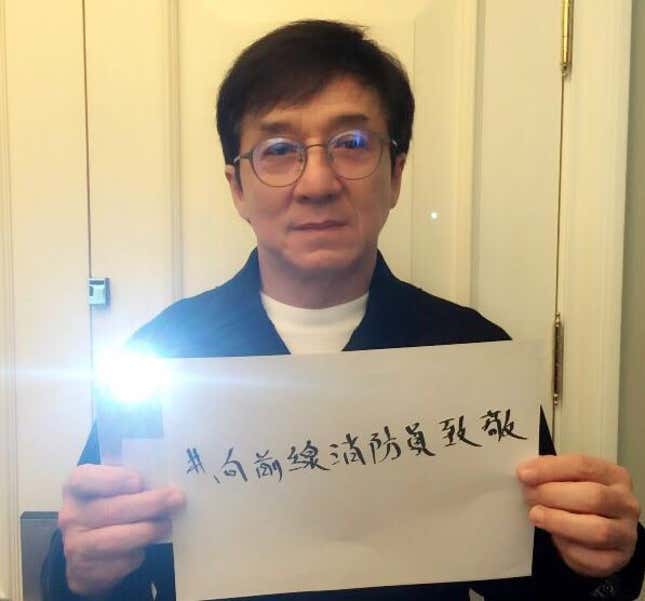 Over a hundred celebrities, including kung fu stars Chan and Sammo Hung, award-winning actors Andy Lau and Eric Tsang uploaded photos on their social media pages.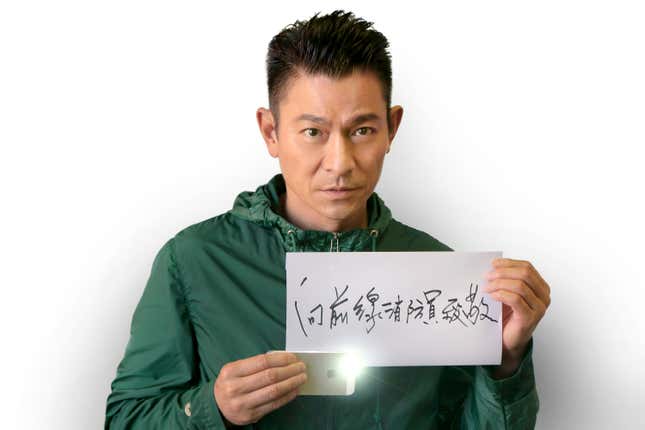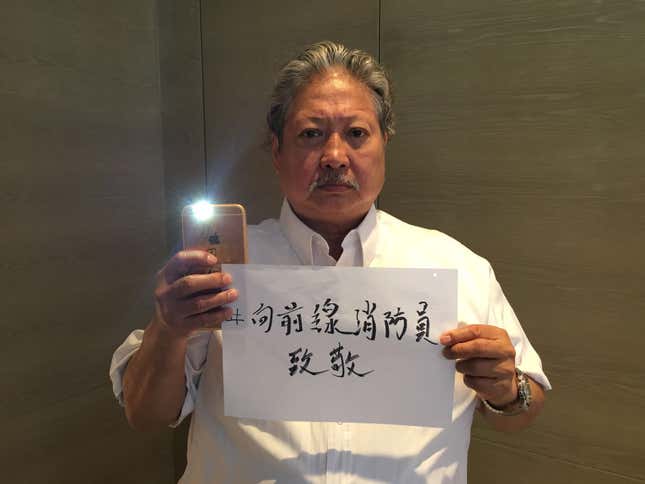 Some of the city's best-known Canto-pop stars, including Alan Tam, Sam Hui, Jacky Cheung, and Eason Chan, performed a tribute song and recorded a music video:
But many Hong Kongers have criticized the gesture, because the same celebrities didn't stand up for actor Anthony Wong Yiu-ming or singer Denise Ho, who were blacklisted in mainland China for their support for the Umbrella Movement in 2014. They are also asking why these celebrities didn't speak out recently after bookseller Lam Wing-kee's explosive remarks about his arrest and detention in mainland China.
In a thread (in Chinese) posted on King Jer Entertainment Channel, a popular local entertainment gossip page, about 90% of the over 600 comments were critical of the campaign, accusing the celebrities of taking advantage of the firefighter tragedy to get media exposure.
"Where were they when Denise Ho was bullied by mainlanders over the Lancome incident?" wrote Bernard Lee on Facebook.
"Did they speak up for Denise Ho when her concert was cancelled by Lancome? Stop being so hypocritical. This is disgusting," wrote Lydia Chan.
"Why don't they just make donations to families of the deceased firefighters? These celebrities should stop wasting paper," Isis Lee wrote.
Some altered the images to show their discontent. The slogan in Chan's photo was changed to "Hong Kong is tarnished by incapable officials."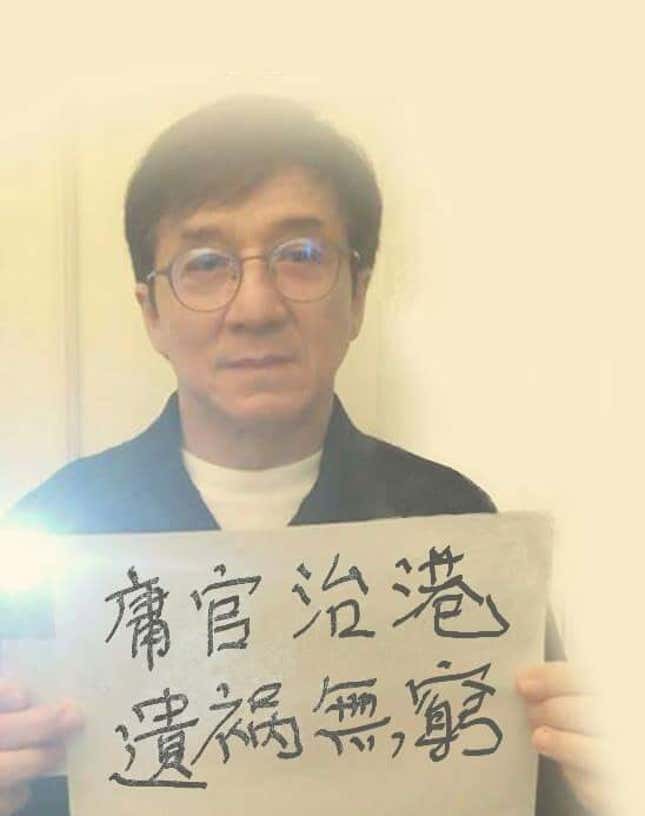 Columnist Budming wrote in am730 (link in Chinese), an independent Hong Kong news outlet, that Hong Kong celebrities' image has been tarnished over the years, even though they don't realize it:
They only focus on making money in mainland China and producing low quality TV shows…They don't even deserve the respect from the public professionally. And now suddenly they act righteously to take up social responsibility. It is not difficult to understand why the public finds them disgusting.
Historically, Hong Kong's entertainment industry was on the forefront of social advocacy since the launch of television station TVB in 1967. Celebrities joined forces to perform charity shows asking for public donations after tragedies on the mainland and in the city.
The city's leading celebrities, including Chan and Tsang, also used to be big supporters of democracy. Hong Kong celebrities staged a marathon 1989 concert at city's Happy Valley racecourse, to raise funds for students protesting in Tiananmen Square.
Here's Chan performing in the 1989 concert:
The student protests in Beijing ended in a bloodshed on June 4, after China's People's Liberation Army stormed the area, killing hundreds or maybe thousands.
Nearly three decades on, Hong Kong's entertainment industry has reverted to silence over political issues, to insure they get hired in mainland China's massive market.
And Chan has repeatedly made statements discouraging democracy in recent years. "If you're too free, you're like the way Hong Kong is now. It's very chaotic. Taiwan is also chaotic," he said at the Boao Forum for Asia in 2009, as Hong Kong began to see more protests for democracy and the city attempted electoral reform.
In 2014, he said during their height that the Umbrella Movement protests in Hong Kong would harm its status as a financial center.
"I'm really worried," Chan wrote on his Weibo at the time, citing estimates of economic losses from the protests. He cited the song "Country," a Mandarin anthem celebrating the 50th anniversary of the People's Republic of China.
"'There is no prosperous home without a strong country,'" he quoted, adding. "I am willing to work hard with everyone and return to rationality, to face the future, love our country, love our Hong Kong."