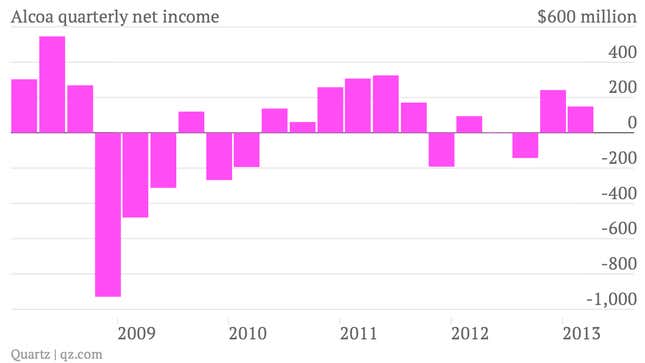 The numbers: The biggest producer of aluminum in the US posted first quarter profits of $149 million, or $0.13 per share, beating analyst expectations of $0.08 per share. Revenue missed expectations slightly and were down 3% from a year earlier because of lower prices, the company said.
The takeaway: Solid profits from the global aluminum supplier—whose report serves as the unofficial start to the US earnings season—suggests activity remains solid in aluminum-heavy industries including automotive, construction, and aerospace.
What's interesting: Alcoa still thinks aluminum consumption will rise 7% in 2013 to 49 million tonnes, compared to 6% last year. The company predicts a global pick up in activity in aerospace, automotive, commercial transportation, packaging, and building and construction. Alcoa also says the global glut of aluminum, exacerbated by overproduction in China, will continue to shrink. It cut its projection of surplus from 535,000 tonnes (about 590,000 tons) in the fourth quarter to 155,000 tonnes this quarter.