There's going to be a lot more texting in cockpits across the US. But it's no unsanctioned social media activity.
Under the new Data Comm system, pilots receive flight plans, landing clearances, and other instructions from air traffic controllers through a text message on a cockpit screen. Pilots confirm receipt with a single button.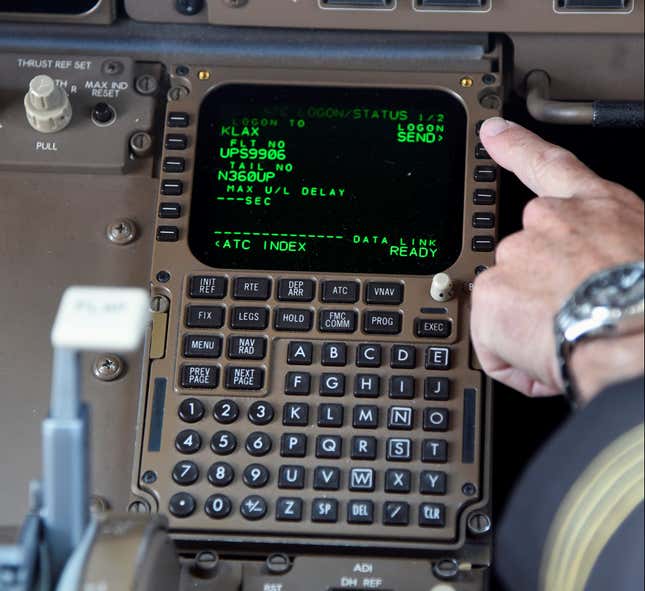 The US government says pilots and air traffic controllers communicating through text messages are the key to slash flight delays at US airports and reducing errors.
Los Angeles International Airport recently installed the system, which the Federal Aviation Administration has said will reduce delays caused by the "labor-intensive, time-consuming" practice of talking. More than 50 towers in the US will likely have the new system this year, FAA estimates, and more than 1,500 aircraft are currently equipped to receive Data Comm text messages.
While voice communication may not appear to take up much time at all, pilots have to note the instructions and then read them back to the tower. One mistake and they have to read it back. Mix-ups can be caused from garbled messages and even similarly-sounding flight numbers.
The program is aimed at speeding up airport traffic and cutting down on costly delays. Flight delays ran commercial airlines $65.43 a minute last year, according to trade group Airlines for America.
The FAA estimates that five planes could take off at around the same time with the Data Comm system, compared with two planes using voice communication. The system could save the FAA $1 billion in operating costs over the next three decades and carriers more than $10 billion, it says.
But just how much the texting initiative will reduce the time you're sitting on the tarmac? Well, as the control tower texted the pilot, ¯_(ツ)_/¯.