Fashion has long had a close relationship with technology, through the invention of the sewing machine, the loom, and beyond. In the computer age, as the industry revels in everything from "cognitive" clothing to innovative manufacturing such as 3D printing, the infatuation has reached a new pitch.
Few designers explore these new possibilities with as much commitment, or as beautifully, as Iris Van Herpen. At the couture shows in Paris yesterday (July 4), the designer presented a collection inspired by cymatics, the visual representation of sound waves.  The garments are exquisitely strange and unique, even by the standards of Europe's top fashion houses.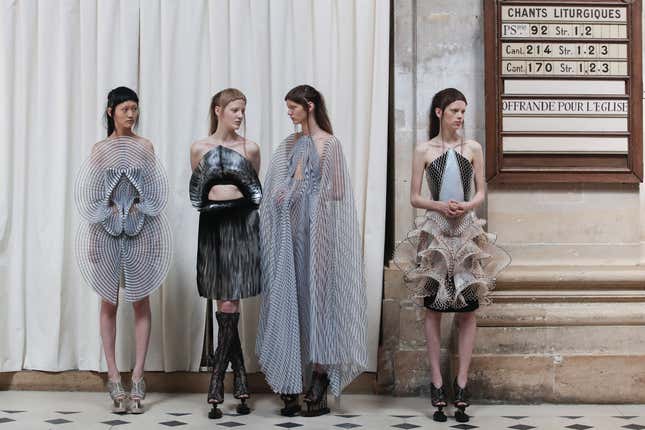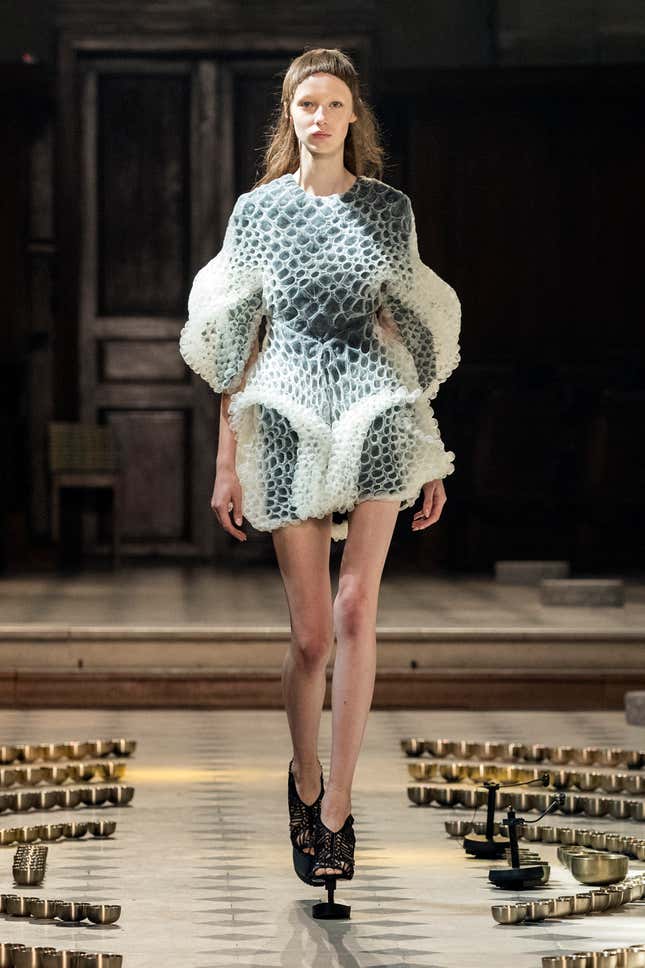 The dresses often resembled geometry seen in nature. "The collection shows a variation of organic and three-dimensional structures, new materials and techniques and biomorphic volumes," Van Herpen told the New York Times. Some resembled the articulated shells of insects, or structures they might build. In Van Herpen's hands, the results were graceful and alluring.
It took some technological experimentation to achieve these effects. Among those materials used was a Japanese organza woven from "polymer threads five times thinner than human hair," according to Vogue, organized into honeycombs atop a base of black cotton.
What Van Herpen called a "dewdrop dress" was composed of thousands of Swarovski crystals suspended in a skin of transparent silicone. "Getting the material to have the right stretch, thickness and drapiness was a process of continuous experiments and fine tuning," she told the Times.
Van Herpen's creations might at odds with the premise of couture, which is the work of so-called "petites mains" of highly skilled sewers who painstakingly embellish the lavish garments that represent the pinnacle of craft in fashion. (Chanel's show today recreated its atelier to honor the skilled people who make its pricey couture.)
Technology generally represents the opposing force of mass manufacturing. Inventions such as the sewing machine made possible the whole category of ready-to-wear. The Met Museum's exhibit on fashion in an age of technology takes its name, "Manus x Machina," from the relationship between hands and machines.
The Met exhibit featured a few of Van Herpen's garments, which still involve hands, too. One standout piece was composed of thousands of small, handblown glass bubbles, held together by liquid silicone. It was a perfect fusion of technology and couture as only Van Herpen does it.