IBM Watson isn't a name you'd typically associate with the Met Gala. Officially, fashion's biggest party is a fund-raising event for the Metropolitan Museum of Art's fashion department, but ever since Anna Wintour, Vogue's high-powered editor, took over as chairwoman in 1999, it has turned into the industry's equivalent of the Oscar's red carpet, bringing together an invite-only list of dressed-up celebrities and bigwigs.
This year, as everyone was asked "Who are you wearing?" one attendee—model Karolina Kurkova—got to say IBM Watson, in collaboration with high-fashion label Marchesa.
Covered in fabric flowers embedded with LEDs, the "cognitive dress" was light, elegant, and romantic, as is Marchesa's signature. It continually changed color with the help of Watson's powerful analytical technology, tying it perfectly into the theme of this year's fashion exhibit at the Met, called "Manus x Machina: Fashion in an Age of Technology." But while the dress was beautiful, the lights were sometimes overbearing. It highlighted how fashion's attempts to use cutting-edge tech can sometimes feel like a solution in search of a problem.
A color-changing dress sounds simple enough, but the shifts weren't random. Prior to the gala, Watson analyzed Marchesa's social media to translate followers' sentiments into colors. It turned emotions into information, and created a color palette for the LEDs from that analysis. In real-time during the gala, Watson processed the huge volume of tweets surrounding the event, and changed the color of the dress according to the emotions in them. Rose signified joy, coral meant passion, aqua was excitement, lavender denoted curiosity, and butter indicated encouragement.
It was no easy computing feat, and created a gown that showed off Watson's processing power. IBM views Watson as its future, and indeed, the future of artificial intelligence. It's a cognitive system that reasons and learns much like a human, and is capable of turning the world's vast oceans of data into usable information.
"[The dress] is a physical thing," Jeff Arn, Watson's marketing manager, "but it's the culmination of a much larger project where we wanted to see just how cohesively man and machine could play together in a very creative space, like fashion."
For Georgina Chapman and Keren Craig, the designers behind Marchesa, the goal of the project was to create something they wouldn't have otherwise been able to create, they said.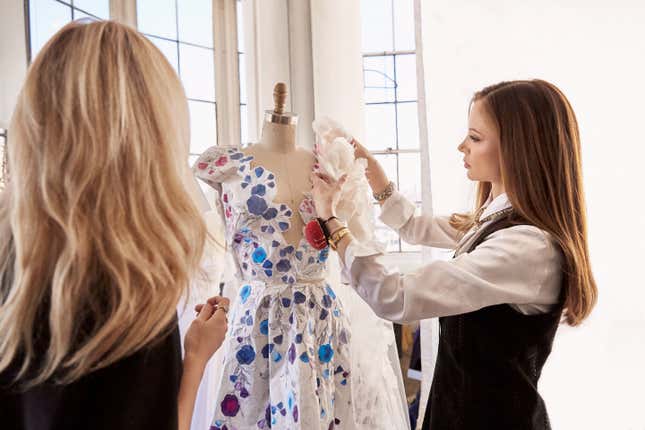 As an experiment, the tech and gown were impressive on their own. But they didn't quite create something greater than its parts, or commercially useful.
It's starting to feel like a common theme. Attempts to 3D print clothes, for instance, mostly suffer from the same problem, since nobody wants to wear a dress that looks like plastic and has no movement. One designer who has consistently used the technology well is Iris Van Herpen, and it's in large part because her clothes are deliberately otherworldly. Perhaps the big, new deal that's building an internet of connected clothes will prove more practical.
For now, fashion's innovations are mostly happening in small ways, behind the seams. Both Louis Vuitton and Isaora, one of a new generation of brands creating performance clothing for the city, are using ultrasonic bonding to create strong, perfectly flat seams, for instance. Watson's tech, meanwhile, is helping some brands, such as The North Face, enhance their retail operations.
As for using the latest tech to create a revolution in design, brands are still figuring it out. Marchesa's Watson-powered dress was pretty, but it owed that mostly to an old technology—needle and thread.