When Yoox and Net-a-Porter merged last year, they created what Net-a-Porter's founder, Natalie Massenet, described as the "world's biggest luxury fashion store." There's a big balancing act inherent in that title. Luxury goods rely on scarcity, high prices, and prestige. How do you reconcile those demands with an huge online operation selling designer labels that are often on sale?
That's Amazon's big problem as it tries to lure designer labels onto its site. As successful as it has been in becoming the "Everything Store," it has yet to crack the high-end fashion market. It could take some lessons from Yoox Net-a-Porter.
Yesterday (July 6) Yoox Net-a-Porter announced a growth plan (pdf) through 2020 that predicts 17% to 20% revenue growth each year. It's an ambitious goal, even after a strong 2015 that saw revenue jump 31% to €1.7 billion (about $1.9 billion), and given the challenged state of luxury, it may not pan out. The company is betting on increased sales through mobile and expansion overseas, in areas such as the Middle East and China.
The company has been successful so far by focusing on three different businesses: full-price retailer, off-season discounter, and e-commerce operations manager for fashion labels. Each of those segments earns it cash, but also makes it an attractive partner for luxury labels that don't want to maintain their own online sales.
Net-a-Porter and men's site Mr. Porter have expertly fulfilled the first leg of this strategy, selling current-season clothes at full price on a site that screams luxury with polished web design and glossy editorial content. Prada, long one of luxury's longest holdouts from selling digitally, just chose (paywall) Net-a-Porter as one of its first e-commerce partners. (Yoox Net-a-Porter also operates full-price sites TheCorner and Shoescribe, though it reportedly plans to close them because of too much overlap.)
Brands have also found Yoox Net-a-Porter an attractive partner for their discounted off-season inventory through Yoox.com and TheOutnet. Lastly, the company offers more than 30 prestigious designer labels the logistical and technological expertise to manage their own the e-commerce operations. Luxury brands that want to sell online can rely on Yoox Net-a-Porter to meet all their needs.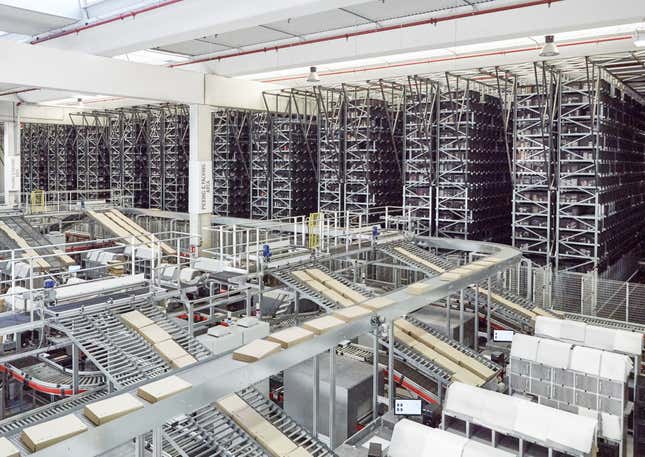 "We are uniquely positioned in the high end of online luxury," CEO Federico Marchetti told Reuters, shrugging off Amazon as a rival.
Amazon won't be competing to sell the priciest labels anytime soon, but it can take some cues for its own business. First, a dedicated designer section with its own look and feel could attract more high-end brands. It also needs to address its reputation for discount pricing.
Discounting can hurt a designer label's exclusive image, which is why Amazon has reportedly promised (paywall) to sell luxury products at full price. It has also quietly eliminated list prices that play up the discounts you're receiving.
But Amazon hosts many third-party retailers whose pricing Amazon can't always control. According to a recent report by digital research firm L2, 81% of the product listings from the 29 fashion brands it tracked were from third-party sellers, many of which "use the Amazon channel to clear inventory," it said.
Amazon likely needs to keep those full-price and discounted goods separate, as Yoox Net-a-Porter does. Although research from Morgan Stanley finds that shoppers, including the high-income ones flocking to Prime, don't much care about this sort of curation, brands do. It should also figure out what service it can offer with its massive logistics network—an advantage few competitors can match.
Many designer brands are already under pressure to sell through Amazon. It should give them every reason to do so.