Over the past several weeks, Hong Kong residents have become increasingly angry about the unprecedented amount of trash landing on the city's beaches.
While Hong Kong certainly generates plenty of its own garbage, activists and residents noticed that a majority of the trash landing on the city's beaches had labels popular in mainland China, not Hong Kong.
Hong Kong's Environmental Protection Department (EPD) believes the mainland is to blame, too. The amount of trash surfacing on the city's beaches is six to ten times the ordinary amount at this time of year, the EPD said in a statement to Quartz. Floods and storms in mainland China are the reason:
The EPD notices that in mid-June, there had been severe rain storms and floods in many provinces along Pearl River (e.g. Guangdong, Guangxi, Hunan and Jiangxi) and there were reports that Guangdong as well as Liuzhou of Guangxi might encounter a serious 1-in-20 years flood. We suspect that the floods in mid-June in the Mainland might have brought the refuse to the sea and then the refuse is brought to Hong Kong by the southwest monsoon wind and the sea currents. Similar phenomenon happened in 2005 when massive amount of debris and refuse were found at various beaches and coastal areas of Hong Kong after a serious 1 in 100 year flood in the Mainland.
How does trash from China get here?
Yongqiang Zong, Professor at Hong Kong University's Department of Earth Sciences, backs the Hong Kong government's statement, though he suspects that a majority of the trash originates from Guangdong and Guangxi province, not Hunan and Jiangxi, which are further inland.
Throughout May and June, heavy rainfall has plagued Guangdong and Guangxi province. Floods swept through cities including Guangzhou and Shenzhen, the two commercial hubs in the region, disrupting traffic and displacing as many as 8,000 people.
Official data on this year's storms remains scarce, but Yong believes rainfall was "significantly" more severe this year than last. On May 8 alone, Shenzhen received 430mm of rain—the heaviest daily rainfall in six years, and almost twice the amount of rain Hong Kong had for the entire month.
Water from the storms flows into China's municipal sewage system, out into streams, into the Pearl River, and eventually, out into the South China Sea. This water carries a huge amount of trash because China has a number of open dump sites that are not well maintained or regulated (more on this below).
Normally, that trash would just drift further out into the South China Sea. But winds blowing from the southwest towards the northeast caused the filthy water to flow towards Hong Kong in recent weeks, Yong says.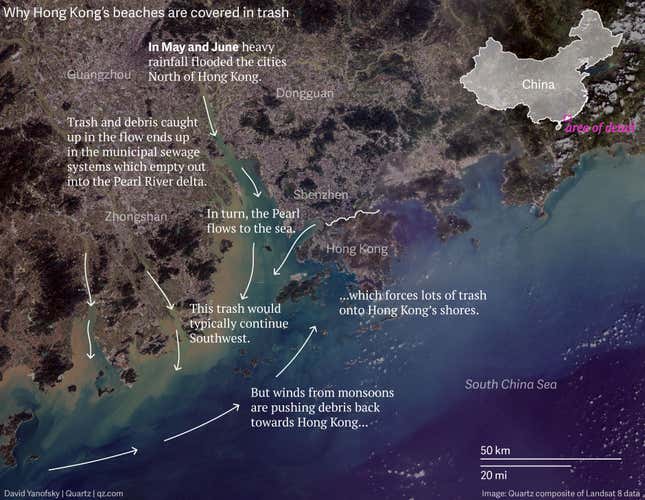 Why is so much trash drifting around?

Activists and trash experts believe that mismanagement of dump sites in both Hong Kong and China have contributed to this year's garbage pileup.
According to Paul Zimmerman, councilor of Hong Kong's Pok Fu Lam district, Hong Kong alone currently has 3,000 legal "refuse collection points" where household trash is kept. But it has "thousands" more in the city which are illegal and not properly maintained, he said. During periods of heavy rain, trash will follow the flow of water and ultimately end up in the sea.
"Right now in the New Territories you can see a lot of trash heaps laying out in the open. That stuff gets washed out, and goes into the gullies from the gullies it goes into the sea," says Zimmerman. 
Zimmerman and others say mainland China has plenty of poorly maintained dumps too. One extreme example was spotted on Wai Ling Ding island, which lies about 20 kilometers from Hong Kong's Lantau island but is under the jurisdiction of mainland China. Satellite images show a bleached white spot amidst a green landmass.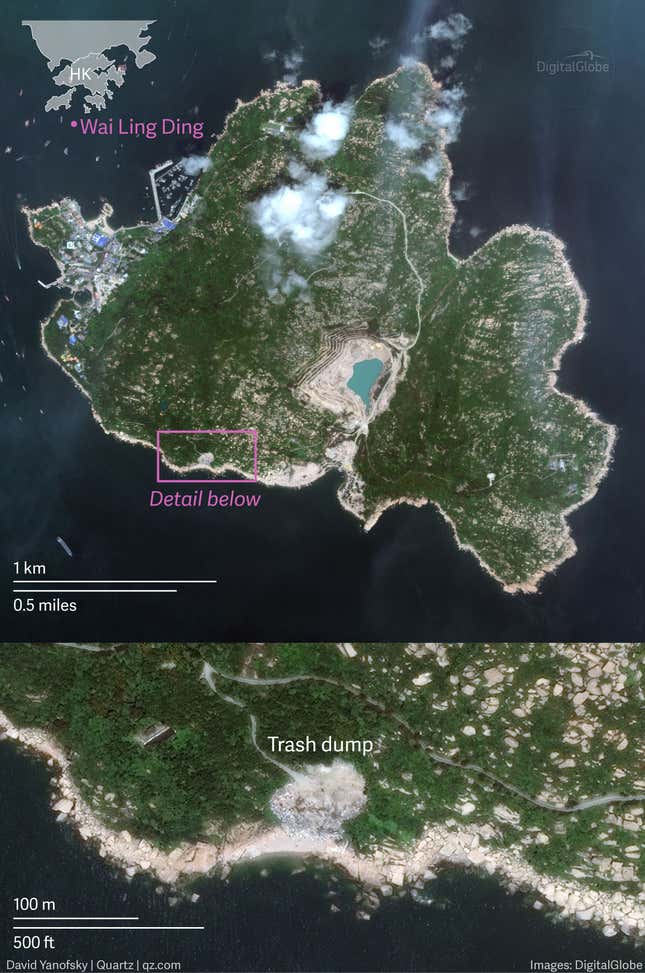 Stokes obtained photographs from sailors in the area that show that spot is an illegal landfill, with trash piled just above the high water mark.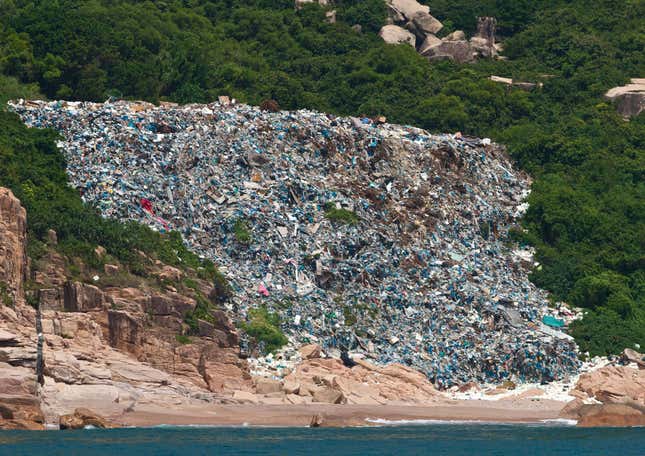 This dump is just one of several thousand in South China that can easily disgorge trash into open waters during rainy season, Zimmerman says. Since this year's rainfall was especially severe, that amount of trash traveling into open waters was higher than normal.
What can be done?
There are several steps Hong Kong could take to mitigate the amount of trash piling up along its beaches.
Hong Kong's government and residents can do more to prevent the city's trash from flowing ashore. Zimmerman argues the city government needs to open more refuse collection points and make them bigger.
"Most of the formal refuse collection points we use were designed thirty or forty years ago, and the land allocation is based on a very small population and our population has increased," he says. "These things need to be rethought, redesigned, increased in size, and well-contained so the trash doesn't overflow.
Getting mainland China to commit to revamping its trash collection is a bigger hurdle.
Hong Kong is classified as a Special Administrative Region inside the People's Republic of China, and is seldom treated as an equal. So Hong Kong's government is unlikely to sway municipalities across the border into managing trash better to keep the city's beaches clean, experts believe.
While there's not much the city can do to keep out trash from the mainland, it could do more to clean up once it gets here.
Doug Woodring, co-founder of the Ocean Recovery Alliance, argues the government ought to invest in more boats capable of skimming trash out of the water. This wouldn't solve the problem of trash entering the water, but would make things better on the beaches.
"The government has some very small scooper boats mostly out by the south side, but they don't have large vessels to handle large volumes of stuff like this," he says. "Why don't we get some big boats out and get some serious cleaning done, instead of waiting every day for it to get on the shore and have a bunch elderly go there with little brooms and baskets?" he adds.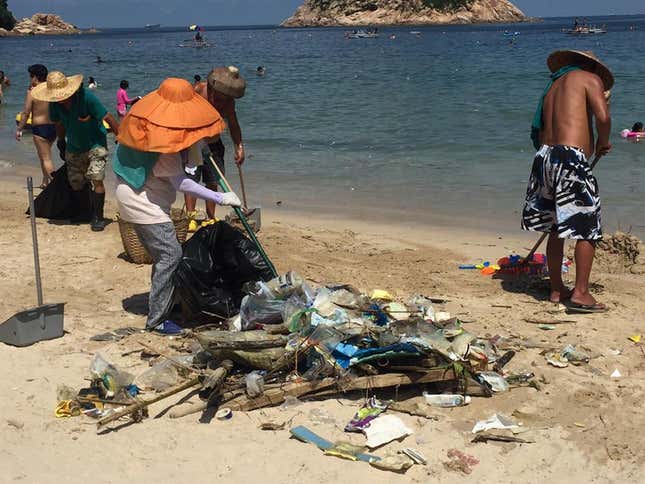 Another option, Woodring says, would be to place nets along the Hong Kong-Zhuhai-Macao bridge once it is completed. One wrinkle is that only about 10% of the structure belongs to waters under Hong Kong's jurisdiction, and "the trash flow isn't coming from that 10% of where the Hong Kong part of the bridge is."
Hong Kong's activists are quick to stress that the city should use this incident as a catalyst to manage its own trash better, rather than just blame the mainland for the pileup.
"This is not just a case of 'China made a mistake,'" Woodring says. "The whole planet does not have the capacity to handle waste management and recycling in a proper way."