Over the past two weeks a frightening, and unusual, amount of trash has suddenly landed on Hong Kong's beaches. What's worse is that no one knows where it's coming from.
Residents are complaining about massive waste pileups along the shores of Lantau Island that have turned once beautiful beach scenery into a sludgy mess of plastic bags and bottles.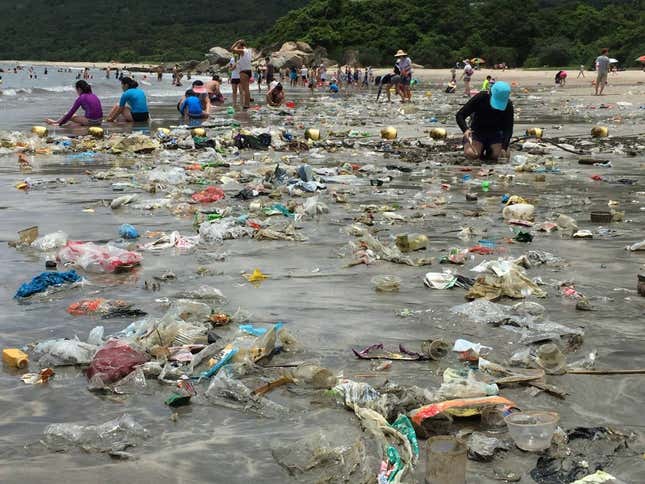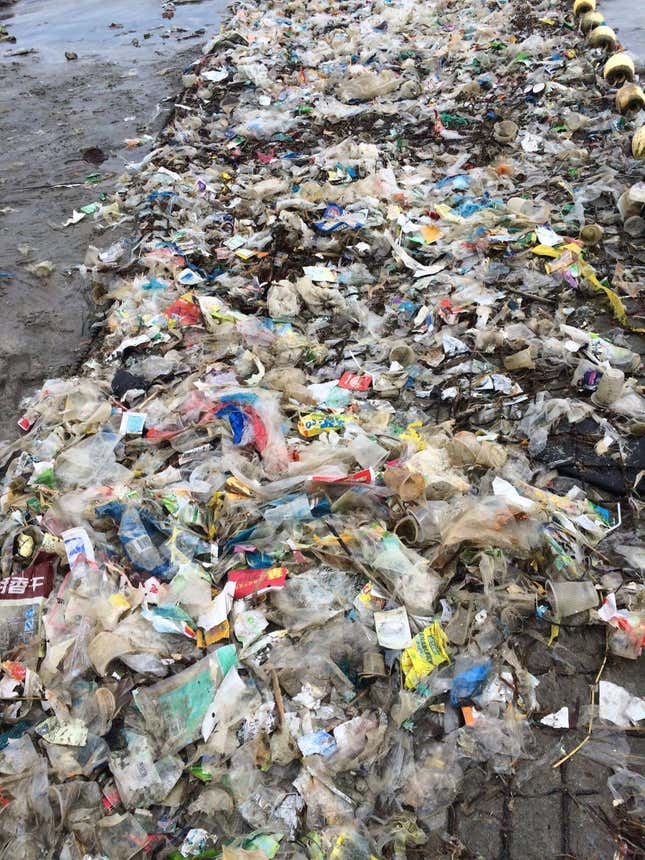 Garbage has always been a problem for Hong Kong—residents produce an average of 1.36 kilograms of trash each day, more than people in nearby cities like Tokyo and Taipei, in part because Hong Kong hardly recycles.
But the city's beaches don't usually see the brunt of it, because it is stashed in giant landfills far from the most populated parts of town. Depending on the tides and the wind, and what's coming from China's Pearl River Delta, sometimes there's household trash on the sand or in the water, but it is, for the most part, minimal.
Hong Kong's beaches and the surrounding waterways are normally clean enough to be used for camping, barbecuing, surfing, kayaking, or just hanging out.
Here's Lantau's Pui O beach on a clean day, for example: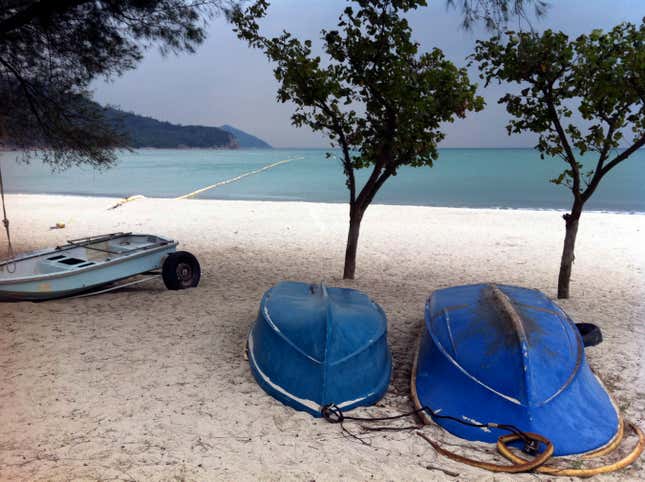 And this is how it looked this weekend:
The visible buildup of trash along the city's beaches is causing public outrage, at least on social media:
"I was on the beach this weekend. Had to pull my friend's kid out of the water when I went to join him in the waves. I have NEVER seen this in my over a decade of living here. This is out of control and something must be done!!!!" wrote one Facebook user, in a group about the trash buildup.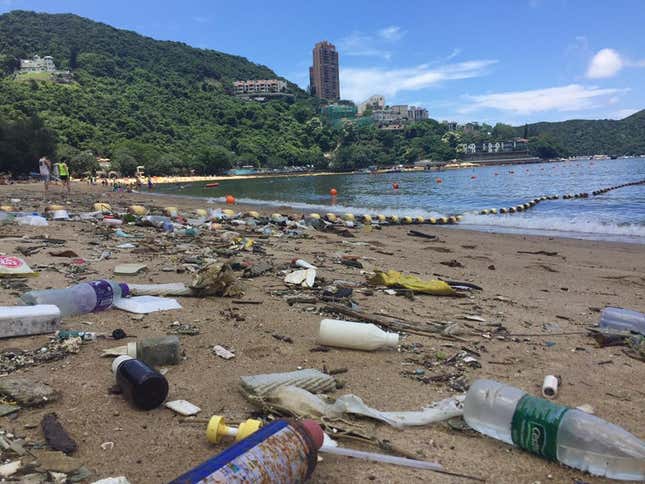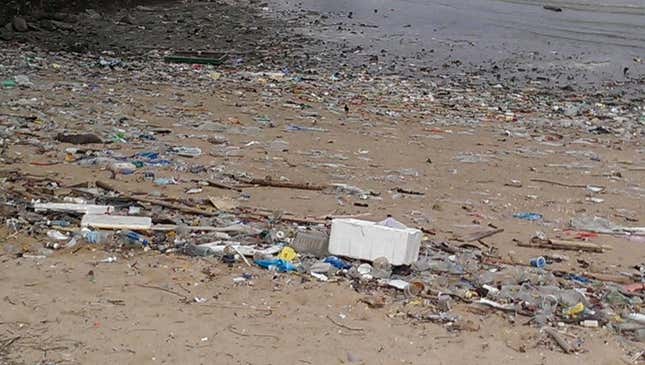 On an app called Global Alert released by the Ocean Recovery Association, a local environmental activist group, residents have independently reported buildups along all of Lantau Island's beaches—Pui O, Cheung Sha, Lo Kai, Tai Wong Lan, and Tai O, and Ma Wan Tung.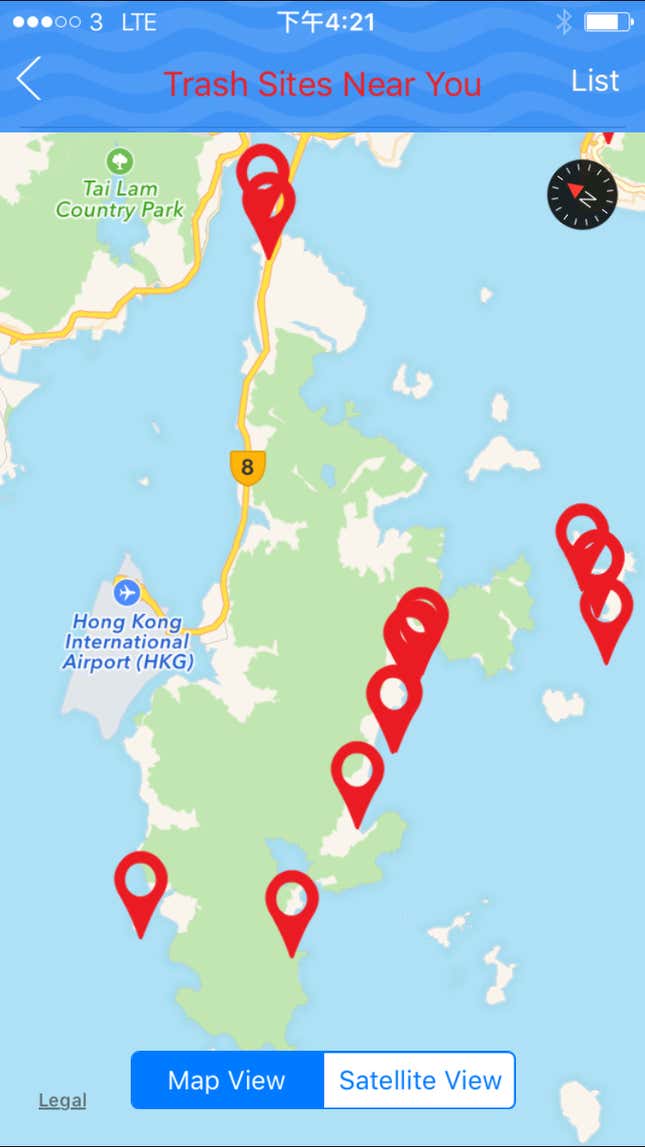 Trash is also piling up on Hong Kong Island, the more populated landmass that's essentially the center of the city. Here's Stanley Beach, a community of luxury apartments and waterside restaurants that's normally a launching spot for Hong Kong's Dragon Boat races.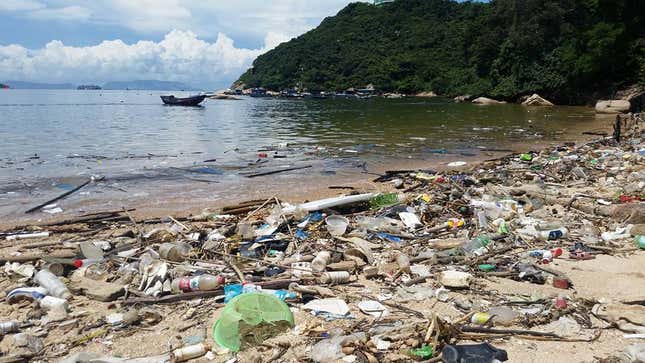 Trash is also piling up on Shek O Beach on the south side of Hong Kong Island, which is home to Hong Kong's most exclusive golf club, and a home owned by Tencent founder Pony Ma worth an estimated HK$1.8 billion (US$232 million).
The Hong Kong Government has yet to issue a statement reporting the buildup's location and severity. Astonishingly, some beachgoers continue to swim in the waters.